Why rent a scooter in Barcelona?
Probably because once you've decided to surprise your soul mate with something different, or because you're with your friends, you'll be in Barcelona for a few days and then you want to turn even the boring trips into something to remember, or because you've already been in Barcelona and for this time you decided to live it differently, perhaps in a deeper and more emotional way…


Whatever your reason, know that the capital of Catalonia, in addition to the most emblematic and famous places, is a city full of hidden treasures that only a scooter is able to really unveil.
Let's meet Vesping!
But renting a scooter wouldn't do justice to Barcelona: choose an elegant and modern Vespa at the same time, which will show you the way to enjoy the beauties of the city giving you the feeling to be on holiday.
Vesping is a company established in Barcelona from 10 years and was among the pioneers in the field of rental scooters in the city. So, rent a Vespa and choose the Barcelona tour you prefer; after that, let yourself be guided along the route of a Barcelona that often remains unknown to tourists and residents, but which also includes the most famous points of attraction that you cannot miss. Vesping is much more than a simple scooter rental: it offers guided and private tours, where the precious secrets of the city are shared, to make the stay unique and special. Furthermore, the tours will save you money and optimize your time. The Vesping team is people in love with Barcelona who devote their time to sharing their knowledge and secrets of the city with travelers from all over the world.
Where you can find Vesping?
The offices are located near one of Barcelona's most emblematic monuments, the Sagrada Familia. Nothing better than starting your own tour from here !!
How does it work?
The first thing you need to do is decide the scooter that you wanna hire, then proceed with the choice of the type of tour. Within the booking form there are all the possibilities, once you have chosen and entered the date and time you can proceed with the reservation. You will receive a confirmation e-mail and the possibility to take the Vespa in the offices.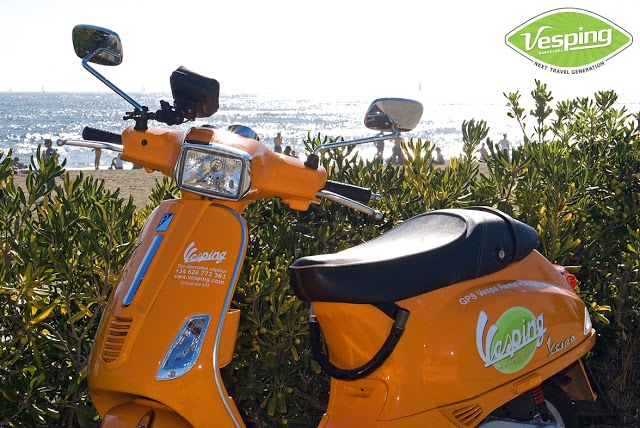 What do I need?
Rental requirements:
Previous experience driving a scooter/motorbike;
Valid passport or identity card;
Credit card or cash to pay the security deposit
Valid driving license.
For more information: Vesping FAQ
Services
GPS experience
You can rent your Vespa and use the GPS navigator to plan your trip as you prefer and make your trip a unique experience. You also have the opportunity to choose from 4 pre-programmed GPS tours that will let you discover the hidden gems of one of the most loved cities in the world …. but without getting lost on the way!
 

GPS
City Guided Tour
Alternatively, you can choose the guided tour. This is the best way to visit the city while having fun. Besides, the main attractions it will be possible to enjoy some hidden corners that are often unknown even by locals.
The City Tour lasts 4 hours with a guide and covers about 50 km.
Private tours in Vespa
If you are a holiday group you can choose to book a private tour recommended for groups of 5 up to 50 people, who want to experience the city in their own way, personalizing their itinerary.
Discover all the private tours!
Private and Corporate Events
Team Building. Another interesting service offered by the Vesping group is that related to the Team Building. Vesping offers programs to strengthen the collaboration and the friendship among the employees of a company thanks to the multitude of fun activities and interesting offers. These activities are tailored to the type of team building program that you want to implement in order to ensure a reduction in potential business conflicts.
Advertisement and communication. With Vesping you can customize your advertising and the way you want to communicate your strengths
Filming. You can use their famous Vespa to shoot a movie or to make a custom advertisement… Lights, camera, action!
Wedding and Parties. If you want a wedding or a bachelor/bachelorette party to remember for the rest of your life you can use their scooters to carry around your guests in a glamorous and fun way!
So what are you waiting for? Run to rent your Vespa and leave for the tour that will make you fall in love with Barcelona!!
Opening hours
: Apr/Sept 09:30-15:30 – Oct/Mar 10:00-16:00
Address: Pasaje Simó, 24, Barcelona
Telephone: (+34) 93 66 77 877
Mail: info@vesping.com
Web: Vesping
Looking for an apartment in Barcelona? Check out our SPECIAL DEALS ON APARTMENTS all over the city with Barcelona Home!