If you would like to stay in Barcelona in the mst stylish way possible,take a look at this post about Nordic style apartments! Nordic doesn't always mean dark cold and freezing, long winters, it also means the coziest and most comfortable, but still trendy and stylish. Scandinavian style is possibly the most modern style everywhere in the world. Anyone who loves minimalism and bright interiors usually chooses for this style.The name Nordic comes from the north from Scandinavian countries and several characteristics that determine it are that homes are designed in this style are usually white, beige, gray or other light colors with accents of nature, such as black and brown. Scandinavian style features large windows designed to miss a lot of daylight, plenty of wood that breaks the whiteness, comforting atmosphere and such interiors have and fabulous modern charm. The basic rule of Scandinavian style is "keep it natural". The interior design beside the colors, they are defined by open space and a minimalist approach. Take a look at the following Nordic apartments and you might get inspired to stay in this perfect style!
5450 € / MONTH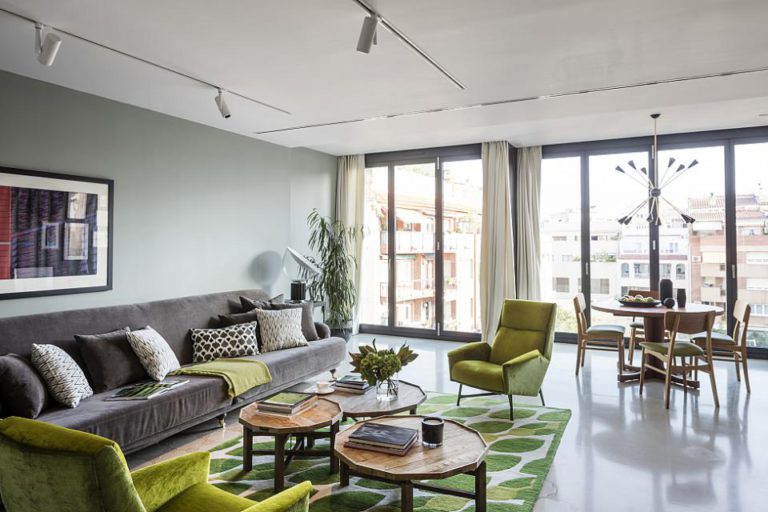 Luxury three bedroom apartment in Sarria Sant – Gervasi. This high-end living space offers 140m2 of elegance and comfort of the highest standard with the designer interior, elegant furnishings and attention to detail. There are three bedrooms, each large, beautiful and with high-quality linens and desks for reading. The spacious living room is an incredible space where you can relax and rewind, whether watching something at the top of the flat screen TV line or socializing with friends. The kitchen has a minimalist and elegant design and has nothing but the best in the world of kitchen appliances. There are two bathrooms, designed for a spa experience.
The building has much more to offer, a rooftop terrace with sun loungers, outdoor cinema, gym, sauna and a communal swimming pool, with all the amenities that a hotel offers. It is located in a quiet residential area of Sarria-Sant Gervasi, away from the noise of central Barcelona. It is known for its magnificent green areas such as Putó del Putó gardens, and large shopping areas, either in Via Augusta, Paseo de Gracia and Avenida Diagonal or its myriad boutiques and restaurants in the neighborhood. It is also quite accessible to the center, either by car or public transport, plenty of buses and trains in the area, as well as the metro L3 at Fontana station.

2200 € / MONTH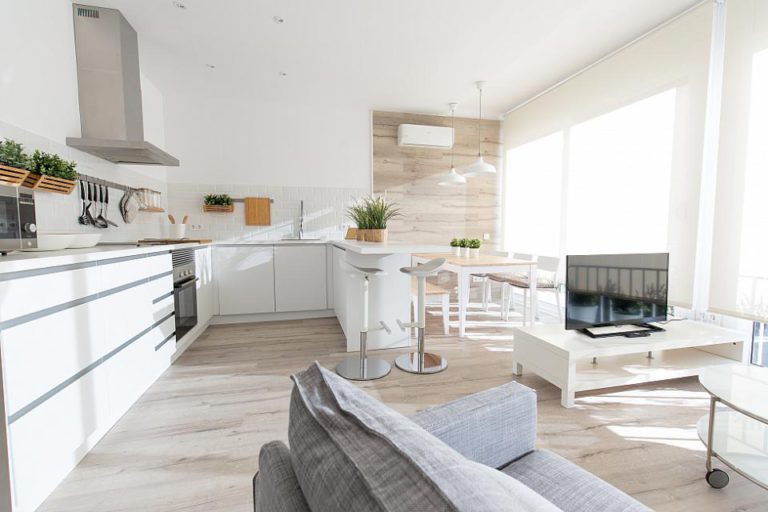 Beautiful apartment that displays a Nordic style and has a great view of Santa Caterina Market. It is newly renovated and designed for absolute elegance and comfort; light-wood textures earthly shades of beige and white colors. The place itself is spacious, has a surface of 80m2 and its layout and capacity of 6 make it a premium property for anyone, a big family or a shared apartment between friends. There are 3 bedrooms, each double, big and furnished to make you feel right at home the moment you step in through the door. The bathroom is outfitted with a shower and has a nice pristine look with polished crisp white tiles. The living room is impressive, offering chic furniture and sharing the same space with the exquisite fully equipped kitchen.
The apartment is in the picturesque bohemian district of El Born, a part of Barcelona known for its wealth of cafes, shops, bars, restaurants and restless nightlife. It's also close to other notable places in Barcelona like Parc Ciutadella, Barcelona Zoo, La Rambla and so on. It's located in the center, making getting around hardly an issue. Closest metro station is Jaume 1 where you can hop on the L4.

1365 € / MONTH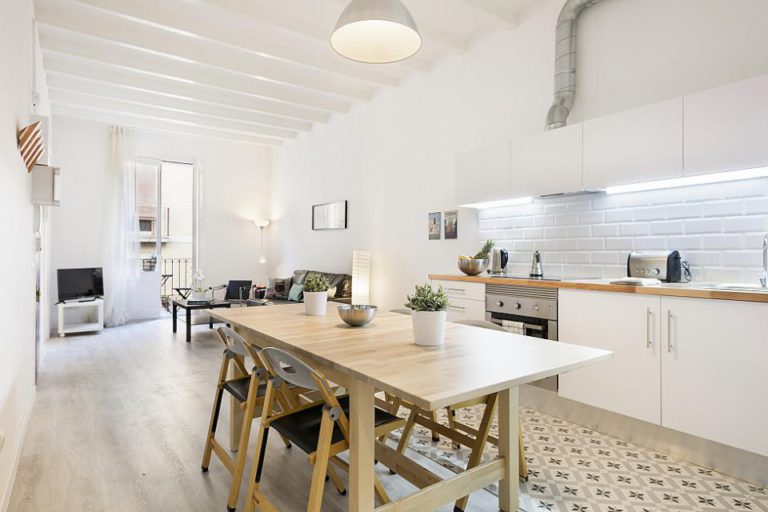 Stylish, sunny three bedroom apartment in Sants, close to Plaza España, which has been designed for utmost comfort and elegance with a gorgeous bright interior and chic furnishing. The living room is spacious and stunning, and encompassing a couple of areas – an open fully equipped kitchen with a Nordic style dining table and a lounging area with a slick black sofa and armchair. Also, the living room and the rest of rooms have air conditioning and central heating, and from the living room, you will have access to the balcony, complete with a coffee table for two. It is great for a group of friends or a family, as it features three bedrooms; a master bedroom with working space, a double and a single room, each featuring huge windows, which allow for gentle sunshine and natural light to bless the place with its presence. Finally, there's the bathroom, which has a fresh clean look, a shower, and crisp white tiles.
Despite its industrial history, Sants has turned in a great residential neighborhood that preserved its Catalan atmosphere and image to this day. There is a wealth of places where you can grab a bite or a drink, with plenty of shopping opportunities during the day and great vibrant nightlife. The location is fantastic because it offers proximity to most universities in Barcelona, Camp Nou, Plaza España and the city center. Needless to say, it's very well-connected with transportation, especially when you have the Plaza de Sants (L1 and L5) and Hostafrancs (L1) metro stations and of course the famous Sants train station, just a short walk from your new home.

During your stay at your cozy apartment maybe you could complete the feeling of coziness with a nice time spent in a perfect atmosphere coffee place or bar nearby. WHERE TO HAVE A GOOD COFFEE? We can warmly offer to try out the untraditional PUDDING COFFEE SHOP. This coffeehouse in Harry Potter style is perfectly suited for every age group not only for coffee but different kind of magical activities!
If you think an apartment is too much and you're looking for something else, you can always check out some great hotels here in Barcelona!
Looking to rent an apartment in Barcelona? Check out our SPECIAL DEALS ON APARTMENTS all over the city with Barcelona Home!