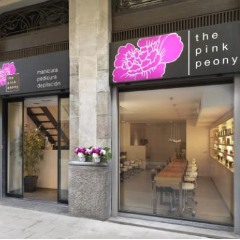 The Pink Peony is a beauty retreat in Barcelona that offers clients an exceptional beauty experience. At this fabulous salon you will find several different kinds of services, including manicures, pedicures and full body treatments. The space is decorated with a fresh NYC – style and it combines the best of Asian hospitality with European elegance. The Pink Peony only uses the best brands and procedures to ensure quality services to their customers.
Find your accommodation now!
The primary objective of the Pink Peony is to satisfy their customers and, in order to do so, they ensure the highest quality service to each one of them. Feedback is very important to the staff in order to constantly improve service, and if a customer is not satisfied they will do whatever possible to fix it or even, depending on the situation, give a refund.
There are 2 salons in Barcelona, one located in Gracia, and the other in the famous shopping street Passeig de Gràcia. The location in Gracia was their first and it opened on Valentine's Day of 2006. Since then, the salon has had customers from all around Spain and Europe, seeking to take a break from their busy city lives and take care of themselves a bit. The salon located on luxurious Passeig de Gràcia was opened in 2008. Now it is a popular place with a central location where women come to enhance their natural beauty.
A trip to this magnificent salon is the perfect solution for those who need some time to relax and take care of themselves or to get ready to celebrate birthdays, upcoming weddings or other events with friends. Pink Peony offers beauty parties and bachelorette parties for those who wants to celebrate a special day. Popular services at the Pink Peony include eyebrow threading, complete pedicure and Brazilian bikini waxing. Other services available are Manicure, Pedicure, Wax, Threading, Facials and Massage.
If you are seeking accommodation anywhere near these two fantastic salons, we highly recommend our Apartments in Gracia and our Apartments in Eixample.
Adress: Passeig de Gràcia 100, Pral. 2ª, 08008 Barcelona
Telephone: 0034 934 878 464
Hours:
Monday, Tuesday, Thursday, Friday and Saturday 10:00 – 20:30
Wednesday 10:30 – 20:30
Sunday 10:00 – 16:00
Email: [email protected]
Website: Pink-Peony.com
Adress: C/ Perill 21, Bajos 2ª(Gràcia), 08012 Barcelona
Telephone: 0034 934 765 284
Hours: Monday, Tuesday, Thursday, Friday and Saturday 10:00 – 20:30
Wednesday 10:30 – 20:30
Sunday 10:00 – 16:00
Email: [email protected]
Website: Pink-Peony.com