Jewish History
Spanish Jews have quite a history behind them since they once created one of the largest and wealthiest communities in the world. There is a lot of archeological evidence that points to a sizeable Jewish community from as early as the common era. In Barcelona, it has been formed a remarkable Jewish quarter known as the Call (likely from the Hebrew word Kahal or Kehilla), which is mainly in the Gothic area, located in Ciutat Vella neighborhood.
The city has a rich cultural heritage with an impressive religious history and there are a few landmarks that have been left behind as well. We also know that important people lived there in the old times (doctors, lawyers, real estate owners). Through their great poetic, biblical and Kabbalistic writings, these poets and rabbinic scholars exercised a profound influence on the development of Jewish philosophical thought. The oldest synagogue in Spain is also located in this area, called Synagogue Major. This beautiful ancient synagogue was built in 1492 at the time of the Expulsion of Jews.

Address: Carrer de Marlet 5, Barcelona.
Opening hours: Monday to Friday from 10.30 am 2.30pm, Saturday to Sunday from 11 am to 3 pm
Entrance: 2.50€ included a brief description of the synagogue.
However today, there is a relatively small group of Jews in Barcelona (estimates are between 5000 to 15000) but it is slowly growing. Did you know? – The Jewish population in 1918 was only 100.
FUN FACT: Montjuïc actually refers to 'Mount Jew' in middle age Latin documents, because of the Jewish cemetery that is located there. The monument marks the location where Christopher Columbus returned after his first expedition to the Americas. Legend says that Columbus had to convert to Christianity but he secretly practiced Judaism after all. Click here if you want to know more about Montjuïc.
After getting familiar with the Jewish landmarks and history continue your journey to the Jewish world by trying the Kosher food. Here are my 3 favorite Kosher restaurants in Barcelona.
What is Kosher food?
Kosher is basically a set of Jewish religious dietary laws. It is widely considered the cleanest and safest food to eat so I recommend you to try it, even if you aren't a Jew. It may be consumed according to halakha (Jewish law) and called kosher meaning "fit" for consumption. It is prohibited to consume certain animals such as pork, shellfish, insects, among fish- all those that do not have both fins and scales, birds of prey; scavengers. Also, it is forbidden to consume dairy products that are served with meat. Religious Jews even have separate kitchens for milk and meat, refrigerators, set of cutlery and also they have to wait anywhere between one and six hours after eating meat before consuming milk products.
But there are several kosher animals and also processes to prepare the meat in a kosher way. With all mammals, that both chew their cud (ruminate) and have cloven hooves can be kosher e.g. chicken, duck, giraffe, deer, goat, sheep or gazelle. If you wish to try these, there is a process for Koshering where the blood is removed from the flesh of meat and fowl before it is prepared for eating. Only meat from kosher animals, properly slaughtered and with the forbidden parts already removed, may be koshered. The Koshering process, known as melichah ("salting"), entails the following steps: washing or rinsing off the meat; soaking it in water; salting it and rinsing it very well three times.
EATING KOSHER may not seem as easy as it is, especially in Spain 'the land of jamón' but there are several restaurants and stores where you can have kosher food or even find ingredients for cooking. The restaurants are mostly located in the city center so it is easy to get there.
Kosher Restaurants in Barcelona
1. Maccabi (meat and fish Sephardi cuisine)

A traditional and cozy atmosphere with lots of options and friendly staff. For a reasonable price, you get delicious food, a mix of traditional Israeli dishes with a bit of local flavor. The reason why I'm emphasizing this is that it is quite unique and unusual to find Shakshuka and fish paella at the same restaurant. It is located in the very famous street of La Rambla .
Address: La Rambla 79, 08002 Barcelona
Opening hours: Monday to Thursday 12 pm to 11.30pm Friday 12 pm to 6 pm, Saturday closed (Shabbath), Sunday 12 pm to 11.30pm. Certificated by: Rabbinate Chabad Lubavitch Barcelona, Glatt Mehadrin.
2. Kosher Shaq Shuq (Israeli kitchen)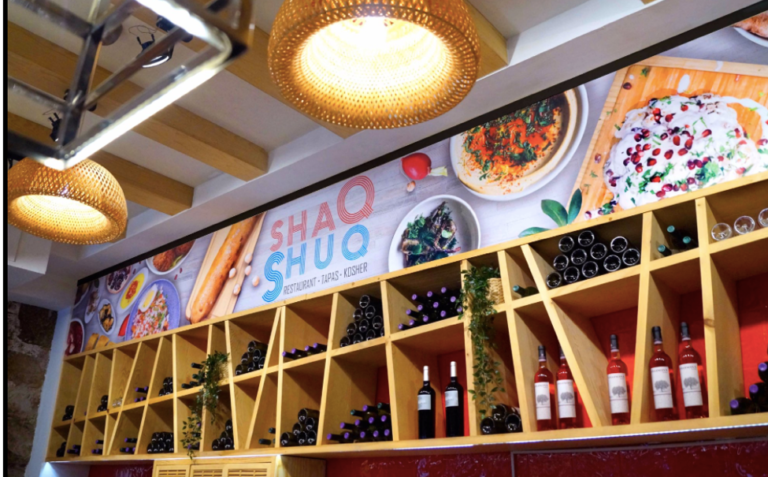 Shaq Shuq's kitchen consists of local dishes of the native people of Israel and dishes brought to Israel from the neighbor countries. There are numerous options for vegan, healthy and balanced types of foods as well. The place mixes the highest quality food with the authentic Israeli flavor, being the only 100% Kosher restaurant that applies all the standards together in a pleasant environment. What you will definitely find is an innovative combination of dishes on the menu prepared by an Israeli chef, not only traditional food but also avant-garde cuisine.
Address: Carrer de ferran 15, Barcelona.
Opening hours: Sunday to Thursday from 12pm-12am, Friday from 12 pm to 5 pm, Saturday from 7 pm to 12 pm. Certification: Rabbi Meir Bar Hen.
3. Falafel Vegano (kosher, halal and vegan)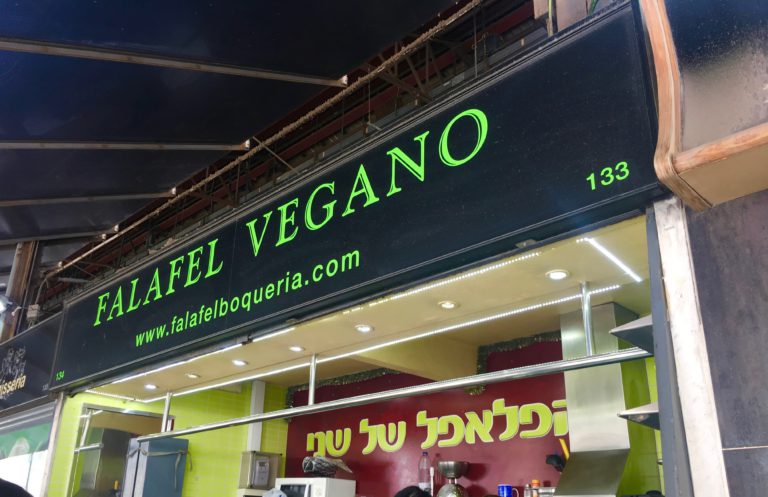 Here comes my personal favourite Kosher place in Barcelona, at La Boqueria Market, that is not only kosher but vegan and halal at the same time. There is no comparison with that feeling in the morning when you start with a fresh juice at the market then have a falafel that costs only 5€ and tastes delicious at any time of the day. You can ask for it in a pita or simply just on a plate. The staff are especially kind, polite and very clean. I am a big fan of vegetables so I asked for some extra and I got it delivered with a big smile on the vendor's face. This is the place which I am definitely going to visit every week.
Address: Plaça de Sant Galdric 96, Barcelona.
Opening hours: Monday to Saturday 11 am to 5.30pm, Sunday closed.
Kosher Food Stores in Barcelona
Isamar: Carrer de l'Avenir, 29 or El Corte Inglés (Av. Diagonal 617)
BenBen Kosher House: Carrer d'Aribau, 257
Chabad Barcelona/Call Barcelona: Carrer de Sant Honorat 9 (wine store, classes or information about the proper way to cooking Kosher meals)
..and because the Blog wouldn't be Kosher without a Jewish joke here you go:
Two Managing Directors are having a conversation:
– Do you pay anything to your employees?
– No, I don't.
– Me neither. And are they going to work anyway?
– Yes.
– Mine as well.
– So then don't you think we should ask for an entrance fee from them?
Are you looking for a great accommodation in Barcelona? Look no further, we have what's right for you!