The single life! No matter what age you are it can be one of the most exciting and exhilarating times of your life. You get the opportunity to meet so many different people from all walks of life. If like the rest of the singleton population of the city you use apps such as Tinder to find the love of your life, you have surely been on more first dates than you can count at this stage. If you have exhausted all your usual first date haunts and are looking for some new bar inspiration, then check out our guide on the best bars for a first date and let the romance take hold!
Floripa
While Veganism isnt everyones cup of tea, we can assure you that this place is! Floripa is an affordable vegan restaurant and cocktail bar. Having only recently opened, January 2018 to be precise, this venue is an up and coming "best bar" in Barcelona and will most certainly impress your date. The bar boasts a 70's inspired decor s with a super bright and welcoming atmosphere, helping to create a chilled atmosphere for you and your date. Did we mention that the cocktail menu is second to none and their presentation match the retro design of the bar.
Ginette
El Borne, with its rustic feel, secluded side streets and intimate bars, is considered one of the most romantic areas of the city. So if you are looking to turn up the romance, then bringing your date to Ginette in El Borne is your trump card. Ginette is a French restaurant with delicious food and is most popular for its gin and tonics. With its authentic French atmosphere, cute floral wallpaper and effortlessly chic vibe, your date will be highly impressed by your classy pick.
INA Espacio de Café y Piadinas
If on a first date you prefer a more casual vibe to get to know the other person in a relaxed environment, then we recommend this spot. INA is an Italian bar rooted in El Borne which serves up one of the best Aperol Spritz and traditional Italian Piadinas in Barcelona. They also serve an extensive range of craft beer, Gin and Tonics and a range of cocktails. This is the ideal place to for a first date if you really want to get to know the other person without much distractions or background noise.
Gimlet
Looking for a cocktail bar with a twist? Gimlet is a traditional cocktail bar that puts on a show when mixing it's drinks. Due to their traditional take on mixology, there is no menu – you just let the bartenders know what kind of drink you fancy and they'll make it for you! While this may be one of the pricier options on the list, Gimlet's high-quality interior gives the bar an elegant feel and is well worth the few extra Euros.
Dos Torres
With summer approaching and temperatures rising, it is the perfect opportunity to head outdoors and treat your date to a drink basking in warm summer ambiance Barcelona so kindly has to offer. Dos Torres , located in Augusta, has an incredibly green terrace which they have transformed into a mythical garden with plants and flowers. It provides a calm and peaceful  retreat away from the madness right in the city center and promises to provide the perfect setting for a romantic date.
What do all of these amazing first date venues have in common you may be wondering… Well, they all offer a FREE DRINK when using the app Bida.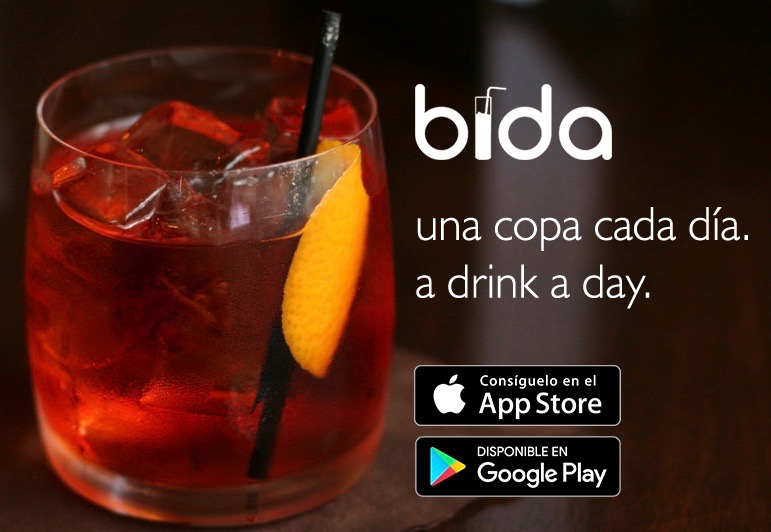 Drink-a-day is already a welcomed concept in New York City and Los Angeles, it landed in Barcelona where the after-work culture is a growing trend and where people are really social and love to go out and enjoy a great time with friends. This new concept here in Spain is called "Bida" and is a subscription-based app that gives its members a FREE DRINK EVERY 3 HOURS at the bars of their choice. Bida is the perfect tool to help visitors, find the perfect place to enjoy amazing drinks. So download the app today!
For all Barcelona-Home clients, we have a special offer:
At the point of sign up, type the invite code "BCNHOME18" to get your first drink free. After that, subscribe and pay for the following offers:
A 1 day VIP pass for €4.99
A 3 day VIP drink pass for €9.99
A 7 day VIP drink pass for €14.99
A 30 day VIP drink pass for €29.99
So, we have provided you with both the locations and free drinks necessary to have a great first date, now all you have to do is turn on the charm and make it happen. And remember, if all else fails, buy a cocktail, cocktails solve everything!
Are you looking for a great accommodation in Barcelona? Look no further, we have what's right for you!