Why should rent student housing Barcelona?
Barcelona has become one of the favourite destinations for European students. Yes, its cultural precedent is not easy to imitate, its reputation for having a near perfect climate and an excellent nightlife are some of the factors motivating thousands of students to go to the second largest city in Spain each year. That is why we offer the best student apartments in Barcelona. Rooms in Barcelona will make you have the memorable while studying in Barcelona.

Spanish courses and the Erasmus exchange programs are most common among students. Business schools have also become very popular, in fact, some of the best business schools in Europe are in Barcelona. Schools such as ESADE, EAE, receive thousands of international students each semester who come from over 30 different countries, and the numbers keep growing! This has also boosted the profile of the city as a business center, which attracts many entrepreneurs, businesses, and expatriates. Therefore, a student housing Barcelona is the best idea for you having your own place to live.
Planning a semester or a year abroad is not an easy task. After you've chosen your study program, you have all your papers in order, bought plane tickets, the big question remains: Where will I live? This is the part of the plan to which many students fear.
Of course, it's scary to choose where you will live for the next few months of your life, especially if you're in Barcelona. There are several questions you should answer before you begin looking for a place to stay.
Rooms in Barcelona.
Where do I look for? An agency? Local owners?? How can I contact them? Do I want rooms in Barcelona all to myself? What is my budget? Do I want to go to an apartment, a dorm? Other important questions are: Are you already familiar with the map of Barcelona, its districts, and areas? Where is your school located? Would you rather live near the school or city center?
Once you have answered these questions, you've narrowed your big search!
We know how difficult it can be to find student apartments in Barcelona. That is why we specialize in short-term student housing Barcelona, making the process easy, convenient, and hassle-free.
We offer fully equipped apartments, from studios to large apartments for groups, like rooms in shared flats with Spanish students and families.
The latter type of accommodation seems to be preferred by students, first for being the most economical (price normally include rent and expenses), and second, students prefer shared flats for the environment and international experience.
This single room is perfect for students who spend most of the time to study. With the natural light, it will assist you in studying and get more energy for you in the morning.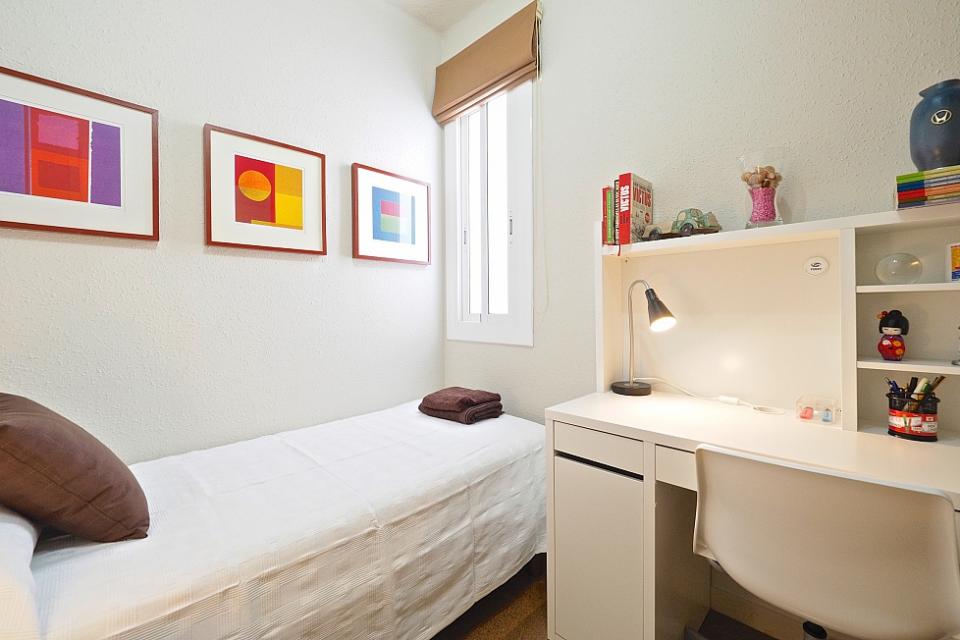 If you like to live with other people to meet many new people, this type of student apartments would be suitable for you. A shared room will bring you different friends from all over the world. It is also great chance to learn new cultures. Furthermore, when you live with a Spanish person, your Spanish can improve quickly.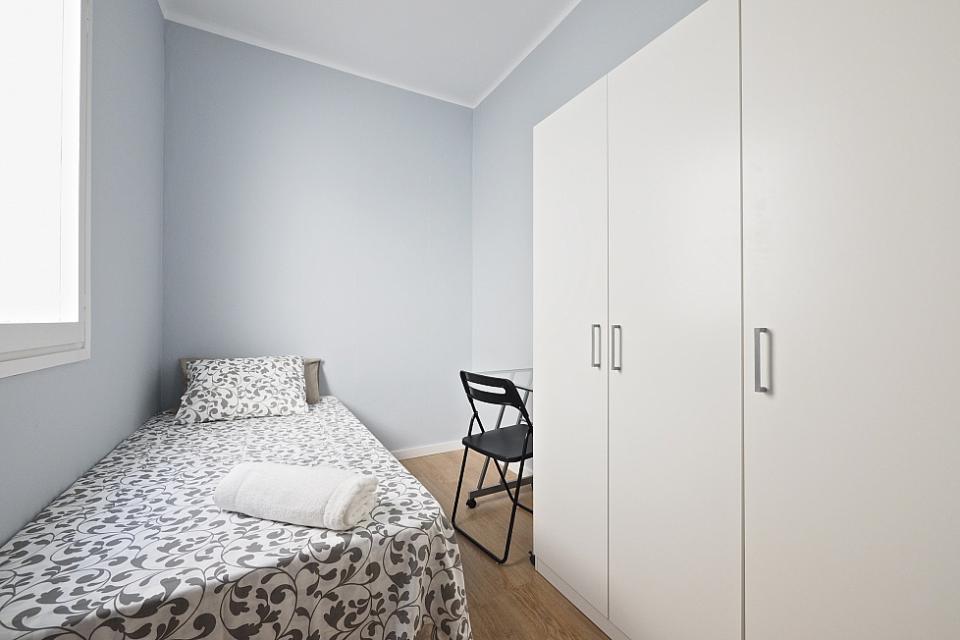 Here some of the testimonials from students who have stayed in our student apartments in Barcelona.
Made the best decision for my exchange in Barcelona. The apartment was perfect for students. Plenty of room, a giant sofa, a large TV, two bathrooms, and a large kitchen with two refrigerators. I felt so comfortable I did not even notice that I lived with five other people. But what I liked: The terraces, 2 of them! Perfect for enjoying the atmosphere of Barcelona.
Corine

The floor was perfectly prepared to share, perfect for student life in Barcelona. The truth is I could not have asked for a more perfect location. I saw places where my classmates were living, and I was so glad we chose to go through Barcelona-Home, my floor was great! 100% recommended.
Tom
I stayed in an student housing Barcelona apartment for 3 months for my studies. I just want to say that the time was incredible thanks to all my roommates. Moments and amazing parties. Thanks for everything.
Alex
Are you looking for a great accommodation in Barcelona? Look no further, we have what's right for you!