First introduced in the 70s in the USA, the Street Art evolved and found its way to Europe ten years later. However, its emergence in Spain has been slower than the rest of the continent. In Barcelona,  adepts of urban art express emotions and passion through different pieces visible to the public in the city.
Booming at the beginning of the 2000′, artists of the world have had the opportunity to come to Barcelona to express their creativity in an artists's paradise without regulation or prohibition. Nowadays, there's a fine that can reach a maximum of 1000€. That's why today the way to express is taken by illegal routes or durign the night in order to avoid getting fined.
Seen as a negative mean of expression for a long time, street art became a powerful tool within the public debate and political decisions. In the light of recent events, Catalunia have been divided into two parts following the question of independence and in that case precisely, street art is considered as a way to express an opinion.

Things to do
#El Raval
This district is one of the most researched by the fans of Street Art in general, it will offer you the possibility to discover several inspirations of artists in the streets. Moreover, you will be able to find the Miscelanea gallery and its large range of varie diversified artworks. Evidently, several expositions and parts of the gallery are dedicated to the urban art of the city. Also, the Montana gallery close to the triumph arc could interest curious and professionals at this start of the year with an exposition : Suburban Folk for example. Also, Barcelona is a huge city and the Art is everywhere, not only concentrated in one district. Therefore, other neighborhoods such as Poble Nou y Born are researched by Street Art fans.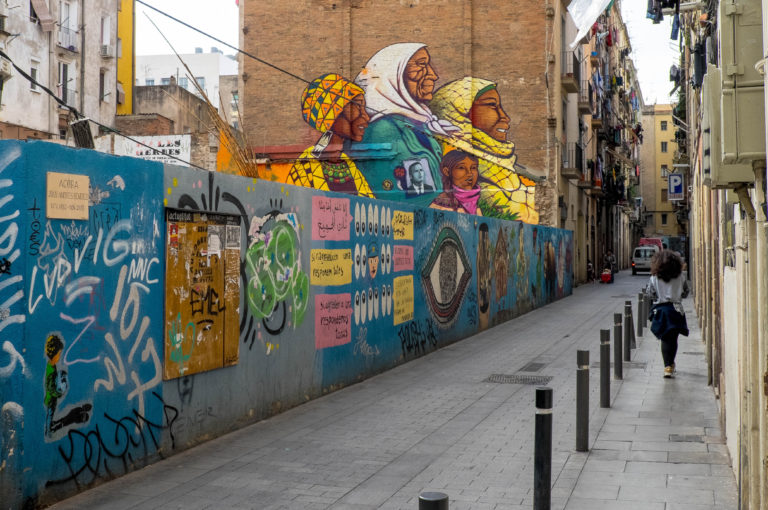 #Nau Bostik
This place is entirely devoted to the music, the theatre, but used mainly for the Street Art. Few years ago, Xavier Basiana a photograph and an architect intended to create a special place in Barcelona. He has chosen this abandoned factory and turned it into a incredible social place where artists, young and different people categories meet each other to create, share, enjoy and have a good time. A lot of events are organized every weeks for example on Thursday from 19.00 to 21.00, you can find large range of workshops about urban art. Moreover, this is a free place (except special events) who has been closed few months but now entirely available for everyone. An atypical place in the city to make a social experience and discover the numerous secrets of this place.
#Barcelona Street Art Tour
The Barcelona Street Art Tour offers the opportunity to discover all the different aspects of the city with both industrial and alternative overviews of the urban art fully integrated in the city: High walls painted with graffiti, stencils and more, backed up by some artists' guides taking you through an open-air museum of Contemporary art. Whether you are passionate or not, the set of the city will soon be a household for you!
Moreover, the tour also provides informations about the history, the movements and the different forms of the street art in Barcelona Don't hesitate to jump on the tour to have a chance to fully appreciate the beauty and the greatness of what the art of Barcelona can offer you.
The tour involves different ways around Raval, district Poblenou and Born areas, each one of them can be done in the most sustainable way as possible (Eco-friendly bamboo bike or on foot).

Where to Eat
If you'd rather eat or drink something, we have the perfect addresses for you! Barcelona is full of places to enjoy a short meal or a quick drink, because there's no time to lose to discover the city!
#Nevermind Bar
The Nevermind Bar is the number 1 place to go if you're a lover of street arts. With graffitis all over the place, the bar is decorated with skateboards and such, making for the perfect atmosphere to relax or have fun. Located in the Barrio Gótico of Barcelona, don't miss the chance to check it out!
Where: Carrer d'Escudellers Blancs, 3
When: Everyday from 19:00 to 02:30 except on Friday & Saturday 19:00 to 03:00
#Pizza Circus
Located in El Raval, this is the perfect stop to enjoy an amazing pizza, before going back to exploring right after. Offering a lot of different options to satisfy your expectations, this restaurant isn't just really good but also really affordable!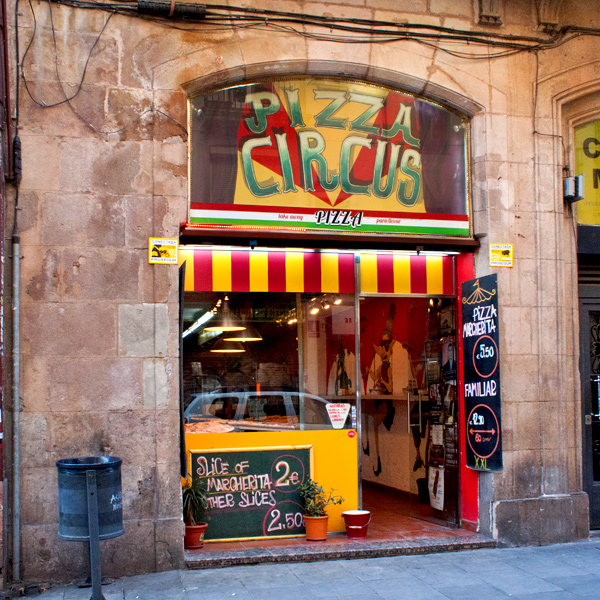 Where: Carrer Nou de la Rambla, 40, 08001 Barcelona
When: Everyday from 13:00 to 01:00. Closed on Sunday.
Where to Stay
If you're coming to Barcelona, you'll need to find a place to stay for the night, check out those appartments, located in the perfect spot for Street Art lovers!
Apartment with balcony in the center of Barcelona
This gorgeous modern apartment in the heart of the Sants-Montjuïc district is tastefully designed with a warm palette of natural colors (dark brown, beige and green), which are accented with bright white furniture to give an elegant, polished look to the space.
From 74€/night – 50m²
Attic with private terrace Barcelona
Bright and beautiful Barcelona apartment with an eclectic Dalí theme available for daily or monthly rent near Plaza de España. The living room comes with a vibrant red and white color scheme, with red and white chairs surrounding a cute dining table for 4, a bright red vintage sofa and white shag rug in front of it. We love the images of famous Catalan artist Salvador Dalí behind bright white frames whose color contrasts dramatically against the bright red walls.
From 72€/night – 40m²
Apartment close to centre of Barcelona
Bright and spacious apartment just minutes from some of the most iconic attractions of Barcelona, perfect for a family or friends searching for a fully furnished accommodation to call home during their holidays. The interior design features a consistent theme of dark green walls and decorations with bright white furniture, the contrast of which adds a fresh and elegant touch to the space.
From 75€/night – 50m²
SPECIAL DEALS ON APARTMENTS
all over the city with Barcelona Home!