If you have never been to Barcelona before, or if you have never traveled in general, then there are some things you should keep in mind before you leave home to ensure you stay safe while enjoying yourself in a new city. Other cultures, countries or people living in those countries can be very different to everything that you are used to. Here are some top tips about tap water, food, pickpockets and what to keep in mind when going to Barcelona.
Beware of tap-water
People usually adjust to the circumstances in their countries. For example, it can be that you become very sick if you eat from one of the food stands they have on the streets in Indonesia, while the locals can eat it every day because their stomach and body have already adjusted to it.
If you are from a country where you can drink water from the tap, then you probably will not like the water from the tap here in Barcelona. It can also give you an upset stomach if you drink it unflitered straight away, it is best to filter it and ease yourself into it. You should not worry though! There are tonnes of little stores and supermarkets on every corner of every street where you can buy bottled water, from 0.5L to 8L, every size you could want. The bottled water is very cheap as well, a 1.5L bottle of water usually does not cost you more than €1 (depending on where you buy it, the small stores are in general a little bit more expensive than the supermarkets).
If you want to know more about the water, then read this article about drinking water in Barcelona!
Enjoy the famous Spanish Tapas
Spain is known for all the delicious tapas dishes that they offer which can be enjoyed all over Barcelona in little local spots or more up-market restaurants! These different tapas come in all shapes and sizes, from typical Spanish fried fish to potatoes with a spicy sauce (patatas bravas).
This can be a new concept for those who are used to eating one plate of food since one order of tapas will usually not fill up your stomach just as a regular 'dinner' would. Therefore, you are supposed to get a couple of different orders of tapas, which you can share. Beware, in Spain, it is common to use a lot of oil when cooking, and since the food is so amazing it is hard to be on a diet here!
When you're in Barcelona you can't miss the Best tapas restaurants in Barcelona!
How to get around
Using the Buses in Barcelona is a breeze, Barcelona has a large transport system which consists of over 1000 buses that operate on 80 different routes and connect all the city's districts and the metropolitan area.  An obvious feature is that all of the buses have low floors which are adapted for citizens with reduced mobility. Transport passes can be used on the metro, Barcelona's tram, city-centre lines of the Ferrocarrils de la Generalitat (FGC) and Renfe trains. Barcelona also has a night-bus service (Nit Bus) which serves most of the city and its suburban area.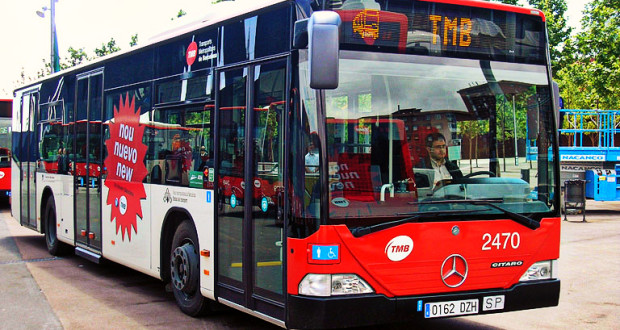 Another great form of transport which makes it easy to get in and out of the city are the trains in Barcelona. There are many urban and interurban train connections in Barcelona. These give you easy ACCESS TO DIFFERENT PARTS OF THE CITY as well as to other major cities in Catalonia and further afield such as GIRONA, Valencia and Madrid.
Taxis are another easy mode of transport to help you FIND YOUR WAY AROUND THE CITY, so catching a taxi in Barcelona is a breeze! They are easy to spot with their distinctive black and yellow colour and are found throughout the city offering a 24/7 service 365 days a year.
Finally, the Metro is a quick and easy way to get across the city and can be cheap when you purchase multi-trip tickets. For example, you can buy a ticket for 10 journeys for 11€ which can also be used on the buses. Check out the metro map above which shows you the different routes you can take.
If you want to know more about other ways to get around, take a look at transport in Barcelona!
Keep your eyes open for Pickpockets
Barcelona is a big, touristic city, and everybody is aware of this fact. This means that there are also a lot of opportunities for pickpockets. Therefore, if you are in Barcelona you have to keep an eye on your belongings at all times. In particular, La Rambla is a very popular place for pickpockets to operate. Also, when you are having a drink at an outside terrace, make sure to put your phone away instead of leaving it on the table. There are many tricks here that people with bad intentions know about, and they will steal your phone before you know it.
How to avoid being robbed in Barcelona
Take care of your belongings from the moment you arrive at the airport, the train station or at your hotel. It is more common to get mugged in the underground or in the train than in the bus. This is because the thieves only need to buy one ticket per day to go around the stations limitless.
While you are out, do not to leave cameras, handbags or any valuables unattended at your table in a bar or any public place.
Make sure your bags are securely closed and not easy to open. Have your bags around your neck and where you can see them. Don't hold your bag in your hand or on your shoulder, it is too easy to grab it.
Don't keep your wallet or phone in a wide or a back pocket.
Try not to look like a tourist, and don't show off your camera as much and look the map inside a café.
Do not have all your valuables in the same place. Leave your documentation and some of your credit cards at the safety deposit in the hotel, so you don't lose everything if you're robbed.
If you are robbed, then read this emergency info article, of what to you if you are robbed in Barcelona!
But most importantly – try not to stress about the dangers of the city too much. There are so many fantastic things to do and see in Barcelona and as long as you are aware of the possible ways pickpockets can operate, you can get on with your holiday without worrying. Have fun and be safe!