Do you love Barcelona's Sagrada Familia so much that you'd like to rent an apartment near this beautiful church? Well, keep reading this article if you want to know some apartments you could stay in near the Sagrada Familia. 
La Sagrada Familia is a Roman Church designed by Gaudi. It is one of the most famous monuments in the world and definitely the most emblematic of the city.  Started thanks to donations, the work began in 1882 and is still going on today. The site was classified at the UNESCO world heritage in 2003. It is very controversial because of its architecture that is mixing different styles (Spanish Late Gothic, Catalan Modernism, and Art Nouveau/Catalan Noucentisme), but we can all agree that it is a must-see church in Barcelona.
Apart from the Catalan church, there are a lot of things to do in that area. This neighborhood is full of bars, nice restaurants, and beautiful streets. If you walk 10 mins away from the Sagrada Familia, you will have the chance to be surrounded by locals. The area is not very touristic (apart from the church), so you will be able to find some of the best Catalan food and take part in the authentic Spanish way of life.
If you're coming to Barcelona, and you are looking for an accommodation, we would totally recommend this area as it is close to everything: five minutes walking to Plaça Catalunya, 20 minutes by bus to Barceloneta beach. So let's take a look at our nicest apartments near the Sagrada Familia.
Nice family apartment to rent
From 72€/night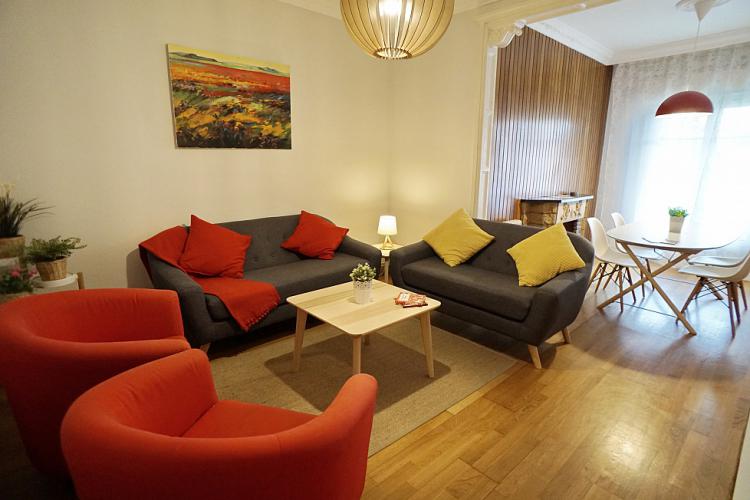 eight
people, making it
perfect
for a
family
or for a
group of friends
!
Sunny and elegant four-bedroom apartment which four single beds, one double bed, and one double sofa bed
Contemporary living room with four couches, a dining table and chairs near the big windows
Fully equipped kitchen to cook just like at home
Two nice bathrooms with showers
An elevator if you need it
Access to a lovely balcony to enjoy the views on the Sagrada Familia
Address: Carrer del Rosselo – Sagrada Familia
Reference number: BH-1972
License number: HUTB-002062

Classy two-bedroom apartment
From 99€/night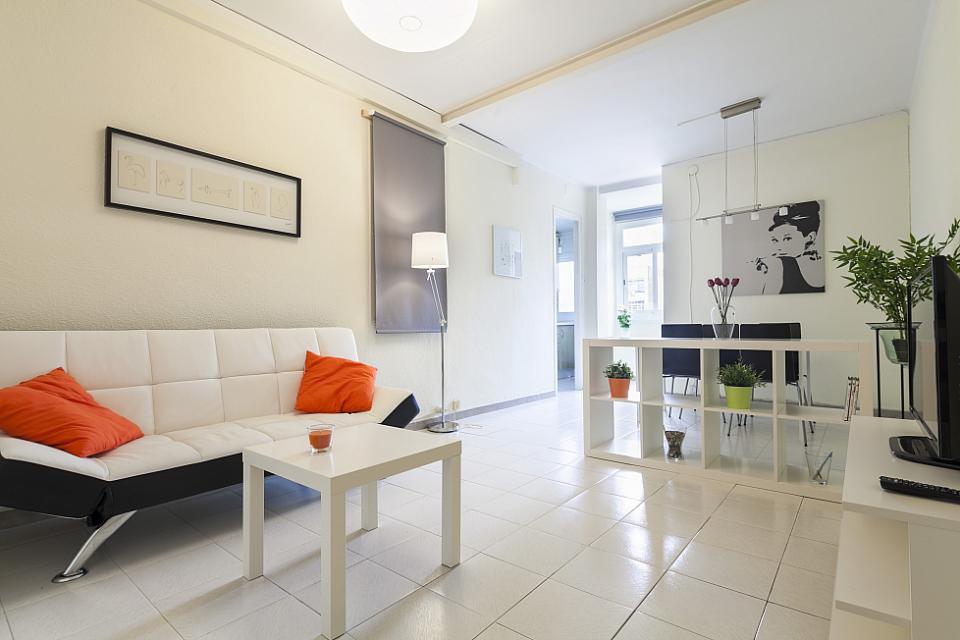 Lovely two-bedroom apartment near the Sagrada Familia.
Very bright apartment thanks to the big windows
Spacious and classy living room with a great sofa
Two bedrooms: one with a double bed, one with a single bed, both have wardrobes and window doors
Access to a balcony from the two bedrooms
Both the kitchen and the bathroom are fully equipped 
Address: Carrer de Padilla – Sagrada Familia
Reference number: BH-1360
License number: HUTB-002561

Great apartment with a nice terrace
From 116€/night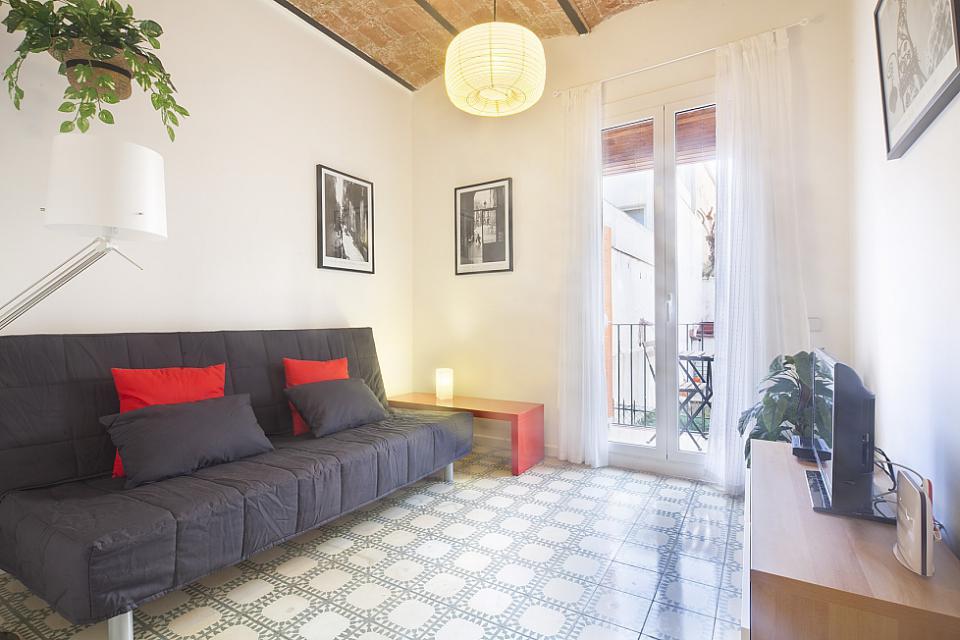 Lovely holiday apartment for up to six people.
Simple yet nice living room filled with natural light
Two bedrooms: one with a single bed, one with a double bed
Well equipped and modern kitchen and bathroom
Access to a small private terrace to soak in the sun of Barcelona's pleasant weather
Access to an elevator if needed
Address: Carrer de Provença – Sagrada Familia
Reference number: BH-1458
License: HUTB-004775

Very modern and stylish apartment with a terrace
From 121€/night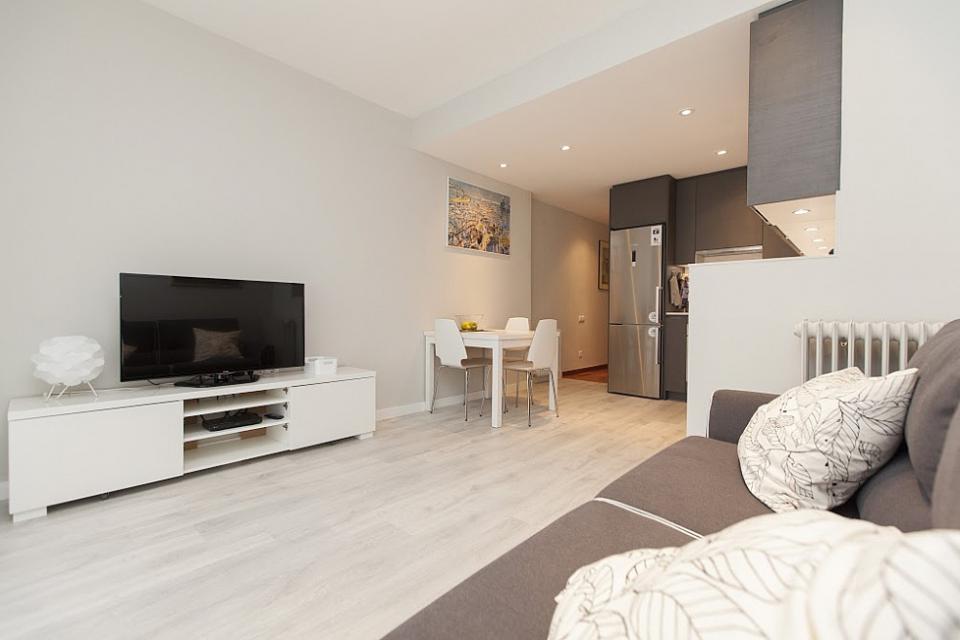 You're going to love this very stylish, vast and classy apartment which can host up to eight people!
Large, luminous, stylish living room with a comfy couch, a flat-screen TV, large windows
Open kitchen newly renovated and modern already fully equipped
Three pleasant bedrooms: two double beds, two bunk beds 
Two elegant bathrooms: one with a bathtub, one with a shower 
Access to a wide terrace with a parasol, chairs, a table, benches, cushions, plants, and flowers
Address: Carrer del Rossello – Sagrada Familia
Reference number: BH-1457
License number: HUTB-006759

Modern apartment with chic Scandinavian design
From 134€/night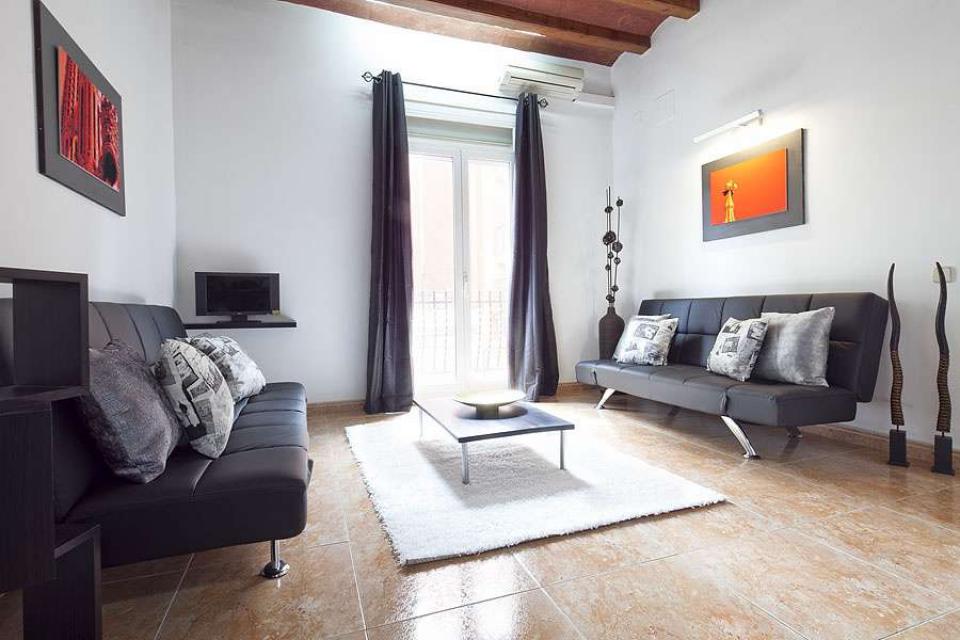 Enjoy this apartment and its polished style inspired by Scandinavian design.
Magnificent and bright apartment
Stylish, luminous and polished living room with two sleek black couches, a coffee table, and an elegant dining area
Three luxurious bedrooms with big windows, and very comfortable beds (two double bedrooms, one single room)
Brightly-lit kitchen with all the pieces of equipment needed for cooking
Two fancy bathrooms: one with a bathtub, one with a shower 
Address: Carrer de la Nacio – Sagrada Familia
Reference number: BHM1-050
License number: HUTB-002413

Elegant and modern two-bedroom apartment
From 149€/night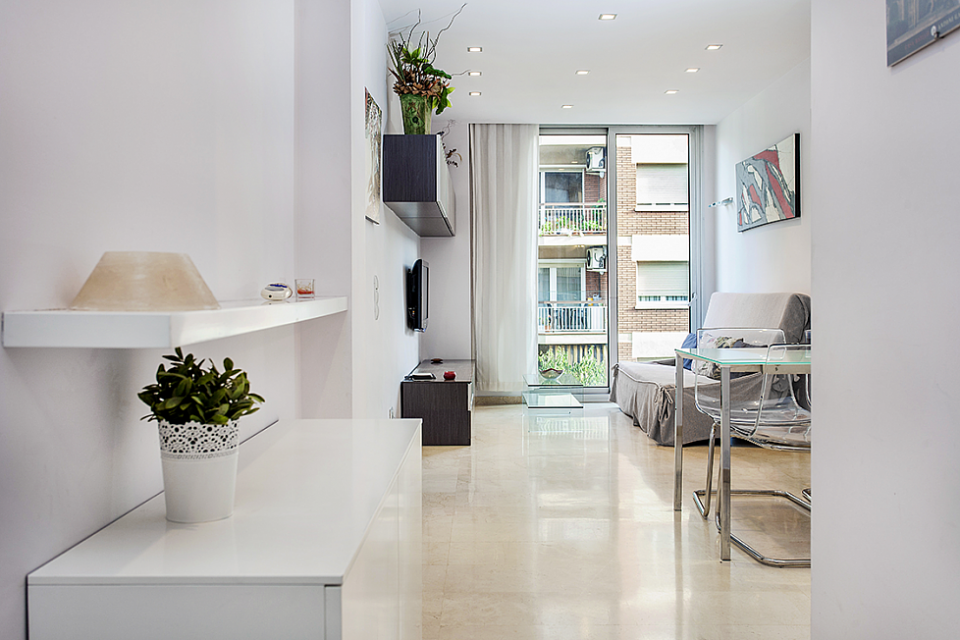 Check out this beautifully minimalist yet comfortable apartment!
Sunny, very modern and stylish living room and dining area with a nice couch, a flat-screen TV, potted plants and paintings, adding a touch of color to the white and grey design
Two bedrooms: one master bedroom and one single bedroom
Two separate bathrooms for maximum privacy and comfort, one with a shower, one with a bathtub 
Spacious, modern and fully equipped kitchen
An elevator is available if you need it
Address: Carrer de Corsega – Sagrada Familia
Reference number: BH-2835
License: HUTB-003549

Trendy two-bedroom apartment
From 1000€/month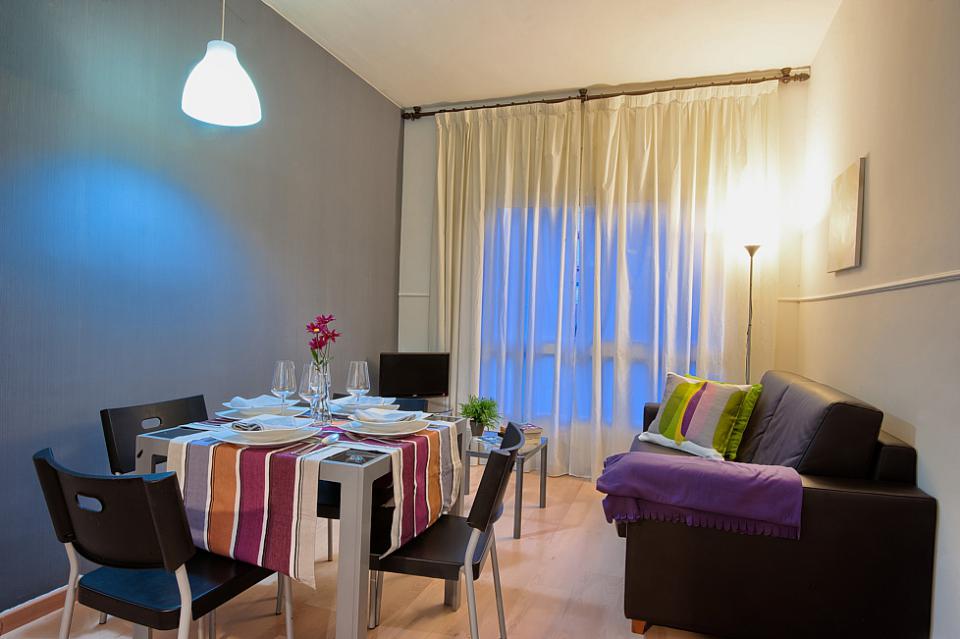 This lovely apartment could be ideal for a group of 4 friends or for a small family!
Contemporary–styled apartment, simply yet nicely decorated
Two very welcoming bedrooms and four single beds: two single beds in each room
The kitchen contains all the pieces of equipment you may need (fridge, freezer, stove, kitchenware, microwave and so on)
The modern and clean bathroom has a shower 
An elevator if you need it
There are big windows so you can enjoy some natural light
Located in a peaceful residential part of the city
Address: Carrer Ventallo – Sagrada Familia
Reference number: BH3283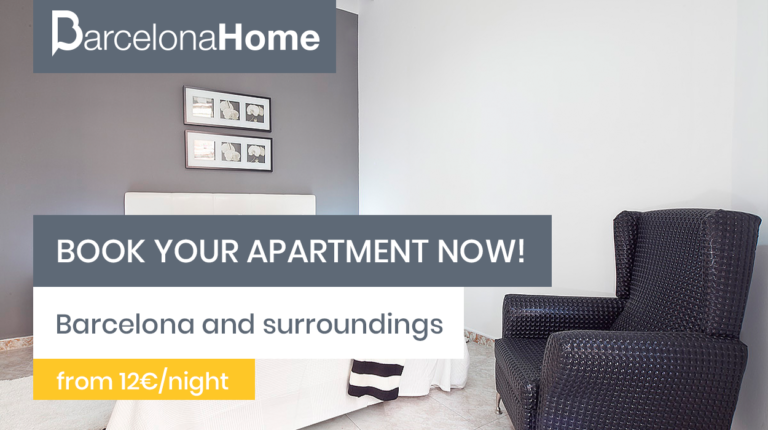 Tips to rent accommodation
Daily rentals; apartments, houses, studios, luxury properties – from €12/night
Monthly rentals; fully furnished apartments and rooms – from €260/month
Yearly rentals; furnished and unfurnished properties
You can always contact us to receive some advice to choose the perfect accommodation for you or assistance during the booking process!
Telephone: (+34) 934 231 270
Mail: [email protected]
Website: www.barcelona-home.com
Barcelona-Home is an internationally recognized and award-winning company based in Barcelona and has grown over the years, providing a wide range of services to meet the contemporary demand of our clients.
On our platform, you can find any kind of accommodation starting from shared apartments or student rooms, vacation rentals, monthly or yearly rentals, villas as well as properties for sale.
Our main goal is to provide the highest level of service to all our clients, we provide you with all the information you need when booking your stay with us. We are looking forward to welcoming you to Barcelona.
We hope to ensure that you enjoy a memorable time during your stay and fall in love with Barcelona as we did!
Barcelona-Home gathers professionals from more than 20 nationalities who love traveling the world and know more than anyone else about foreign countries. We are a multinational and innovative team of highly professional and dedicated people. The diversity of our team allows us to manage and respond efficiently to our clients' needs.