This Sitges villa  offers the perfect venue for your next event whether it be a corporate meeting, a friendly gathering or even a weeding! The property is located in the beautiful town of Sitges. This beautiful costal town offers lots to be discovered such as culinary delights like tapas or fine dinning options to typical spanish cuisine. There are multiple beaches to be discovered , stunning museums, as well as a vibrant nightlife. You can even indulge in some shopping with the wide variety of stores available. depending on the period you may be lucky enough to attend the Sitges carnival which is one of the most famous of Spain. This Sitges villa is located in an ideal area of this stunning little town.
(Rental space for meetings from 2100€.
Option to rent the outdoor spaces and entire house from 5900€.)
The villa is located just a few steps from the beach and the Vilanova Port making it the perfect venue to host a stunning event by the sea side whilst still having privacy and peace. The house which was built in the fourteenth century was originally a rural farm house. The interior of the villa has retained some of its original features such as the elegant exposed wooden beams, the arched windows or large open spaces of the bottom floor. The immense living room is decorated with a rustic yet contemporary and modern style composed of pastels and white tones, several lush couches that make up an elegant and cozy lounging area where you will be able to enjoy the mesmerising view and soothing sound of the see. The various area offer many possibilities for your events. The large dinning table permits to host numerous people for dinner parties or can easily be used for formal meetings.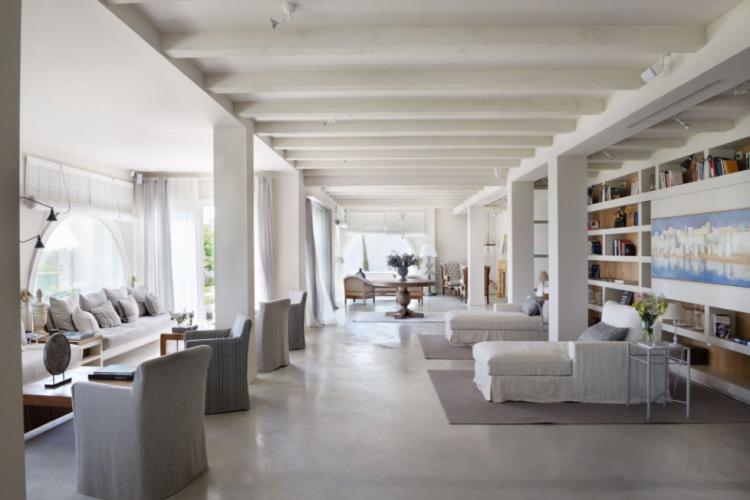 The top floor of the villa offers 6 bedrooms all beautifully decorated in alignment with the house. The rooms are spacious and offer stunning views, lots of natural light and a quiet a peaceful environment. Although there are six distinct bathrooms  bedrooms the house can host up to 14 people with ease. Due to the proximity of the house to Sitges the remaining guests to any type of event can easily find accommodation in Sitges insuring your event will run smoothly and problem free!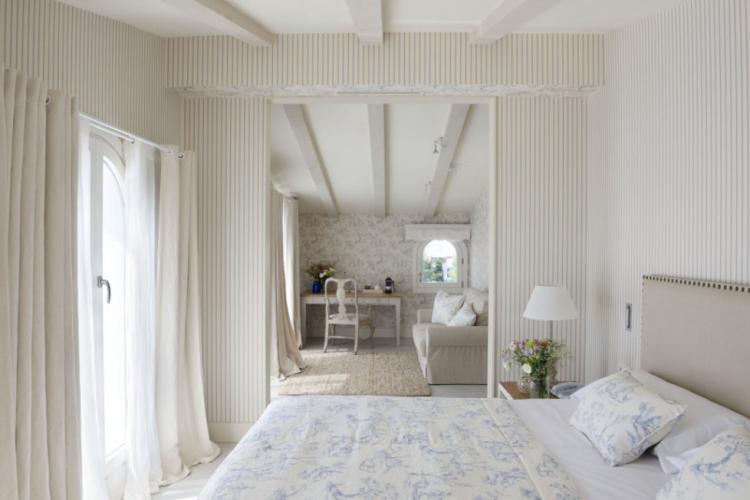 The space around the villa features a beautifully landscaped terrace and a large reception area which can easily host an elegant exterior dinner party or cocktail event. The house is complemented with a stunning infinity pool giving it that extra edge for a truly luxurious feel and stunning setting.  This villa is the ideal solution for your next event as its originality and beautiful scenery are sure your to make it an absolute success!
Looking for accommodation options close by for your guest? Check out our
special deals
on
apartments and houses
in Sitges!
As Barcelona is very close by you also look at our great deals on apartments and rooms in Barcelona!