With summer at our doorstep, the time is approaching to get into those bikinis and slip into something to keep you cool throughout the hot days and nights. Drinks at the beach, bars, chiringuitos are all welcomed, but more than ever, it's that time of the year. It's that time when cocktails and rooftops combine and make for a great time in Barcelona. Luxury rooftop terraces featuring pools and lounges are on the skyline and on your mind, so even for non-hotel guests, you can enjoy the benefits of these terraces. Here are just a few suggestions on where to head this summer!
La Isabela at Hotel 1898
With its central location just off the Rambla, whilst passing by on your evening strolls, you should pop into this Hotel. It's not necessary that you're a guest in this five-star hotel to take advantage of its amazing views from its terrace. From there, you can admire Barcelona's magnificent skyline. This rooftop has without a doubt a lot to offer, views all around the city, plenty of sofas and a great bar. The choices on the menu have something to suit everyone's taste: soft drinks, exotic cocktails, homemade tapas, champagne and more! (The outdoor pool is reserved for guests only.)

 Every day – 12 pm to 12 am


  €€€


 La Rambla, 109, 08001 Barcelona
Gran Hotel La Florida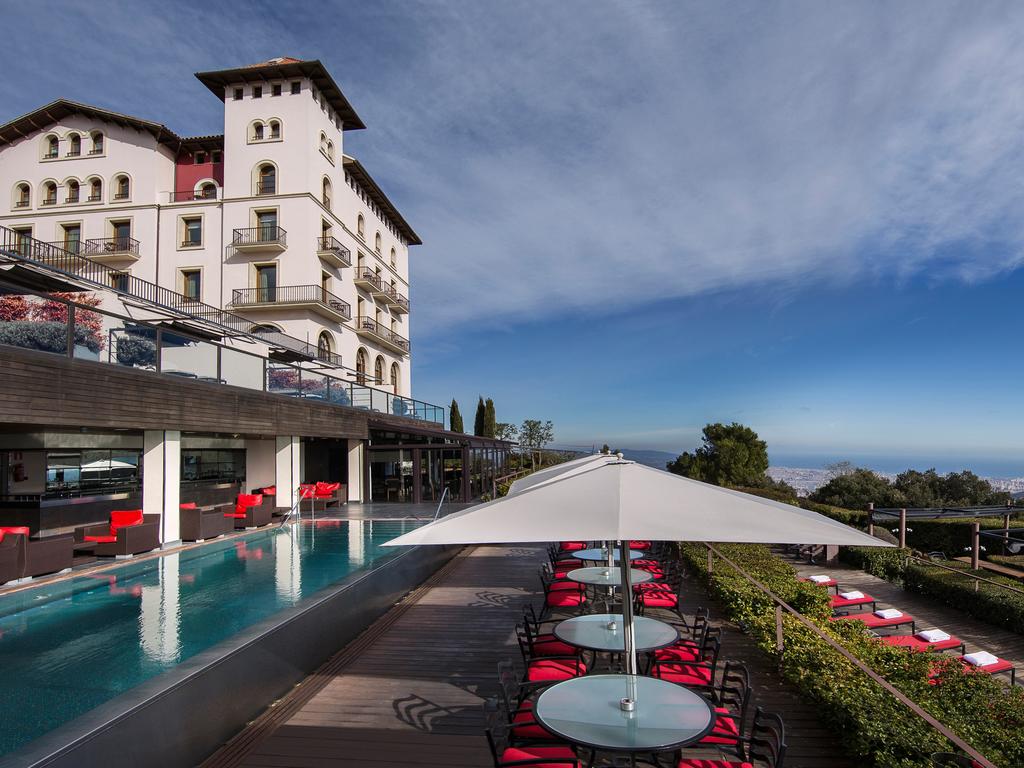 Watch the sunset at the TB bar located on mount Tibidabo with not just any views but spectacular ones, of sun, sea and the city. This poolside bar offers a chilled location up high and closer to heaven than you have ever been before. Sit back with a cocktail and dig into a selection of tapas and take your time coz it'll definitely fly by when the views are this breath-taking and the mood is so tranquilo! From a definite vantage point, you can't get much higher than here; this bar definitely shows off with its panoramic overlook and making you feel like you're living in luxury in the big city!

 Everyday – 11 am to 10 pm


  €€


 Ctra. de Vallvidrera al Tibidabo, 83-93, 08035 Barcelona
Hotel Majestic – La Dolce Vitae Rooftop Bar
One of the most luxurious rooftops in Barcelona being in place on the renowned Passeig de Gracia just 100 meters from Gaudi's famous Casa Batllo. This terrace offers plenty of 5-star service with amazing views looking down the boulevard of Passeig de Gracia filled with designer shops below and above skyline views of the city. Dress to impress is definitely a must on this rooftop where you can recline on sofas and lean back next to the swimming pool. It goes without saying that this is an expensive location but it's on the same level as Montjuic and as the Sagrada Familia so you don't want to miss it!

 June, July, August – 10 am to 2 am
September and October – 10 am to 12 am


  €€€


 Passeig de Gràcia, 68, 08007 Barcelona
Hotel Duquesa de Cardona
La Brisa del Mar terrace has great views and is one of a kind with cruise ships and yachts in the old harbor and seafront views looking over the horizon. One of the most unique locations situated on the edge of El Barri Gotic (the old town,) this terrace offers lounging sofas, palm trees over the ledge and a welcoming cocktail after a long day of sightseeing. Also on the rooftop, there is a restaurant and solarium, so if on its own the drinks weren't doing it for you, this might just be the thing!

 Every day – 10 am to 12 am (High season)


 Menu €€€


 Passeig de Colon, 12, 08002 Barcelona
Skybar Grand Central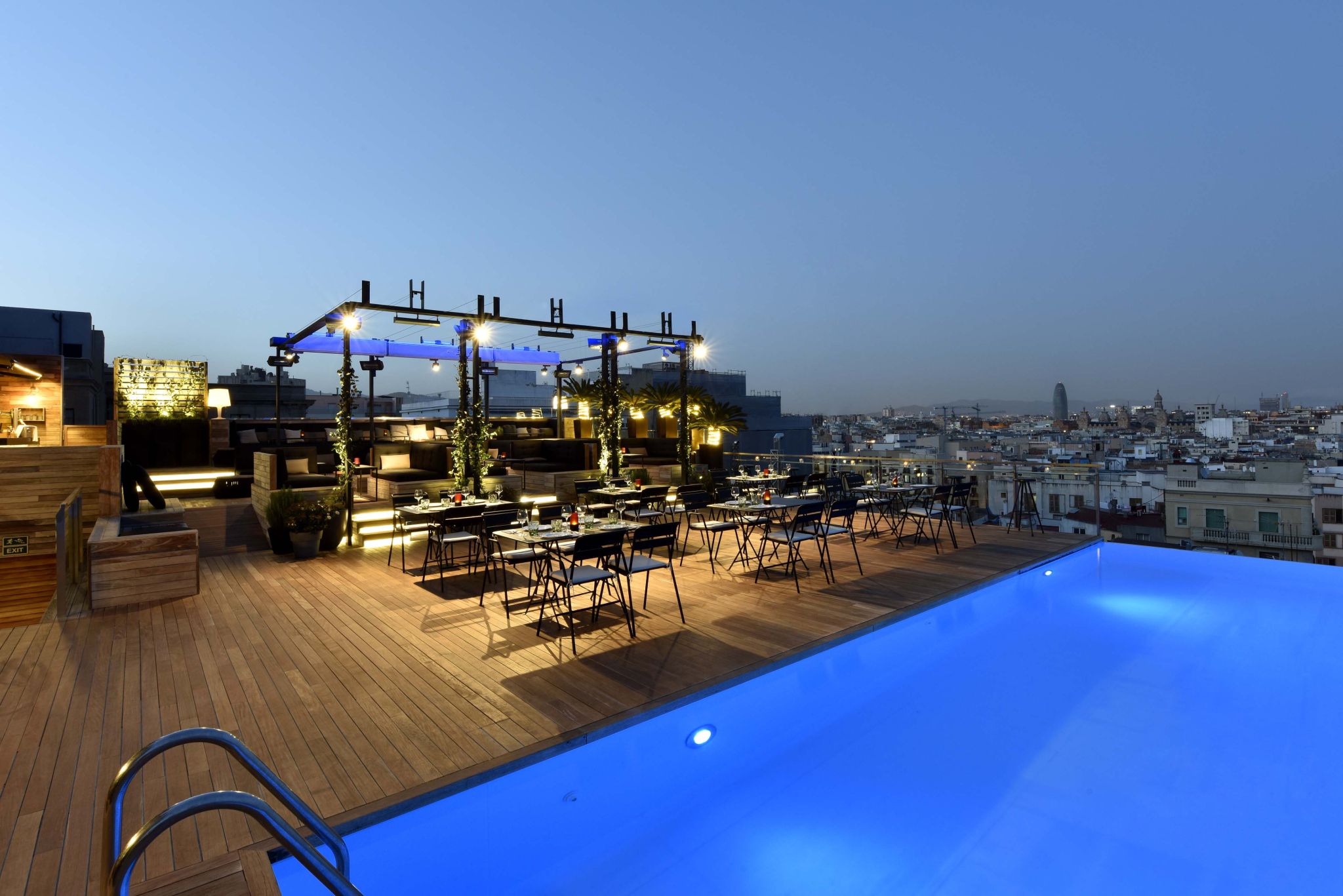 Skybar is considered to be one of the best rooftop bars. Why? Probably because thanks to its deck, you have 360 views of the old city. Also, you have a nice rooftop pool to sit and bask in the sun. Relaxing on a lounge chair is great for daytime entertainment especially when it comes with a cocktail and their incredible Mediterranean cuisine. Not to mention at night time you can do exactly the same and watch the sunset with their international range of cocktails available and tapas that'll drive you loco. Day or night this terrace has a lot to offer guests or non-guests, so enjoy it while it lasts!

 Monday to Friday – 8 pm to 12 am
Saturday and Sunday – 12 pm to 6 pm & 8 pm to 12 am


  €€


 Via Laietana, 30, 08003 Barcelona
Hotel Claris GL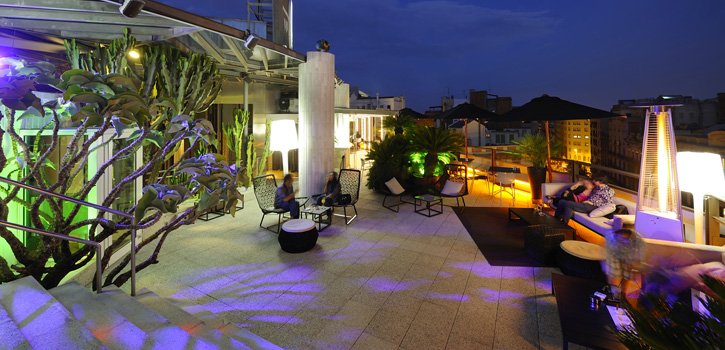 Not only is Hotel Claris GL a luxury 5-star but La Terraza de Claris is certainly special too, open both in the summer and in the winter. It features an inside area for those chilly winter nights where you can enjoy cocktails and cuisine when the night's still young. It's also very enjoyable during the summer, it's one of the most stylish rooftops in the heart of Barcelona. It's definitely a luxury treat. From Thursday onwards, live DJ sessions start the weekend off whilst you take in the views and consume the drinks.

 Every day – 1 pm to 3.30 pm & 8 pm to 11 pm


  Ligero Menu from €30


Carrer de Pau Claris, 150, 08009 Barcelona
The Wet Bar at W Hotel
Glamour and elegance are two things hotel W is prized for in the city and worldwide so why would their rooftop be any different? With the Mediterranean sea on one side and the splendid city and beach up to the coast on the other Wet bar definitely offers an astonishing view! Although the rooftop may not be as high as the other rooftop terraces. Plus, they make cocktails to die for. Customized cocktails and drinks available throughout the day and night whilst you chill by the pool, take a dip, dive in, or lounge back, you can do all these things and more. With live music, the Summer Wet Deck Special will liven up your happy hour on the luxury deck. Don't miss the happiest this place!

 (June) Sunday to Thursday – 10 am to 2 am | Friday & Saturday 10 am to 03 am
(July & August) Every day – 10 am to 03 am
(September) Sunday to Thursday – 10 am to 02 am | Friday & Saturday – 10 am to 03 am


 €€€


 Plaça Rosa del Vents, 1, Final, Passeig de Joan de Borbo, 08039 Barcelona