You can find restaurants in Barcelona serving good food round every corner from every type of cuisine such as Catalan, Italian, Galician, Japanese, Vietnamese and more. You can gorge yourself and pig out on exceptional produce and tantalising meals reasonably priced for just under €20 per head. Here are a handful of good value restaurants to check out during your stay here.
Petra 
Situated in the lovely area of el Born on Carrer dels Sombrerers, Petra offers great value for money in a truly charming and cosy decor. Everyday there is a different set menu for lunch which includes creative and delicious dishes. It offers modern takes and twists on traditional Catalan and mediterranean cuisine. This is a popular place for dinner so be sure to book a table during the weekends.
Address: Carrer dels Sombrerers 13, 08003 Barcelona
How to get there: Metro L4 (Jaume I)
Can Culleretes
This historic restaurant is located off of La Rambla on Carrer Quintana and was founded in 1786. If you would like to try some traditional Catalan recipes this is the restaurant to come to. It offers great traditional cuisine in a charming and quaint room with wooden interior to feel as though you have stepped back in time. It has a deeply rooted history where many Catalan artists and writers loved to dine here, what prove plenty of photograps and paintings on the walls. Parrillada de pescado y marisco is a must-have consisting of fresh seafood and for dessert crema catalana or the deeply rich chocolate fondant.
Address: Carrer d´en Quintana 5, 08002 Barcelona
How to get there: Metro L3 (Liceu)
Cuines Santa Caterina
Located in the Santa Caterina market, if you feel a bit hungry after passing through all the fresh produce and cannot wait until you get home, then head straight to Cuines Santa Caterina. It offers four different cuisines to try – traditional Catalan, Japanese, Italian and vegetarian cuisine and all at a reasonable price. At the bar you can also have breakfast or enjoy some tapas.
Address: Mercado de Santa Caterina, Avinguda de Francesc Cambó 16, 08003 Barcelona
How to get there: Bus 120 (Francesc Cambó – Gral Alvarez de Castró)
Granja Mabel
Situated close to the Arc de Triomf and Barcelona-Nord bus station. This quirky and modern family-run business offers a variety of international and traditional foods and is a great place to visit for lunch. They offer a spectacular menú del día which changes daily for under €10. High quality food together with very cozy place is the ideal combination to enjoy dinner with your friends.
Address: Carrer de la Marina 114, 08018 Barcelona
How to get there: Metro L1 (Marina)
Perbacco!
Located on the main street of Avinguda Diagonal close to Verdaguer metro station, this intimate restaurant contains some classic Italian pasta dishes and divine pizza with great toppings. We recommend you try the specials pizzas with amazing combinations of meats, fish, sauces, herbs and cheeses. It certainly offers the best in outstanding Italian food and plenty of it too!
Address: Avinguda Diagonal 339, 08037 Barcelona
How to get there: Metro L4, L5 (Verdaguer)
The Pan´s  Club
This vegetarian friendly restaurant serves great middle eastern dishes with a mediterranean twist. Either you want to enjoy slow long breakfast, late brunch or go for healtry lunch or diner in form of salad, everybody will find the pleasure of coming here. It is also known for its fresh fruit juices and unique tastes of quiche . Even the most keen of meat eaters cannot help but be satisfied after eating a meal here.
Address: Placa de la Llana 16, 08003 Barcelona
How to get there: Metro L4 (Jaume I)
And for something really special for dinner:
Fonda Gaig
Fonda Gaig offers a modern take on Catalan cuisine all elegantly and exquisitely presented. It is well-renowned for fine cuisine and makes the perfect option for celebrating a special occasion in Barcelona. It is a good idea to book in advance as it extremely popular.
Address: Carrer de Córsega 200, 08036 Barcelona
How to get there: Metro L5 (Hospital Clínic)
Teóric Taverna Gastrónomica
If you look for a place, where european cusine as well as traditonal Catalan dishes are served, in pleasant atmosphere with nice personnel, make reservation in Teóric Taverna Gastrónomica. High-quality meals for reasonable prices are served here and they also do not miss the creativity. Ideal place to finish the day full of sightseeing across the Barcelona.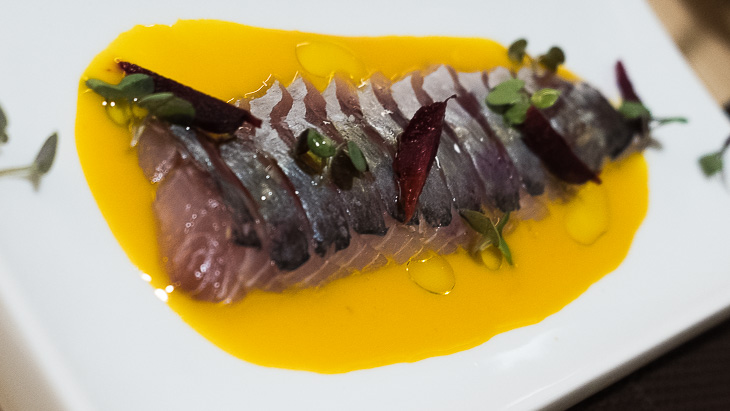 Address: Carrer de Bailén 117, 08009 Barcelona
How to get there: Metro L4, L5 (Verdaguer)
Viana
It is very possible, that you  will wait in a line to get a table, especially for a diner, but it is definitely worth it! Modern concept of international food with touches of traditional Spanish cuisine will warm your body and eyes too. Unexpensive menu full of colors and exceptional drinks ensure very nice impression from this small cozy restaurant hidden in the rush of a city.
Address: Carrer de Vidre 7, 08002 Barcelona
How to get there: Metro L3 (Liceu)
We chose only some of the remarkable restaurants from hundreds of those located in Barcelona. It´s only up to you, which one you choose and we hope you enjoy it! If you look for some restaurants with typical Spanish or international cuisine, check out our blog with lot of articles about food topic!
If you are looking for somewhere to fall into a food coma after stuffing yourself at one of these restaurants in Barcelona, then choose from plenty of great apartments in Barcelona!
Looking for an apartment in Barcelona? Check out our SPECIAL DEALS ON APARTMENTS all over the city with Barcelona Home!