Rental Moto Barcelona is a Company that offer scooter rental services for tourists and people demanding a transportation solution for moving through the city. With a fleet of Sym Symphony 125 S and Sym Symphony 50 S 4T scooters running in perfect condition, they offer their clients the possibility of having access to a high-quality, low-cost service.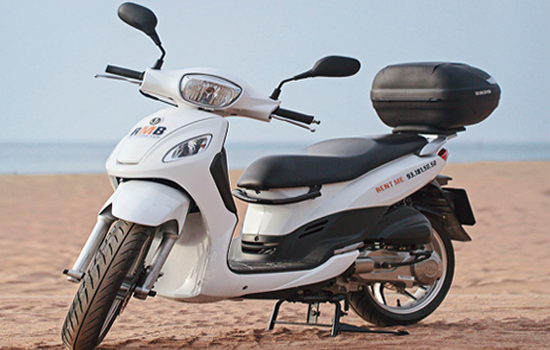 Because of its demographics, the city has so many cars that commuting is extremely difficult at rush hour. On the other hand, even when there is a good public transportation system, in some seasons –such as summer- the crowd of tourists and locals make the experience of using the underground, train or busses a legit odyssey. Because of that, Barcelona is a perfect city for riding a scooter
Currently, the city's street planning is appropriate for this kind of transportation, allowing those who opt for this solution, to go through the city in a fast and versatile way. And if that was not enough, Barcelona has several parking spaces, making the option of riding a scooter, a real and inexpensive solution compared with renting a car and going through the tiresome search of a parking space downtown and the price of such service. Not in vain Barcelona is the city with most scooters in Europe.
Because of that, renting a scooter in Barcelona is the best transportation alternative for those visiting the ciudad condal, giving them the opportunity to enjoy every corner of the city with absolute freedom. By renting a scooter, they will have the chance to optimize time and visit each one of the main places of Barcelona without worries, and they will not have to think about transportation or parking, allowing them to enjoy their experience with absolute comfort.
The price of the rental of a scooter with Rental Moto Barcelona is closed and without any unexpected surprises. It includes a helmet, a lock, a trunk box, road assistance and basic insurance covering damages to third parties. That is why it is the best option for renting a scooter.
If that was not enough, the location of their offices is unbeatable: just a few meters away from Sants Station, the main terminal of the city. A perfect spot for beginning every journey.
What is required to rent?
Renting a scooter in Rental Moto Barcelona is quite simple. The first thing you need to have in mind, is that riders must have previous experience riding motorcycles or scooters. In second place, it is required a driver's license valid in Spain; AM or car license with at least three years of being issued, in order to rent a 50cc scooter; or A1, A or car license with at least three years of being issued for 125cc. It will also be necessary to show an ID (Passport or DNI) and a credit card to pay for the deposit required for the rental.
Contact: