Would you like to rent an apartment with terrace in Barcelona?
Then this article was made for you! If you want to rent an apartment with a terrace in Barcelona, first there are a few things to consider. What kind of terrace are you looking for? For example, do you want a private terrace on the ground floor? Or do you fancy a penthouse terrace? Or perhaps, you wouldn't mind sharing a terrace with the other occupants of the building? This solution could mean a much bigger terrace to enjoy. If you enjoy relaxing, having dinner outside, or enjoying a drink while admiring beautiful views of the city, choose one of our apartments with a terrace. This type of accommodation is available all over the city, whether in the city center or a little further out in a quiet neighborhood. Check out our best apartments with terraces in Barcelona!
Colorful apartment with a nice terrace
From €112/night



This lovely flat situated on the attic floor is pretty cozy for up to 4 people.
Cute living room with a see-through dining table with some chairs, a vintage couch, and some cushions
One lovely and bright bedroom with one comfy double bed
A nice balcony next to the bedroom to enjoy some fresh air
The bathroom comes with a shower
A set of red stairs provide access to the private terrace with a nice dining table and chairs
Address: Carrer de la Torre d'En Damians – Plaça d'Espanya
License: HUTB-001181
Reference number: BHM1-016

Duplex apartment with a large terrace near Park Güell
From €124/night



This magnificent deluxe apartment can house up to 10 people.
This very spacious duplex apartment has a minimalistic style
Bright living room with 2 sofas, 2 armchairs, and a big window
The 2 bedrooms, the 2 bathrooms, and the private terrace are on the main floor
On the second floor, you'll find the fully-equipped kitchen with 2 more dining tables
The second floor also hosts the third master bedroom and the 3rd bathroom
Address: Carrer de l'Aldea – Gràcia
Reference number: BH-1435
License number: HUTB-005061

Group apartment with a large terrace
From €127/night



This big apartment is ideal for groups of friends and families of around 8 people.
The very large and very bright flat is very comfy
In the living room, you'll get to watch TV on a top-quality large screen
The apartment has three double bedrooms are available for maximum comfort
Two well-equipped bathrooms are at your service
The spacious terrace offers glimpses of the Sagrada Familia
Address: Carrer del Rossello – Sagrada Familia
Reference number: BH-1457
License number: HUTB-006759

Deluxe designer apartment with terrace
From €140/night



This luxurious apartment is ideal for a group of 6/8 friends or for a family!
Very stylish living room with bright white designer furniture and a nice couch
The modern kitchen has all the amenities needed to cook
The four bedrooms are pretty lovely and lead you to a balcony or to the huge private terrace
There are four single beds, one double bed, and one double sofa bed
The private terrace even has its own dining table made of wood, with chairs ready for you
Address: Carrer de la Nacio – Eixample
Reference number: BHM1-107
License number: HUTB-002412

Elegant and very bright apartment with terrace
From €167/night



This charming flat can host 6 people.
Very luminous living room with big windows to admire the nice playground
Two bedrooms both leading to a great balcony
Pretty modern kitchen fully furnished
Awesome terrace with views on the beautiful neighborhood
The bathroom contains a relaxing bathtub
Address: Carrer de Joan d'Austria – Vila Olimpica
Reference number: BH-2552
License number: HUTB- 000845

Great 2-bedroom apartment with terrace
From €167/night



This apartment is great for a family of 4, but it can host up to 6 people too.
Recent and very bright living room with a sofa bed and a dining table with some chairs
Two bedrooms are available – minimalistic style
The kitchen is recent and fully furnished
The recently renovated bathroom has a bathtub
Nice terrace to enjoy some fresh air comfortably
Address: Carrer de Joan d'Austria – Vila Olimpica
Reference number: BH-2550
License number: HUTB-000847

Terrace apartment with parking downtown
From €184/night



 Nice apartment can host up to 6 people.
Luminous living room which lets lots of sunlight inside of the room
The double sofa bed is great if you invite two extra guests
The kitchen has all the pieces of equipment you'll need
Access to a pretty nice balcony
Two bedrooms: one with a double bed, one with twin beds
One bathroom with a shower
The apartment even comes with a parking space for your car
Carrer de la Diputacio – Eixample
Reference number: BH-1211
License number: HTUB-004727

Beautiful house with terrace near Plaza Espanya
From €204/night



This apartment is ideal for several persons, as it can host up to 10 people!
Bright living room with a long corner couch
Modern kitchen fully equipped 
Five comfortable bedrooms
Two very luxurious bathroom
The house has two terraces to enjoy the nice weather
Address: Carrer de la Torre d'En Damians – Sants Montjuic
Reference number: BHM1-1098
License number: HUTB-001183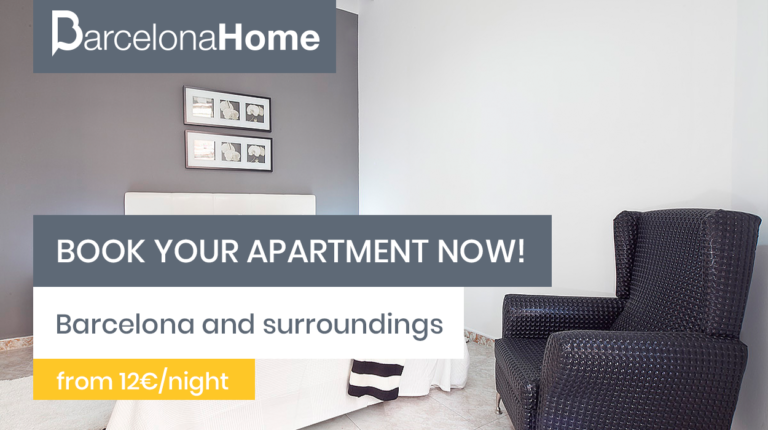 Tips to rent accommodation
Daily rentals; apartments, houses, studios, luxury properties – from €12/night
Monthly rentals; fully furnished apartments and rooms – from €260/month
Yearly rentals; furnished and unfurnished properties
You can always contact us to receive some advice to choose the perfect accommodation for you or assistance during the booking process!
Telephone: (+34) 934 231 270
Mail: [email protected]
Website: www.barcelona-home.com
Barcelona-Home is an internationally recognized and award-winning company based in Barcelona and has grown over the years, providing a wide range of services to meet the contemporary demand of our clients.
On our platform, you can find any kind of accommodation starting from shared apartments or student rooms, vacation rentals, monthly or yearly rentals, villas as well as properties for sale.
Our main goal is to provide the highest level of service to all our clients, we provide you with all the information you need when booking your stay with us. We are looking forward to welcoming you to Barcelona.
We hope to ensure that you enjoy a memorable time during your stay and fall in love with Barcelona as we did!
Barcelona-Home gathers professionals from more than 20 nationalities who love traveling the world and know more than anyone else about foreign countries. We are a multinational and innovative team of highly professional and dedicated people. The diversity of our team allows us to manage and respond efficiently to our clients' needs.