A duplex is a single-dwelling apartment with two floors connected by an indoor staircase. These homes are quite popular in Barcelona, due to the ceiling height of many buildings. This practical layout maximizes space by moving the sleeping area above the living area and allowing the space on the first floor to be used only for lounging, dining and working from home. Duplex apartments also have the added benefit of additional privacy. When you invite guests over for dinner or to see a movie the entire first floor is appropriate for entertainment and the bedroom is completely out of the way. For a relaxing and peaceful stay in Barcelona, we highly recommend one of our Barcelona Home duplex apartments. Next time you visit this Mediterranean city where the sun is always shining, remember to Rent Duplex.
From 850€ / MONTH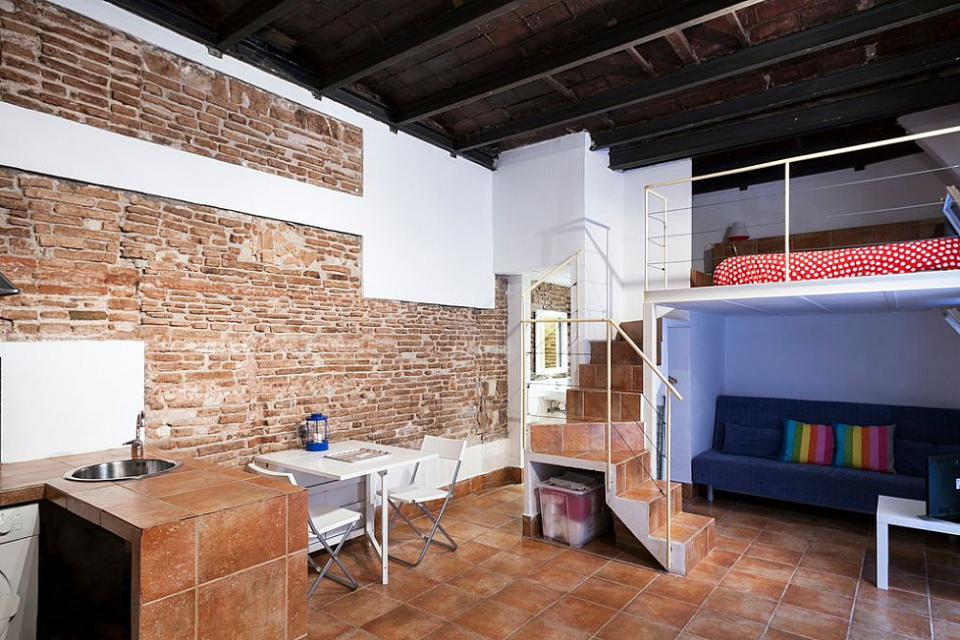 We adore this charming duplex Barcelona loft, located just steps from Barceloneta beach. The interior boasts a bold rustic combination of exposed stone walls, terracotta floors and wooden beams in the ceiling. These orange and brown natural materials are offset nicely by the bright white furniture with a contemporary design, including the two small tables and kitchen shelf holding all the equipment you will need to cook a great meal at home. Taking the short curved stairs up to the second floor, you will find a large double bed, directly below which is a cozy couch on the first floor of the apartment. The kitchen has an open design with a nice island bar decked out in gorgeous tiles, perfect for snacking off of while your friend or partner cooks.
This Barceloneta apartment is located on a narrow residential street, just a few minutes from the bustling Passeig de Joan de Borbó promenade, lined with fantastic seafood restaurants. Also nearby are Barceloneta beach and Parc de la Barceloneta, as well as two beautiful plazas. The apartment is just a short walk from the El Born neighborhood, as well as La Ciutadella, the largest public park in Barcelona.

From    68€ / NIGHT
From 950€ / MONTH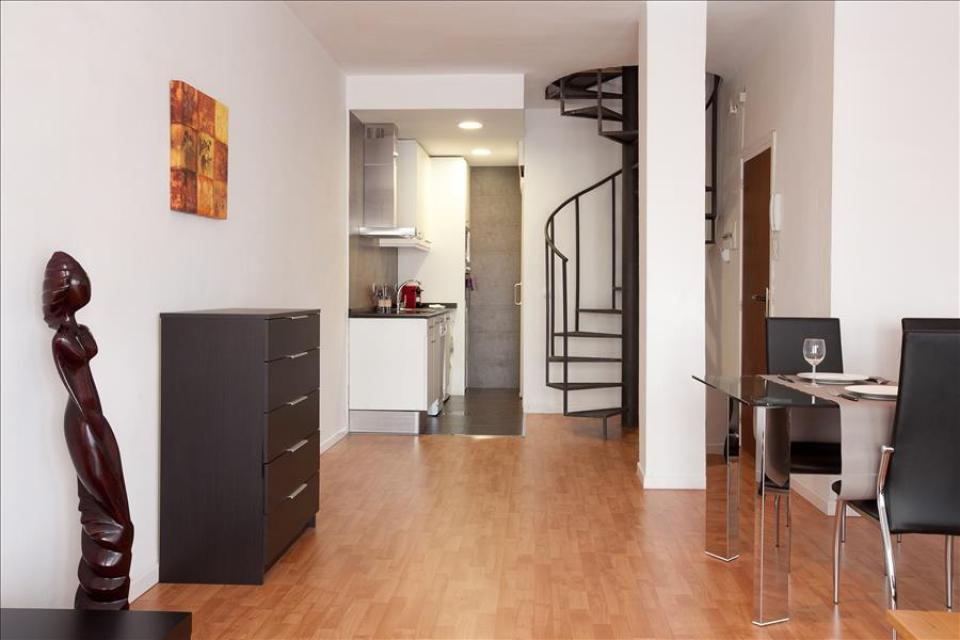 This fantastic Rent Duplex apartment comes with a living area completely separated from the sleeping space, the latter of which is totally out of sight when entering the home. On the first floor, you will find a nice lounge area with a comfortable black corner couch and coffee table facing a flatscreen TV. Not far there is also a matching black dining room table with space for four and a fully equipped modern kitchen further along, near the entrance. The design of the interior is simple, contemporary and chic, with a black and white color scheme, smooth wooden floors and elegant abstract paintings on the wall. This apartment with balcony is also very well illuminated during the day, due to the large doors leading to the balcony. Taking the spiraling metal stairs up to the second floor, you will arrive to the sleeping space furnished with a hotel-quality bed and armoire with dark wooden doors to store your things throughout your stay.
This Eixample accommodation is located in one of the most exclusive parts of the city, just steps away from the famous La Pedrera and Casa Batlló of Gaudí. The neighborhood is known for its wonderful shopping scene, with two of the largest shopping avenues (Passeig de Gracia and Rambla de Catalunya) just a few minutes from the apartment. You will also have a wide selection of fantastic restaurant and bar choices at your fingertips throughout your stay. We highly recommend La Bodegueta de Provenca for a taste of Catalan tapas.
License : HUTB-012471

From   122€ / NIGHT
From 1850€ / MONTH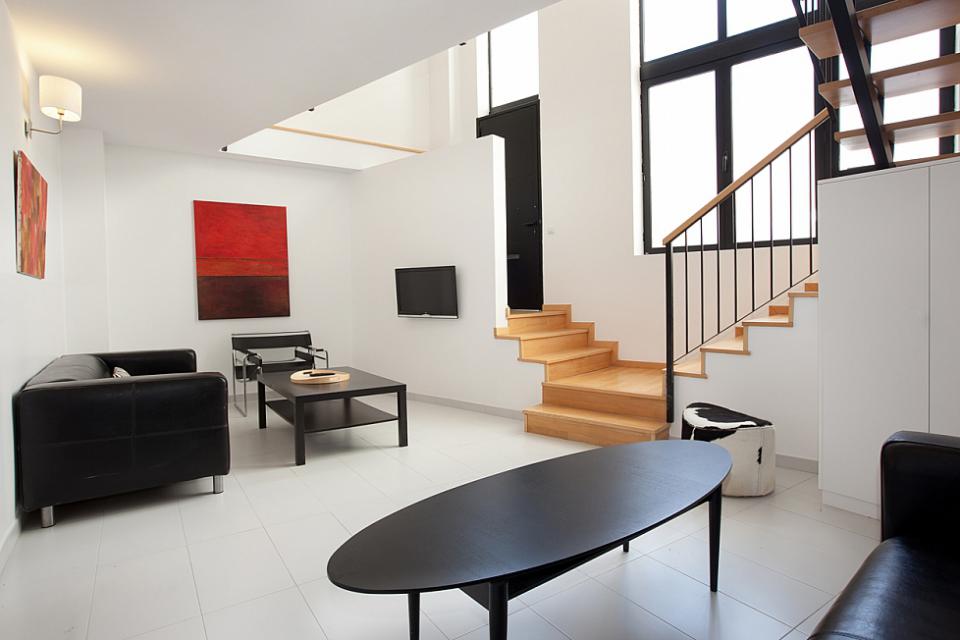 For a family or group of friends seeking a stylish accommodation for a short-term stay or long-term rental in Barcelona, we highly recommend this fantastic duplex. On the first floor, you will find a gorgeous living room with a contemporary chic design, designer furniture and beautiful red abstract paintings contrasting against the clean white and black color scheme. An elegant double stairway leads up to the top floor, where you will find a nice dining and working area with two tables and transparent chairs, as well as office style lighting. The apartment has a varied sleeping arrangement, with two double beds and three bunk beds, which can comfortably accommodate up to 10 people. The bedroom with bunk beds also opens to a 15 m2 private terrace furnished with a nice wooden table, the perfect spot for a leisurely breakfast with friends outside. One of our favorite features of this apartment is its spacious kitchen, with bright red countertops and plenty of equipment for cooking your favorite dishes. The duplex layout of this apartment offers an area to accommodate a large number of people while also maintaining enough space for a communal lounge area.
The apartment is located in a peaceful residential neighborhood named El Coll near the El Coll La Teixonera (L5) metro station and is very well connected to the rest of the city. Just a short walk away you will find the famous Parc Guell of Gaudí, one of the most visited tourist attractions of Barcelona. Throughout your stay, you will also have plenty of restaurants, bars, supermarkets and bakeries close at hand.
License: HUTB-005061