Why should rent cheap apartments Barcelona?
Barcelona is an expensive city. However, Barcelona is also one of the most beautiful cities in Europe, and you do not want to pass it just because it is costly. Furthermore, the price in hotels is always high, and you want to save money to spend on the other things like visiting Picasso Museum or famous football stadium-Camp Nou. As a result, you just need to rent cheap apartments to save money. Then Barcelona-Home can help you to solve the problem. We provide many cheap apartments Barcelona that can be a good option for your trip.
The good thing about looking to rent cheap apartments in Barcelona is that you have plenty of options to choose from and you will not be disappointed!

Where can rent cheap apartment in Barcelona?
In more expensive areas of Barcelona, you may find apartments at around €30 per night depending on the type of accommodation. These areas tend to be nearer the center such as Las Ramblas, El Born, l'Eixample and Barceloneta. These areas are great options. However, if you are looking for a bargain, then here are a few suggestions to make you save a bit of money. The following areas tend to have apartments available to rent at around € 20 a night.
Badalona
Badalona located further up north along the coast and hosts stretches of beautiful beaches. It is further away from the centre. However, it still has excellent transport links via the metro and bus to take you easily and quickly to the city centre.
Badalona area
Although it is extremely central, to rent cheap apartment can be found. Moreover, especially in comparison to those located in El Born or the Gothic area. This is a perfect choice if you want to be close to all the attractions and in the heart of Barcelona.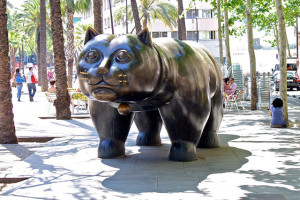 El gato de Raval
Sants
This is a great area with loads of shops, restaurants and within good distance to the centre by metro or bus. There is also Sants train station which can be useful if you fancy taking a day trip out of the city to places such as Sitges, Girona or Tarragona.
Sants Train Station
Although it is further out of Barcelona centre, it is a lot more tranquil and far less touristy but still with plenty of shops. The main attraction here is Barcelona FC's Nou Camp stadium. It is also located near to the university campus making it a great choice for students.
Les Corts neighbourhood
Are you looking for a great accommodation in Barcelona? Look no further, we have what's right for you!