Barceloneta's local neighbourhood association has accoplished a historic triumph against the big private accommodation agency AirBnB: various collectives called the city hall of Barcelona to stop subsidizing the Primavera Sound Festival, because they are thereby supporting Primavera's promotion of AirBnB's "unlicensed accommodations". Eventually, the petition brought Primavera to the point of terminating the contract with AirBnB and are only promoting hotel accommodations from now on.
Especially the Barceloneta district has suffered from the festival's marketing of cheap accommodations, alcohol and parties, which led to masses of international young party crowds flooding the district during the summer, with the mostly old inhabitants suffering from noise and public disturbance. The inhabitants were afraid the same was gonna happen at this year's Primavera Sound (May 28th – 30th), so they signed the petitions.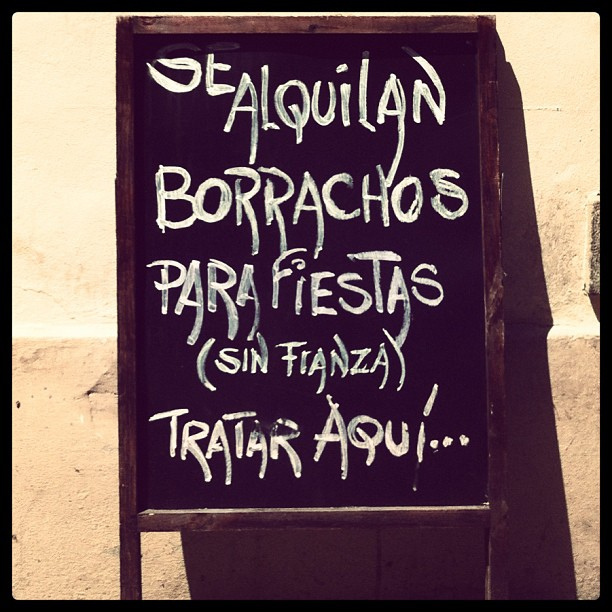 "Rent drunk people for fiestas (without deposit)" (photo credit: Daniel García Peris cc)
Find your accommodation now!
The Generalitat of Catalunya has already tried to ban AirBnB and punished them with a 30,000 € fee for selling unlicensed peer-to-peer flats, not meeting quality norms of the hotel industry. Furthermore, they don't oblige landlords to pay taxes, found the Generalitat after inspecting a third of all AirBnB flats in Barceloneta.
Now that the Primavera-AirBnB agreement is broken, competitors are excited to reap part of the potential 190,000 overnight stays for themselves. But how do we know that this is what the protestors actually wanted? Weren't they just marionettes in a political game between Acatur (the association of hostels), the traditional hotel industry and AirBnB? When Carles Gras, the president of Acatur, seems to be speaking up for the people of Barceloneta ("Ayuntamiento y Generalitat multan a Airbnb para que pague impuestos y después financian un festival que lo promueve" ; "Es cuestionable que se subvencione a un festival que promueve el alojamiento sin licencia"), how do we know that he isn't just playing citizens' spokesman to obtain profits for his own clientele?
It seems that another time, a public upheavel has been used by established powers to change the game in their favour, using the political system. Primavera was afraid of losing subsidies, Primavera is an important partner of AirBnB, so what are AirBnB's competitors doing when they can't find a weak spot fighting with AirBnB themselves? They try to hurt AirBnB's suppliers, in this case Primavera Sound organizers.