Pans and Company is something everybody knows for its healthy fast food options that make it the perfect place for a quick and healthy bite to eat! They make the sweetest sandwiches fresh for you and they also sell a lot of healthy salads for all the vegetarian under us. And the best is that there are more than 10 shops of them in Barcelona!
The thought behind this company was the wish to a new and innovative formula in the restaurant sector to accomplish developments in the areas of food, brands, quality, variation and originality, for products and the service they offer.
Find your accommodation now!
Pans and Company was born out of the concept of casual food as a healthy alternative on basis of products who are being used in a Mediterranean diet or informal meals in an pleasant ambiance.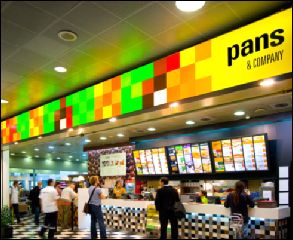 The formula was successful and they grown spectacularly fast! The amount of restaurants is being doubled and they ae in the whole county and even outside Spain. And no wonder, the industry of eating healthier is growing all the time, with more and more people interested in fitness and what they put in their mouths!
Try the Normand with melted brie and Serrano ham or the Greco with fresh tomato, feta and salad. You will absolutely enjoy it!
If you are looking for accommodation during your stay in Barcelona, then visit Barcelona-Home for great apartments.