4 best Parks in Barcelona.
Barcelona is a city filled with amazing greenery and parks. Every few blocks there are parks in Barcelona of all shapes and sizes. We would like to present our four favorite parks in Barcelona to you.
#Parc Güell
The Gaudi's architectural features and masses of tourists, photographing everything that occurs in front of their camera lenses in Parc Güell. The park located on an elevated piece of land, so it is a little stressful to walk up the hill to it but amazing views over the city reward you afterward. The focal point of the park is the main terrace, surrounded by a long bench in the form of a sea serpent.
Under Parc Güell, you find the old marketplace, which is a marvelous construction. We recommend not spending the entire day at the main entrance but walking around to discover what wonderful sights the park has to offer besides the very crowded places. If you are hungry after your day in the park we suggest not going to the restaurant La Torreta del Parc Güell but walk a little further and find a different place!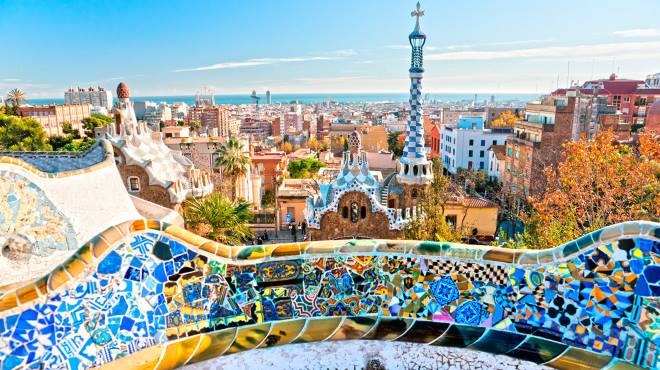 #More information
Opening times: 8 am to 9 pm
Price: Free, For Gaudi's house "La Torre Rosa" buy a ticket at the park
Address: Carrer d'Olot 5
How to get there: Taxi, Bus, Metrostation Lesseps (L3) and walk 15 Minutes
#Parc Guinardo Bunkers

The Parc Guinardo Bunkers, located in Parc del Guinardo, at the top of the Rovira Hill, is a place full of stories. During the Spanish Civil War, the locals built here an antiaircraft battery to protect themselves against attacks of Franco.
Nowadays the bunkers are used as a canvas by graffiti painters and as a meeting zone by young people from the neighborhood. But first of all, it´s a great viewpoint almost unknown by tourists.
The Bunkers are located really close to Park Guell, but it's not as crowded and the views from here are much better- in fact, you can see all the city, the port and the mountains Serra de Collserola! It´s a good idea to escape here from the hustle and bustle and enjoy the amazing landscape.
#More information
Opening times: 24h per day
Price: Free
Address: Carrer del Turó de la Rovira 61
How to get there: Taxi, Bus, Metro station Guinardo Hospital Sant Pau (L4) and walk 20 Minutes
#Parc de la Ciutadella 
Every time I walk around in Parc de la Ciutadella , I enjoy the special atmosphere that prevails only there. You see people who play games, do yoga, paint, sleep or have lively discussions.
The people use this park to relax and switch off and it does not feel as if only a few meters away the city life takes place.  Furthermore, you're in the heart of Barcelona, you're in Parc de la Ciutadella. For the romantics among you, there is a small man-made lake in the middle of the park, where you can hire rowing boats. There are many stunning buildings you have to look at. Check the map we added to the gallery below. Then, don't miss the Fountain, it's worth going there.
#More information
Opening times: 10 am to 9 pm in summer, 10 am to 6 pm in winter
Price: Free, Hire of Boats for 2 persons 6 € for 30 minutes
Address: Passeig de Picasso 21
How to get there: Taxi, Bus, Metro station Arc de Triompf (L1)
#Parc del Laberint
The Parc del Laberint is the oldest park in Barcelona. The park grounds are beautiful and offer many romantic places. However, there are no large green spaces where you can lie down. It is not teeming with people and you can be on your own in this historical garden. This is due to the distance to the city. Especially when it is very sunny and warm, the park is ideal because it offers plenty of shady places. In addition,  a scene from "The Perfume" was filmed there. Furthermore, don't get lost in the labyrinth!


#More information
Opening times: 10 am to 9 pm in summer, 10 am to 6 pm in winter
Price: 2,23 € adults, 1,42 € for children (younger than 14)
Address: Passeig dels Castanyers 1
Are you looking for a great accommodation in Barcelona? Look no further, we have what's right for you!