Dreaming of opening your own franchise? Barcelona is one of the best places to open your own franchise, and La Wash – safe and easy self-service laundry in Barcelona gives you this opportunity. La Wash is currently present in Spain, Portugal and has a strong international vocation. Currently, it has more than 125 successful franchises and several projects both nationally and internationally. Join their business and start your own profitable franchise in Barcelona.
What is La Wash
La Wash is a state of the art machinery launderette very user-friendly, fast and low-cost service.
Laundry involves a cost and a significant investment of time, but in addition, also has a cost to the environment, so it is important to apply a series of tips on laundry care to help us be always clean clothes but damaging the little as possible to the environment and garments. La Wash in Barcelona offers a washing and drying service in 365 days a year from 7 am to 10 pm without interruption. For more information read this article!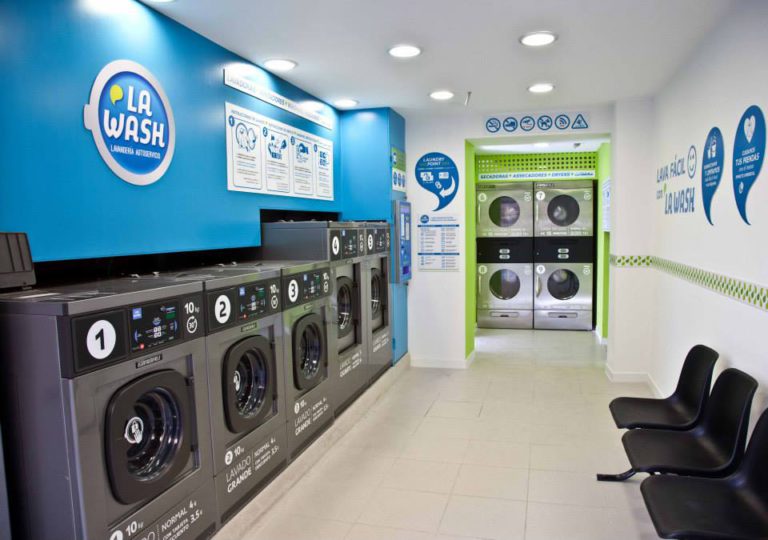 What does La Wash offer for
La Wash base their values on honesty and commitment to bring value to their customers. They offer a profitable product for their franchisees. The Wash is aimed at getting the best end-user experience while respecting the environment
La Wash offers Laundromat turnkey projects in Spain and Portugal and advises on everything you need, from the location to the business license. They do not charge royalties or entrance fee and it's a business of High profitability, quality, and efficiency of the service. They offer personalized services as well, several examples of self-assembly of Laundries and if you want, they will manage your business!
La Wash team is highly qualified and dynamic, and have extensive experience in laundry, detergents, consumer retail, geo-marketing, communications, engineering projects, facilities and business management industries.



Business advantages for you
High profitability with minimum effort.
No employees and open 365 days/year.
Prepayment in cash.
Quick expanding market and internationally consolidated.
A wide range of target consumer profile.
Support and service from La Wash Team.
Machines stopped do not cost.
Remote control of your business.
Profit on economies of scale.
It is your own business.
Information details
Address: Gala Placidia 1-3, Piso 16-2 Escalera B, Barcelona and more than 40 laundries in Barcelona
Opening Hours: 365 days a year, from 07:00 am – 10:00 pm without interruption or 24hrs. if the location allows it
Telephone: + 34 666 242 460
Email: [email protected]
Website: www.lawash.es/en