Barcelona is a lively and dynamic city that has much to offer to youthful travelers and locals however with regards to more senior travelers, a unique approach is required here. Tapas bar does not appear to be such an intriguing decision and also night gatherings or occasions which require high energy but also spots with hundreds of tourists is number one of what you want to avoid during your vacation. Traveling in such a bustling city as in Barcelona may seem troublesome, but still, the holidays can be pleasant and quiet even in such an energetic city. For a more relaxed, but productive vacation in Barcelona, we made a list of ideas for senior travelers.
Things to do
1. Take a bus tour "hop on and off"
Such choices have dependably had an awful notoriety for being considered as "languid" and "unauthentic" methods for investigating the city. Yet, what most voyagers overlook, is that individuals can get off the transport to investigate the sights by themselves. It should rather be perceived as a shuttle bus, conveying you straight from the attraction to another one. With such a framework for more senior explorers, it turns out to be so natural to set up an own particular course, just going to what they are interested in, and do not need to use transport or lay miles for miles to the following destination. This style of discovering the city unquestionably gives substantially more comfort than using public transport or walking, yet without compromises. In Barcelona, there is a wide range of services, which makes it a perfect place for voyagers with a great experience of understanding to discover the city effortlessly.
The Barcelona Bus Turístic will take you on three different routes which have transfer points along the way, meaning you can change from one route to another with the same ticket. Choose the red, blue or green route, depending on the places you are most interested in visiting. Buy your tickets here!
2. Dine in the dark
Rather than going to a restaurant, activate your senses in an unusual way – to dine in the dark. Amid this experience, you will be treated with gastronomic dishes. Feel that your senses of sight are completely absent and you have only the strings and the taste of authentic Spanish cuisine while at the same time exposing your feelings to this unique dining experience. This will definitely mark your vacation in Barcelona. Collect moments, not things.
3. Visit the botanical gardens
The best botanical gardens that can be found in Barcelona are in Montjuic, an extensive park covering the incline on the south side of the city. The Jardi Botanical Garden in Barcelona demonstrates an assortment of plants from around the globe with an emphasis on plants from the Mediterranean climatic regions. It is home to one of the biggest herbariums in all Catalonia. In addition to the noteworthy collection of vegetation, you can likewise appreciate a lovely perspective of Barcelona from the Botanical Garden, as they are high on the mountain. In any case, don't simply adhere to the perspectives – in these gardens you can see 87 exhibition units.
4. Partake in a cooking class
Why not extend your comprehension of culture in this incredible city through more interactive methods?  One such way is to partake in a cooking class. It allows you an intimate experience with an experienced chef where you can learn from the best and recreate your favorite holiday recipes at home for all of the family to enjoy. It is a skill which you will always have and will transport you back to the beautiful side streets of Barcelona whenever you cook.
While there are countless cooking classes in Barcelona, we can not recommend The Paella Club enough. It is a place like no other in the heart of Barcelona. Unlike other cooking classes which are merely demonstrative with little input from participants, classes at The Paella club have you dive straight in with 8 work stations for up to 16 people. This fully immersive kitchen experience will have you blending ingredients of the highest quality into mouth watering Paellas.
Choose from three different cooking experiences and check out their website for upcoming events.
5. Vineyard tour
To not to go at night parties that abound in the avenues of Barcelona, does not imply that you can't attempt the astounding drinks that this city is well known for. Spend a leisurely trip to one of the numerous neighborhood vineyards close to the city and to taste in some of the finest wines, such as Cava that you will ever find. Appreciate a voyage through the domains and figure out how are produced certain wines at the local level. The best piece of such trips through the vineyards? Without a doubt – wine tasting which starts after the tour. This is unquestionably one of the best ways compared to other approaches to chill and genuinely appreciate the way of life of Barcelona with your friends and family. Appreciate a tranquil and more rural setting amid the day before heading back to the city.
Buy your tickets here, and go on the Wine Tour through Alella, relax as you wander among the vines, taste the wines and discover the Mediterranean landscape. A true gastronomic and cultural experience close to the city centre of Barcelona!
Where to Eat
Also, we prepared for you a list of best restaurants in Barcelona where you can make your days and evenings perfect in this amazing city in front of most delicious dishes.
Restaurant 7 Portes
This place is one of the best to which you have to think when it comes about fine-dining in Barcelona. With its historic line of chairs and tables from 19th Century, this place captures your heart making you feel comfortable and cozy. Being situated near port it undoubtedly has the most delicious seafood but also paella. It has recipes for everyone, more traditional or extravagant, you can be confident that this restaurant will surprise you in the most interesting way.
Casa Leopoldo
This could be named real classic with an excellent service and extraordinary food. The two chefs are always happy to open for you an adventure into a high-end vintage atmosphere and memorable dishes. The restaurant has also lovely surroundings, so are you still thinking where to have the tastiest dinner?
Cafè de l'Acadèmia
An ideal place for any season, in summer or winter, due to its bare-bricked dining-room. The restaurant is worth a visit because of its exceptional traditional Catalan dishes. Some of them could be magret de pato, cannelloni, risotto and others. Please keep in mind that it's opened only during weekdays.
Where to stay
In case you are looking for accommodation during your stay in Barcelona: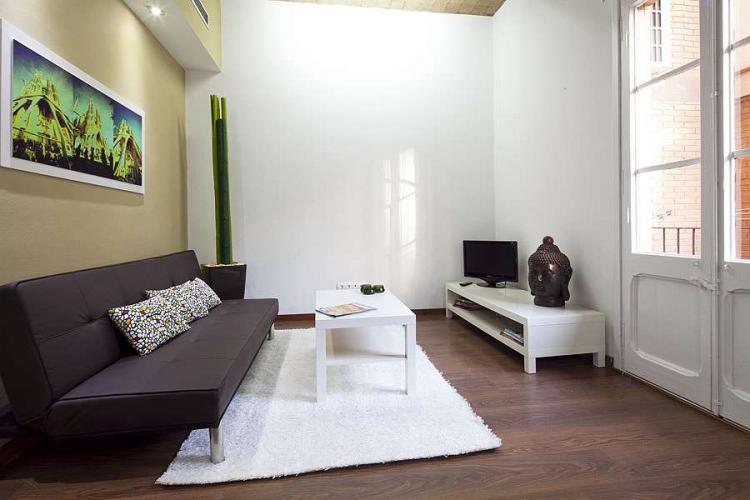 Elegant apartment near Sagrada Familia
Beautiful apartment with cozy living-room, small balcony and black&white furniture. You will also find a recently renovated bathroom with shower and a kitchen fully equipped with an oven, stove and a microwave.
72 € / night / 80m² / License : HUTB-002031
Modern apartment with terrace close to center
Charming apartment situated in a quiet part of Barcelona with a great interior. It is situated close to Laberinto de Horta and Park Güell. The living-room has a place where you can lounge and relax on the couch, watching TV or having a meal.
626  € / month / 38m2
Bright and cozy apartment near Barceloneta
Perfect apartment for those seeking to spend time at the beach but also to explore the city. Decorated in a Mediterranean style and fully furnished with bright pieces, this place emits an air of joy and warmth inspired by vacation mood of the city.
1503  € / month / 65m2
We wish you an excellent and productive stay in Barcelona. On the site BARCELONA-HOME, you can find where to stay next to the listed places in the article!