Treat yourself to a fantastic New Year's Eve party in Barcelona! The pulse of the city really starts to rise after midnight in Barcelona on New Year's Eve, as this is when most nightclubs open, offering a great way to continue the New Year's celebrations well into the early hours of the following morning.  To get the most out of your night and to find a New Year's Eve party that best suits your needs we offer a list of the best parties in Barcelona to cover every need. Our guide includes information on location, prices, types of music etc. Keep in mind that prices of entry are raised quite significantly on New Year's Eve compared to regular entrance fees during the year.
Be prepared to pay around 30€-70€ for a regular entrance, depending on the venue, of course. Often a drink, or more, is included in the price of entry and sometimes even party accessories, such as t-shirts and party hats, are handed out for free. Remember that when it comes to New Year's Eve in Barcelona, great plans and preparations make for a fantastic night to remember! Here is a collection of the most popular nightclubs and parties in Barcelona:
#SUTTON NEW YEAR'S EVE 2018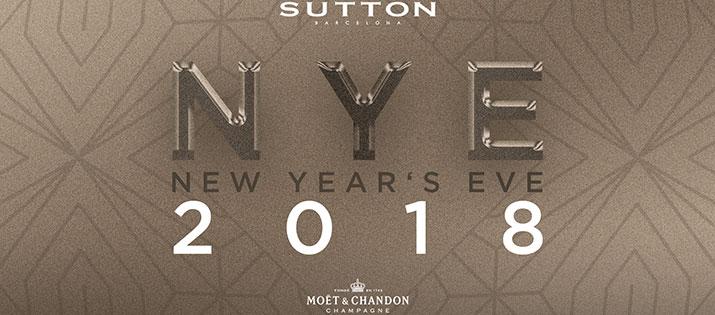 Sutton Club Barcelona, nominated as one of the most exclusive clubs by 'The World's Finest Clubs', is located in the upper area of Barcelona. The club has a main room where the dance hall and VIP spaces are located, in addition, it offers the possibility of enjoying an alternative room for other musical tastes.
Location: Sutton Barcelona, Carrer de Tuset, 13, 08006
♫Genre: Alberto Martin & Carlos Ramos & Xavi Ques – Deep House
Price: starts at €50 for entry + 3 long drinks
Door Policy: Dress Code: Chic, Age: +23
#NEW YEAR'S EVE AT OTTO ZUTZ 2018
Otto Zutz is a great option to celebrate the New Year in a fun and festive environment. All of the rooms will be open with different music to choose from and a great selection of drinks!
Location: Otto Zutz Barcelona, Calle de Lincoln, 15, 08006
♫Genre: RNB, Commercial
Price: starts at €35 for entry + 1 drink
Door policy: Elegant, +18 years
# OPIUMS NEW YEAR'S EVE PARTY 2018

Opium Barcelona offers you to bid farewell to 2017 and welcome 2018 in style, as you deserve. You can start the evening with a special dinner on the terrace of the restaurant, toast the new year and continue the party until dawn at the trendiest club in the city. Dinner, champagne, cocktails, DJs, top clientèle and lots of partying, all overlooking the sea, Opium's New Year evening is simply unmissable.
Location: Opium Barcelona, Passeig Marítim de la Barceloneta, 34, 08003
♫ Genre: Dance, Commercial
Price: starts at €50 for entry + 1 drink
Door policy: Elegant dress code enforced. +18
# NEW YEARS EVE AT SHÔKO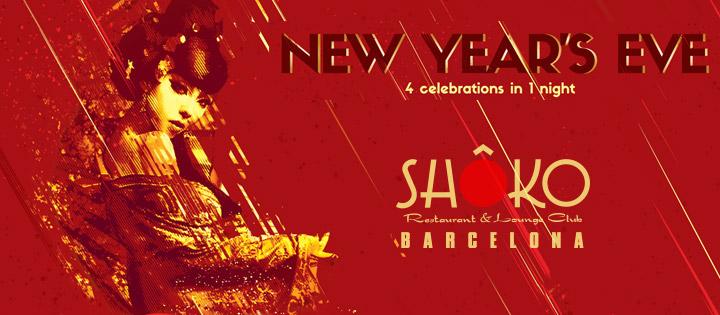 In shôko, we start the new year in front of the sea with the warm welcome of our geishas. Join us on the red carpet, there will be cameras, lights, and action. We will travel to 4 countries full of joy, colour, and explosion performed by the best national and international artists. Between feathers, drums, and frills we guarantee you an unforgettable night.
Location: Shôko Barcelona, Passeig Marítim de la Barceloneta, 36, 08003
♫Genre: Dance, RNB
Price: starts at €50
Door policy: Elegant dress code enforced. +18
# PACHA PRESENTS ITS NEW YEARS EVE PARTY 2018
Pacha being one of the most visited clubs here in Barcelona is sure to be filled to the brim for its New Years Eve party so don't delay in getting your ticket for this unforgettable night! For lights, colour and some great tunes it is not one to be missed!
Location: Pacha Barcelona, Passeig Marítim, 38, 08003
♫Genre: House, Techno, Tech House
Price: Early bird tickets start at €30 for entry + 1 drink
Door policy: Smart Casual dress code. +18
Things to note:
The following day, 1st of January is a public holiday in Spain. If you're visiting Barcelona for a short-term stay, this holiday should be taken into account.
The Barcelona metro system will be running all night on New Year's Eve, helping you move around from one party to another a lot faster. Many people will be using the metro, however, so be sure to have a flexible timetable.
If you are planning on eating out, it's highly recommended to reserve a table beforehand, as most decent restaurants will be fully booked on New Year's Eve in Barcelona.
See above how close together many of the clubs are,  perfect for club-hopping or meeting up with friends after your night out.
Finding accommodation during the holidays can be difficult because of how busy the city gets, so if you're planning to celebrate in Barcelona and still don't have a place to stay, we would love to help! Check out our apartment options below!