Why Les Corts?
Les Corts is perhaps not as famous as some of the inner, older districts of Barcelona. But nonetheless very exciting still. Les Corts is also home to perhaps Barcelona biggest attraction, the massive football stadium of FC Barcelona, Camp Nou. This massive 98,787 seater stadium sits majestically in the middle of the district, flanked by other sporting grounds of the club, such as the FC Barcelona "B"'s home ground, the "Miniestadi" and the basketball stadium "Palau Blaugrana". Les Corts might not be as busy as the old districts of Barcelona. But this is not necessarily a bad thing. Neighbourhood Les Corts is mainly a residential and business area with many apartments in Barcelona.However, the area still has a decent nightlife and fair shopping opportunities. Les Corts is generally considered to be one of the safest parts of the city, and the simple layout makes it easy to navigate.
Sights in Neighbourhood Les Corts.
By far the biggest tourist attraction of Les Corts is the football stadium of FC Barcelona, the Camp Nou, and the museum on the same grounds, "Museo de FC Barcelona". But also the local market is very interesting. And on the end of the green metro line (Zona Universitaria), you will find the biggest campus of Universidad de Barcelona, and beautiful sights upon Avenida del Diagonal.
Eating out in Les Corts.
Les Corts doesn't have near the number of restaurants that can be found in the old districts of the city. However, this might actually be a good thing, as it appears to be all the tourist minded (not-at-all authentic restaurants, even though they claim so) run by foreigners, that are missing. This leaves a lot of room for genuine restaurants that serve good food cooked with passion, instead of restaurants trying to rip you of your money, as sadly seems to be the case at many restaurants in the old city. If we were to mention an absolute gem in Les Corts, it would be the "Negro-Rojo" restaurant. On the first floor is the "Negro" which will serve you delicious food from all over the world while the "Rojo" downstairs serves the best Japanese food in all of Barcelona.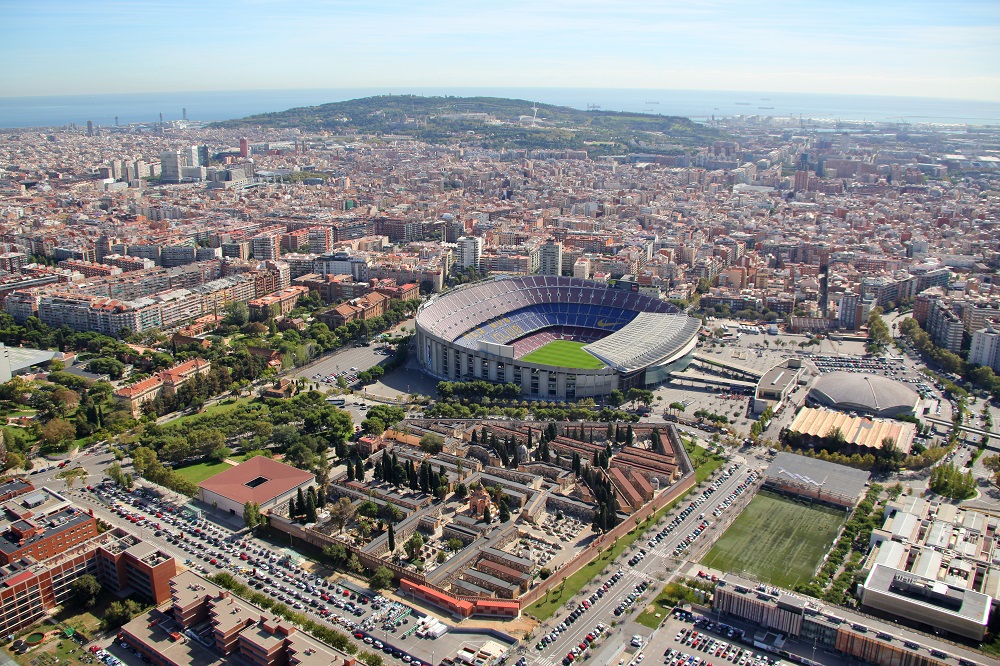 Drinking & Clubbing in Les Corts.
Neighbourhood Les Corts isn't bustling with bars but there are some. One not to miss is the Hawai'ian style cocktail bar Kahala that features an amazing decor that takes you straight to these Hawaiian islands in the Pacific ocean. Another great place is the "Negro" mentioned in the section about eating out. "Negro" turns into a great night bar when dinner time is over.
Les Corts has some very cool places to go clubbing. An absolute favourite (during summertime!) is the "Gold Liquid". "Gold Liquid" is an open-air area with a large pool designed to look like a lake. Here you can have a swim in the pool while enjoying a colourful cocktail and listening to electronic beats. Another famous place in Les Corts is the "Bikini" club. A huge place that during the early hours of the night hosts gigs by local talent; but turns into a nightclub later on in the night.
Shopping in Neighbourhood Les Corts.
Feel that shopping urge rising inside? Head on over to the L'Illa shopping complex on Diagonal L'Illa. Here you'll find all the shops to satisfy any shopping urge. But L'Illa is not only about shopping as it also has a number of great restaurants that you don't want to miss out on!
Are you looking for a great accommodation in Barcelona? Look no further, we have what's right for you!