Barcelona-Home provides various types of apartments in different areas in Barcelona. There are 10 areas in Barcelona that you should visit in Barcelona. All those areas have various characteristics that make a dynamic, beautiful and ancient Barcelona. If you are the old fashion, Gothic Quarter would be the excellent choice. Furthermore, Gothic Quarter located in Ciutat Vella district-one of the best areas in Barcelona that has many popular views around this district. However, if you like the modernist of city or nightlife in Barcelona, Eixample area would be the best place for you to stay.
Are you planning on visiting one of the most beautiful city-Barcelona? Do you not know which areas in Barcelona to stay? Are you looking for an apartment in neighborhoods of Barcelona? Barcelona-Home has your answer.
Areas in Barcelona for staying.
Find out more about areas in Barcelona. Then choose your apartment to your taste, where you will enjoy the beauty of the old city of Barcelona. In this city, you can find everything you need. For instance, if you want to live in quiet, rich, next to the seaside area, etc., everything possible here to make your stay unforgettable. Barcelona doesn't have any problem with accommodation, the question is about your taste and preferences but you should discover this city and it areas better.
Let's check more apartments in areas in Barcelona.
Neighborhoods of Barcelona:
Ciutat Vella's apartments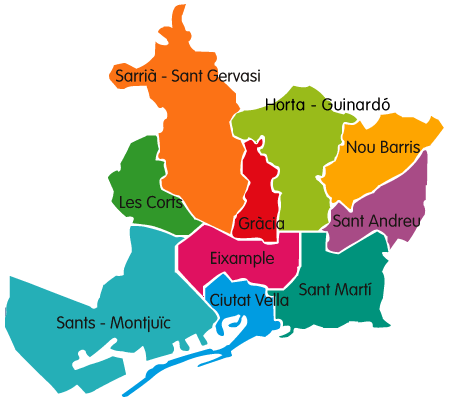 Eixample's apartments
Gràcia's apartments
Horta Guinardo's apartments
Les Corts's apartments
Nou Barris's apartments
Sant Andreu's apartments
Sant Martí's apartments
Sants Montjuic's apartments
Sarrià-Sant's apartments Gervasi
Are you looking for a great accommodation in Barcelona? Look no further, we have what's right for you!