Do you want to experience Barcelona a bit faster? Or maybe you're looking for a quicker way to get around the city? No worries, we have what's right for you! Movendoo is a bike and motorbike rental company located in Barcelona, where you can rent bikes, motorbikes and scooters for different periods of times, from short to long-term rentals, they have it!
Being one of the first low-cost rental company in the city, it was created by passionate and adventurous young people, looking to offer you the best mobility at the best price possible!
Movendoo Bikes
When renting a bike, don't worry about the security, they have 2 locks to allow you visit some place or grab a drink wherever you are in Barcelona! Made by the company "Monty", those bikes are equipped with reinforced frames and tires, you won't have to worry about anything. To rent a bike, you won't need much, just your ID papers and deposit of 150€ (card or cash), and if you're planning on using your bikes with children under 15, it's mandatory to use a helmet in Barcelona!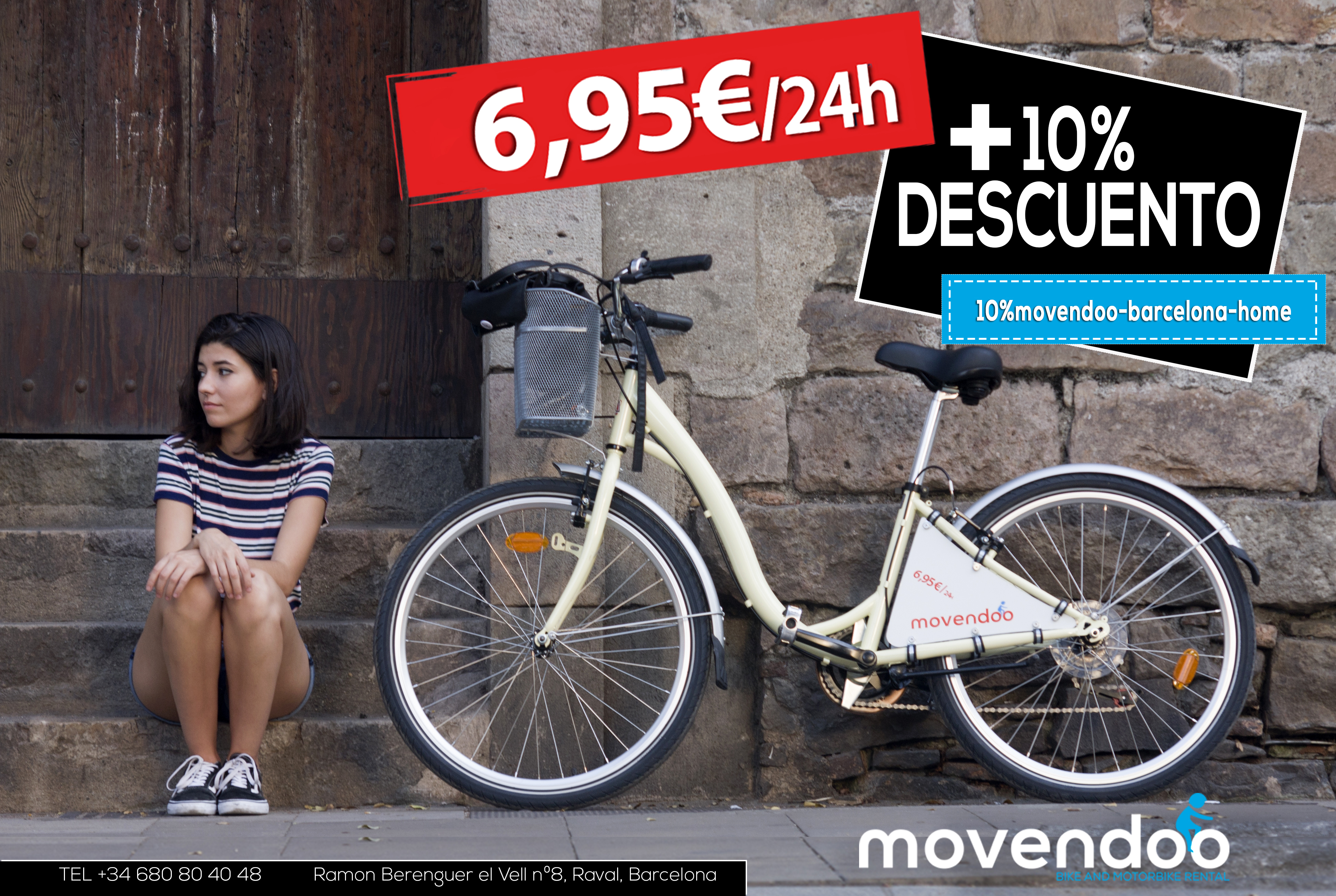 Movendoo Scooters
When renting a scooter, it's as easy as for bikes! They are insured (under your responsibility) and you can use them everywhere in Barcelona. To rent one, you will need your ID papers, a deposit of 180€ (card/cash) and even if there's no minimum age, you have to have at least 2 years of experience and remember that you still need a driving license to rent one, according to the Spanish law. Helmets are mandatory and can be rented for 3€/day and if you need a second one, it's only 2€/day, or you can bring your own if you have one of course.
*Remember that if you're not from the EU, your driving license should be translated by an official translator in order to be accepted by the company.
Movendoo Tours
At Movendoo they also organize guided tours and you can choose if doing it by bike or by scooter. Normally tours start at their office in Carrer Ramon Berenguer el Vell n.8 next to metro Drassanes to bring you through 4 different possible itineraries: Gaudí Tour, Gótico Tour, Beach Tour, Montjuic Tour. For scooters, you need a deposit of 180€ (card/cash) to rent the scooter and sign up for a tour in Barcelona. For bikes, they can host groups up to 15 people at a time.
If you prefer to create your own route, no problem! Movendoo Guides know the city very well, so if you have another route in mind for your tour, you just need to tell them your plan and let them create! 




Are you ready to discover Barcelona to the fullest? So check their website and book online for more simplicity, or call them if you need more information. This company is the perfect opportunity for you and your family if you plan on visiting the beautiful city of Barcelona!
In collaboration with Barcelona-home, get a SPECIAL OFFER! 10% discount using the promo code "10%movendoo-barcelona-home" on your booking for a bike or a motorbike. Don't miss it and go explore!
Opening hours: 10:30am to 2:30pm – 4pm to 8pm (everyday)
Address: Ramon Berenguer el Vell, 8, 08001 Barcelona
Price: 19.95€/24 hours for a 125cc scooter – 6.95€/24 hours for a bike
Phone:+34 680 80 40 48
E-mail: [email protected]
Website: Movendoo