She is always there for you. She makes you laugh, listens to you and helps you during important moments in your life. And even though you often let your mother, mother-in-law, grandmother, sister or girlfriend know how much you appreciate her, Mother's Day is a perfect time to make her feel extra special and put her in the spotlight. With this itinerary, Mother's Day in Barcelona will be a memory she will never forget.
Things to do
Picnic in the park
Any mother would love to lay in the sun with some good company and delicious food. A picnic is an excellent way to wind down but organizing a picnic is a task in itself and you are so tired when you can finally sit down that you won't be able to enjoy it anymore. Luckily, Picnic! Picnic! can prepare an amazing picnic for you.
They offer a full picnic service with everything you need for an unforgettable experience with your family. Their picnic offers fresh and local products, a drink of choice, a tablecloth and all the necessary equipment. All you need to do is pick out your basket and show up at your chosen location!
For in-depth information on the workings of Picnic! Picnic! and their service offerings, check out all details of this highly original novelty service.
Wine tasting
If you are spending Mother's Day with just you and your partner, or if you have kids that are over 18 years old, a wine or cava tasting is the perfect opportunity for a family outing. Or you can make a full day trip out of it and travel to a small Catalan village to do a winery tour together, where you will learn about organic vineyards, how cava is made and end the day with a farm-to-table lunch.
If she's not a wine mom, try a local brewery instead. Don't forget to take a bottle (or two) of her favourite wine back home as a thoughtful present to remember the eventful day.
Park Labyrinth
Park Labyrinth is the perfect day outing with your partner or family. This beautiful park is one of Barcelona's best kept secrets and besides that it is one of the oldest parks in the city. The park is situated a bit outside of the busy city and lies on a hill which gives you an amazing view over Barcelona. It's a fairytale like park, where you'd have to go through the maze to get to the center of the park, which it is all about, the Labyrinth statue.
You are wrong if you think the maze is only fun for children. Don't underestimate the difficulty of finding your way in the maze, because it is not as easy as you might think! Situated around the maze there are some beautiful romantic gardens with blooming flowers. On Sunday the entrance to the Labyrinth Park is for free!
Address: Passeig dels Castanyers, 1, 08035 Barcelona
Opening times: Monday – Sunday from 10 AM to 7 PM
Price: €2,17 per person except for children under 5 yrs and pensoners. Free entrance on Wednesday and Sunday.
Museum Day
Sunday is the perfect day to head out to the city and culture yourself by visiting some museums. Why? Because on the first Sunday of the month, a lot of museums in Barcelona have free entrance! Some museums may even offer special Mother's Day tours and events she's bound to love.
Some of the museums that you can enter for free include the Museu Nacional d'Art de Catalunya (MNAC), Museu Blau, Picasso Museum, Museu d'Història de Barcelona (MUHBA), the Botanical Garden of Barcelona and many more.
Where to eat
Marea Alta
In case you want to end Mother's Day evening sky high, Marea Alta will fulfill that request. This seafood sky restaurant is located on the 24th floor which gives you an incredible view of the sea and the city. The owners of Marea Alta travelled to some major cities who are recognized for their outstanding preparation of fish and learned about their culinary techniques which are now applied in the restaurant. The offer a interesting diversity of dishes; chargrilled fish from the North, the sea and the mountain of Catalonia, Minorcan stews, fried dishes from the South, shellfish from Galicia, and many other specialities. You can experience them yourself, all while taking in the astonishing view.
Address: Av. de les Drassanes, 6, 08001 Barcelona
Opening times: Closed on Monday. Tuesday & Wednesday from 12 PM to 12 AM. Thursday – Sunday from 12 PM to 2 AM.
Brunch & Cake
The name says it all, this restaurant offers a good range of brunch dishes as well as some delicious cupcakes, like red velvet, carrot cake and tiramisu. In case you are looking for a perfect setting for a delicious brunch, go to Brunch & Cake. They offer a menu with interesting and extravagant dishes, that are almost too beautiful to eat. They believe in their grandmothers' philosophy: make absolutely everything by hand and slowly, with care. Wherever possible, they use organic and locally sourced ingredients. In their shops they use 100% organic coffee and Valrhona chocolate.



Address: Carrer d'Enric Granados, 19, 08007 Barcelona
Opening times: Monday – Sunday from 8.30 AM to 9.30 PM
Llamber
Llamber is a gastro tapas restaurant situated in the heart of the El Born neighbourhood and is great for a dinner with kids or family on a special occasion. The interior is very chic and trendy and creates a warm and welcoming atmosphere. The food is very fresh and they have an incredible wine list in which you could choose from 30 beautiful wines. It's quite roomy and great for large groups.
Address:  Carrer de la Fusina, 5, 08003 Barcelona
Opening times: Sunday – Wednesday from 9 AM to 12 AM; Thursday – Saturday from 9 AM to 12:30 AM

Where to Stay
If you're coming to Barcelona for Mother's Day, you'll need to find a place to stay for the night, check out these apartments, located in the perfect spot for sightseeing.

Elegant and modern apartment for 4 people. Perfect for business trips, or for families who wish to stay in the same place. It is situated just next to Plaza Espanya and Las Arenas. One of the main attractions of this district is the nice view over Barcelona that you can get from Montjuic, and it is well served by public transports such as metro and busses to reach any part of the city.
From 111€/ NIGHT; 2400€ / MONTH| 55m²  | License : HUTB-006383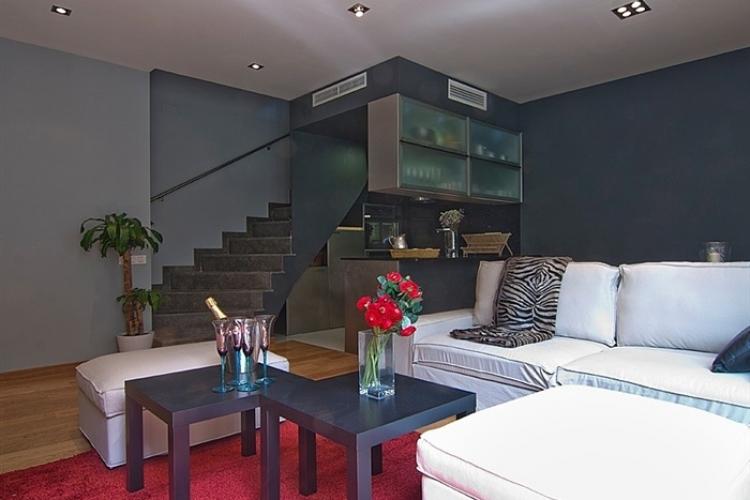 MONTHLY LETTINGS FOR FAMILIES
This apartment is perfect for families of 4 and for those seeking comfort near the center. If you want to make the best of your summer nights, you will find a shared swimming pool on the terrace. The flat is located in Gracia, quiet and safe with a variety of shops, restaurants and bars. Within a short walk you will be in the charming area of El Born, with plenty of small local shops.

From 99€/ NIGHT; 2920€ / MONTH| 100m2 | License : HUTB-002892
This penthouse is located in the elegant center of Barcelona, just steps from the famous Gaudí houses, Plaza Catalunya and Paseo de Gracia. On the terrace of 40 m2, you can eat or sunbathe in absolute privacy. The penthouse is fully equipped with all modern amenities to make your stay in Barcelona comfortable. This accommodation is ideal for a fancy stay, with an unbeatable location.
From 192€/ NIGHT; 3411€ / MONTH| 60m2 | License : HUTB-012023
Are you looking for a great accommodation in Barcelona? Look no further, we have what's right for you!