The "laid-back" lifestyle in Spain is what attracts so many foreigners, particularly workers who are fed up of the daily grind of long working hours, high stress and gloomy skies of England. So when moving to Barcelona, you may need to adapt to the fact that you are not working so hard, you have some more free time, and inevitably a lower salary than what you may be used to. Salaries in Spain might be lower but this shouldn't put you off however, as living costs in Barcelona are considerably lower too.
Find your accommodation now!
Costs
The basic costs of living in Barcelona are lower than the rest of Western Europe. You have to avoid the tourist traps though, as there are certain areas which will charge more for basic goods such as coffee, sandwiches, beers etc. Barcelona offers cheap food, groceries and drinks in the supermarkets. The obvious way to save money is to avoid regularly dining out. There is no need when there is so much fresh produce provided in the supermarkets and in the grocery markets too (which are worth a visit, particularly La Boqueria on La Rambla). El Corte Ingles may seem like a great place to buy food, fruit, vegetables and clothes, but it is considerably more pricey than the supermarkets that can be found off the main streets in the side streets, such as Lidl, Dia, Mercadona and Capabro. In terms of drinking, supermarkets sell 1 litre of beer for 66 cents, or 1 litre of sangria for a mere 99 cents! Many bars have operating Happy Hours, so look out for these too! Cigarettes are cheap also, at about 3 euros for a pack.
You don't need a car when the public transportation facilities in Barcelona are so efficient andso cheap. You can buy a T-10 ticket for approximately 10 euros, which lasts you for 10 trips anywhere in zone 1. There are also offers for monthly metro passes which will save you money. Many people living in Barcelona cycle instead, this being a great way to save money and get a little fresh air and exercise into your daily routine! The city offers a 'Bicing' service, where you can buy a yearly pass for only 30 euros, and make use of the pick up and drop off points around the city, where you simply pick up a bike and then drop it off at one of these points.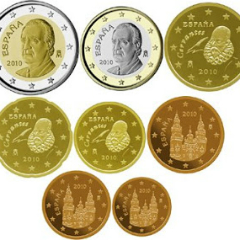 Costs for accommodation vary greatly depending on the area where you decide to live. Obviously, the more touristy areas in the centre or by the coast will cost you more. There are many cheap places to rent however, and you can find some on Barcelona-Home. It is worth bearing in mind that most Spaniards spend their time outdoors rather than in their homes. It is not so common to have dinner parties or gatherings in one's home, so there is no need to lavishly furnish your place. There are regular markets in the streets and plazas where you can find cheap and high quality second hand furniture, as well as websites such as Loquo which are regularly updated by people who simply want to get rid of furniture and belongings at a cheap price. Most accommodation costs include all utility bills such as electricity, water, gas and internet.
Salary
The average working salary in Barcelona is 1000 euros a month, and this is enough to enjoy your new 'laid-back' lifestyle. As Barcelona offers so much entertainment and things to do, with good weather and beautiful architecture, you will find that people generally do not splash money on clothes, cds, dvds, etc. With the relaxed pace of life, you will find that you do not experience the urge to blow money by treating yourself with 'retail therapy' to alleviate stress!
In Spain it is normal to live at home until your 30s. This may explain why the wages are lower, however with general living costs also being lower this is not a problem. Our advice is to embrace the Spanish culture and way of life, and immerse yourself into the culture…after all, moving to Barcelona is an escape from the stressful working hours and daily grind of an office job in England. Barcelona-Home has a lot of information, tips and advice about the best ways to find a job in Barcelona.