If Plaza Catalunya is the beating heart of the city of Barcelona, then the world-famous La Rambla is its aorta. La Rambla begins at Plaza Portal de la Pau, next to Barcelona's Monumento a Colón (the Christopher Columbus statue, which stands 164 feet high and overlooks the port). Lined with trees on both sides, La Rambla continues upwards to Plaza Catalunya. Along this scenic route, you'll find several bookstores, news stands, pet and flower stores, benches to relax on, cafes, restaurants and a multitude of artists and famous street performers.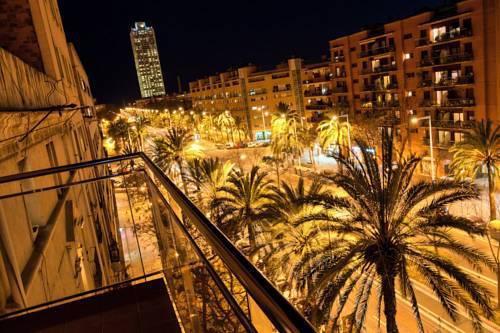 Approximately a quarter of the way up La Rambla from Monumento a Colón, and on the right hand side, you will find the stunning Plaza Reial, one of the most peaceful places in Barcelona and a great place to escape the hustle of La Rambla. Go there on a Sunday morning and you will see Barcelona's stamp and coin collectors trading and selling their collections. Or check it out on Friday and Saturday nights, when you can watch the customers roll in and fill the bars and restaurants around the plaza.
Find your accommodation now!
At the Monumento a Colón end of La Rambla you can take a short walk along the Paseo del Moll de la Fusta, a coastal walk around Barcelona's port, which was developed in 1990 in time for the 1992 Olympic games. Admire the huge yachts and stop for a drink in one of the many quality restaurants and bars that surround the port. (Though keep in mind that prices tend to be a bit higher here!)
Further down towards the coast (east of Moll de La Fusta) is the old port city of Barceloneta, which dates back to the eighteenth century. Barceloneta´s beach is always full of people and the restaurants situated in front of the beach are well known for their excellent seafood. Check out some of our fantastic apartments in Barceloneta.
The Gothic Quarter is situated east of La Rambla. Here you will find many examples of Barcelona´s oldest architecture. The Gothic Quarter is a maze of quaint, narrow streets, packed with interesting shops, bars and restaurants. You can easily spend the best part of a day enjoying getting  lost in the maze that is Barrio Gothic. Book an accommodation in Gotico through Barcelona-Home!
To the north of Plaza Catalunya, which is situated at the top of La Rambla, you will discover Barcelona's stylish Eixample district. In contrast to the streets of the Gothic Quarter, those of Eixample are wide streets and boulevards. This neighborhood contains the two main roads leading to the outskirts of Barcelona – Avinguda Diagonal and Gran Via de les Corts Catalanes. Casa Terrades, better known as Casa de les Punxes, is situated on the corner of Av. Diagonal and Rossello. Casa de les Punxes has a Medieval appearance and was built in 1903-5 by architect Josep Puig i Cadafach, who used Nordic Gothic and Spanish Plateresque materials to build the building,  which is also influenced by traditional Catalan style. We highly recommend visiting this gorgeous piece of architecture.
Montjuïc, one of Barcelona´s mountains, starts at Plaza de Espanya, a round plaza opposite the Fira de Barcelona. This commercial area of Barcelona is home to Barcelona´s most famous fountain, a very popular attraction with spectacular water and light shows. Montjuic was the principle site for the 1992 Barcelona Olympic Games and is now one of the most important convention centers in Europe. Barcelona´s other mountain is Mount Tibidabo to the north-west  of the city. Tibidabo has amazing views over the entire city and the Mediterranean Sea. It is also home to Barcelona´s oldest amusement park.
The main boulevards of Barcelona are Avinguda Diagonal, Paseo de Colon, and the beautiful and famous shopping boulevard of Passeig de Gracia (where you also find one of the most inspiring works of Gaudí, La Pedrera).