Going on a holiday to a city you've never been to before can be exciting, especially when it's on your bucket list of places to visit. However, what are the chances of you not knowing your way around the city? ( usually pretty high). Though, these are not big problems, for those dragging two heavy bags by themselves, it can get quite stressful. Barcelona is one of the most visited cities in Europe, bringing over 2 million visitors each year thanks to its stunning weather, distinct culture and history. As tourism plays a big part in the Catalonian economy, many new businesses have focused on the tourists' needs; particularly in the luggage category.
The luggage storage service allows tourists to leave their luggages in a safe and secure zone, while able to walk around freely. This type of companies were able to access the niche market and succeeding in attracting customers. However, with the rising number of companies following this market, it is becoming difficult to find a reliable and cheap business. Not to worry though, as we are happy to let you know that we have found the best Luggage storage service company in Barcelona.
Locker Barcelona: How it works

Since 2010, Locker Barcelona has been dominating the market of Luggage storage services; in fact, it's known as the official left luggage place in Barcelona. This company has enough experience to understand what its customers look for; from providing luggage lockers of different sizes to keep and protect all your personal belongings, such as apartment keys. They offer 3 different types of lockers and, instead of keys- both are protected by your chosen personal code.
Medium size (hand luggage) – (Width 40cm x Height 45cm x Depth 60cm)
Large Size (bigger luggage) –  (Width 40cm x Height 60cm x Depth 80cm)
Extra Large Size (bigger luggage) – (Width 50cm x Height 60cm x Depth 90cm)
If, instead of luggages, customers want to store large objects (surfboards or bicycles), they will help you store them; as long as you contact the business in advance. You can book online. To make it as easy as possible for you, you will be able to pay either by card or in cash. Your locker will be accessible at any given time without paying further chargers. The storage area is controlled by security cameras, giving its clients a breath of fresh air.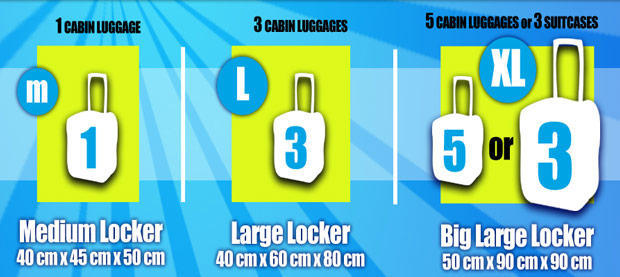 If you're coming for a holiday and booked an apartment, but you are unsure of where to pick up the keys, you and your landlord can contact Locker Barcelona, where the team will make sure to arrange the delivery and store it until you're arrival. Then, you can collect it during our opening hours ( Winter: 9am – 9pm; Summer: 8.30am-10pm).
From as little as €3.50, you can finally be able to fully enjoy your well deserved holiday right from the first day you arrive, without the need to drag your luggages around the city. Visit their website at www.lockerbarcelona.com and find out more about this great luggage service!