You might have already noticed that Barcelona is filled with dogs! There's not a single place without a dog, and you will always meet one, wherever you go! Great right?  This city is one of the most advanced in regards of animal welfare, and they are committed to creating a better relationship between animals and humans. In 1996 the city set up the Municipal Council for the Defence and Protection of Animals (MCDPA), that legally stated that "all animals, of any species, have the right to be respected. They must not be subjected to abuse, excessive exertion, violent performances or acts of cruelty that cause them physical or mental suffering".
With a constantly developping society regarding animals' rights, Barcelona is quickly follwing the biggest trends around the world to allow animals lovers to pet cats, walk dogs and enjoy the company of animals of all kinds. If you happen to love animals, saddle up! This our favorite things to do or places to go in Barcelona and around!
Things to do
Zoo of Barcelona
First shown  at the Universal Exposition in 1888, it's only in 1892 that the Zoo opened to the public. From then, it kept getting bigger and bigger, welcoming and saving more and more animals as years passed. Today, the Zoo is home to more than 7500 animals from 400 different species! It's one of Barcelona's biggest attraction, with around 965 000 visitors per year.
From regular visits to paid activities, the Zoo offers different activities for everyone:
Holiday Camp ("Spring Day Camp", March 26th to March 29th, made for kids to discover and learn about nature and its animals)
Birthday (celebrate your birthday at the Zoo!)
"Take Part"
Open Activities (take a look at the trainings of elephants, dolphin observation, feeding the penguins, invertebrates identification…)
Paid activities (educational guides with the zoo's educators and learn everything about your favorite topic)

Split into 11 different areas, this 13 acres Zoo is an impressive facility in the city center, home to thousands of beautiful animals of all sorts.
Land of Dragon (Komodo dragon, common munjac..)
Terrarium (Chinese Alligator, Indian Rock Python…)
Aviarium (Blacksmoth lapwing, Green-backed Heron…)
Farm (Horse, goats, chickens…)
Gorillas aera
Primates gallery
Marmosets gallery
Palmeral (Macaw, Cockatoo…)
Aquarama (Sea lions)
Flight dome (free flying birds of all species)
Garden of Biodiversity (native fauna)
Prices: Adults 22€ – From 3 to 12 years olds 12.95€ – Under 3 FREE – Disabled people 5.65€ – 65 and above 10.50€
When: Everyday from 10:00  to 5:30
Address: Parc de la Ciutadella, s/n08003 Barcelona
Monkey Sanctuary
La Fundación Moana is a rehabilitation center for champanzees and macaques abused by the circus they were in, as well as movie and television sets. This center allows them to recover from years of inhumane conditions, constant feel and solitude. The foundationg saves these primates, providing a curative, nurturing and restorative environement for them to grow and live a pain-free life, in a spaicous and natural environnement.
By rescuing those pimates, they save same from horrible conditions, rehabilitating them physically and mentally, bringing them back with their own kind. Social, long-lived and very intelligent, they suffer when in captivity as they need a lot of space. The foundation also tries to teach as much as possible to the public about many topics that primates face such as problems of extinction, wildlife trafficking, abuse for the entertainment industry…. Located outside of Barcelone, and close to Girona, the Foundation is a great place to visit, to learn more about primates and to enjoy some time outside the city with some fresh air.
When: everyday from 9:00am to 07:00pm
Aquarium of Barcelona
With 16 million of people going through Port Vell every year, the Aquarium of Barcelona is for sure one of the top attraction of the city. It's the one and only aquarium in Europe with 6 millions liters of water and gigantic Oceanarium! With 35 different aquariums, the facility opened on September 8th 1995 to offer visitors an outstanding opportunity to discover an impressive variety of animals with around 11 000 individuals from 450 species. The Aquarium also allow you to dive in a bit more by walking in an underwater tunnel of 80 meters, right underneath the Oceanarium.
The Aquarium allows you and your family or friends to enjoy different kind of activities such as:
Experiences with sharks (cage diving, diving, sleeping, )
Birthday parties
Family activities
Feeding times (sharks, penguins, rays, eagle rays and morays)
You can get FAST PAST tickets HERE with Barcelona-Home!
Price: 20€ for adults (from 11 years old) – 15€ between 5 and 10 years old – 7€ for 3 and 4 years old.
When: they have specific opening hours depending on the day/months/moment of the year. Check their website for more information.
Where: Moll d'Espanya del Port Vell, s/n, 08039 Barcelona
Cim d'Aligues
Cim d'Aligues is a bird watching center located oustide of Barcelona (55 minutes by car). The center allow its visitors to watch flying sessions of 45 minutes,  to discover some impressive species or take guided tours of 30 minutes to learn about their nutrition, health, habitat, behavior…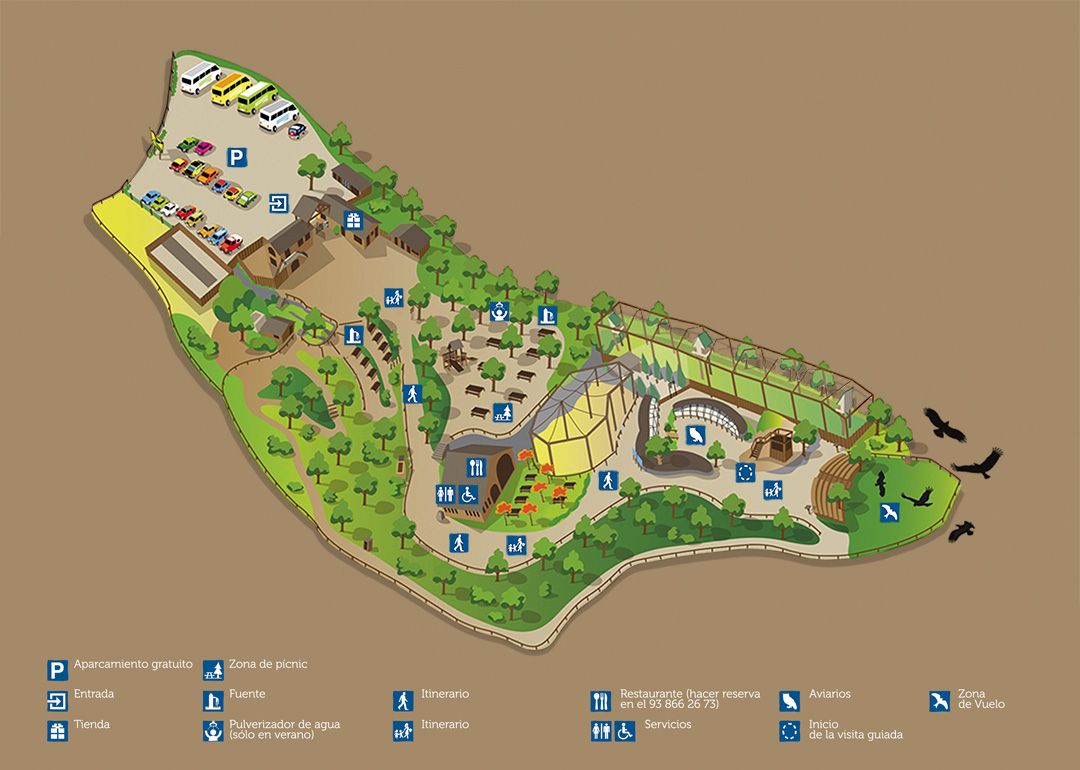 The price includes a guided tour as well as a flying session, and the parc also allow you to walk through a small forest with picnic areas and a restaurant if you want to spend all day. On weekend and holidays, the price includes 2 flying sessions and the guided tour (morning & evening – both different)
/!\ Be careful, in case of strong wind, or bad weather, the flying sessions will be canceled, so be sure to check the weather & wind before buying your tickets! /!\
Price: 12€ for adults – 9€ for children between 3 and 15 years old
When: Closed on monday. Tuesday – Thursday: 12 to 4pm – Saturday & Sunday: 12 to 6pm
Where: Camí del Peror de Planes, 08182 Sant Feliu de Codines, Barcelona

Where to eat
Cat Café
To kick things off, what better way to relax than to spend some time with cats? Espai de Gats is the best place to spend some quality moments with cats who have been abandonned, and while they are waiting for a new home, Espai de Gats takes care of them and allows you to visit them, and if you happen to fall in love with one, you can even adopt one! This place is perfect if you want to have a coffee and a great time with some sweet felines. All of them are ready for adoption, sterilized, tested, dewormed and deloused, vaccinated and have a microchip.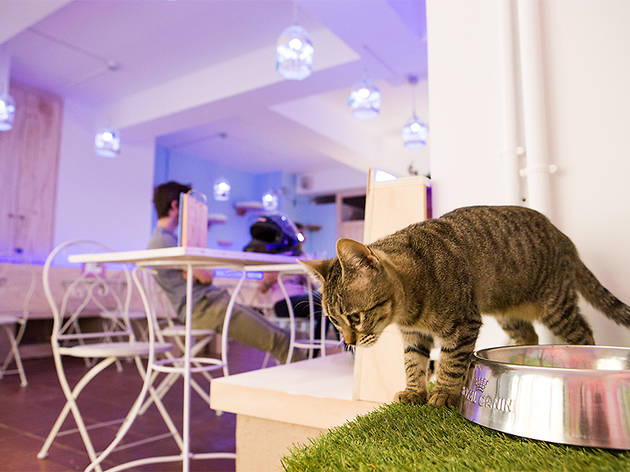 In addition to spending a great time in their company, you will also have the opportunity to learn about the meaning of a cat's behaviour, how they communicate, their health, how to enrich their space. You'll be able to learn through different workshops and even courses about animal welfare, that you can follow directly there. In order to visit Espai de Gats, you have to book directly on their website (be sure to read the rules!). Be sure to book in advance, as some days can be a bit busier than others. You can find more information on their website or their Facebook page.
Prices: 2.50€ for 30 minutes (+1€ for a drink / +3.50 for a drink AND a snakc / + 5€ for 3 drinks and an XXL Snack / +1€ for 15 extra minutes)
Address: Carrer de Terol, 29, 020812 Barcelona
When:
Monday: Morning:closed / 17:00h – 21:00h
Tuesday: Morning: closed / 17:00h – 21:00h
Wednesday: 10:30h a 13:30h / 17:00h – 21:00h
Thursday: 10:30h a 13:30h / 17:00h – 21:00h
Friday: 10:30h a 13:30h / 17:00h – 22:00h
Saturday: 10:30h a 13:30h / 16:00h – 22:00h
Sunday: 10:30h a 13:30h / 16:00h – 21:00h

Where to stay
If you're coming to Barcelona, you'll need to find a place to stay for the night, check out those appartments, located in the perfect spot for Animal lovers!

Comfortable apartment for 4 people (and a dog!) located in Sants-Montjuïc neighborhood for daily and monthly rental. It's just a few minutes from beautiful parks Espanya Industrial Park and the Parc de Joan Miró and Montjuic hill, where you can go for walks.
From 63€/ NIGHT; 1200€ / MONTH| 40m²  | License : HUTB-001182
Accommodation in a city center in the charming Gothic district. The apartment features elegant and modern style with a rustic touch. It also has a balcony where you can have a morning coffee or romantic dinner.
From 157€ / NIGHT| 80m2 | License : HUTB-002464
This stylish apartment for big families or groups of friends is located in a quiet neighborhood near the El Clot metro station. Close by there are many areas where you can walk and play with your dog and have a picnic with your friends.
From 81€/ NIGHT; 1550€ / MONTH| 90m2 | License : HUTB-002414