Did you ever think about it How to live local life in Barcelona? During your time spent here we will guide you how to live as a resident of Barcelona. If you seek meaningful experiences when you are visiting the city, try out the hottest trend in traveling the Experiential Travel. Immerse yourself in the culture and heritage of the destination. Do more than just see a destination, understand the local traditions and feel like you are getting a true life experience.
Since I got here to Barcelona it has occurred to me that we all have different customs depending on where in the world we come from and especially in a very tourist-crowded city as Barcelona it can be difficult to adapt to the actual local life, since you can have a hard time separating the tourist culture from the culture of the true inhabitants. If you come to Barcelona to really experience the life of the locals, here are some Do's and Don'ts of local life that I have picked up along the way:
Areas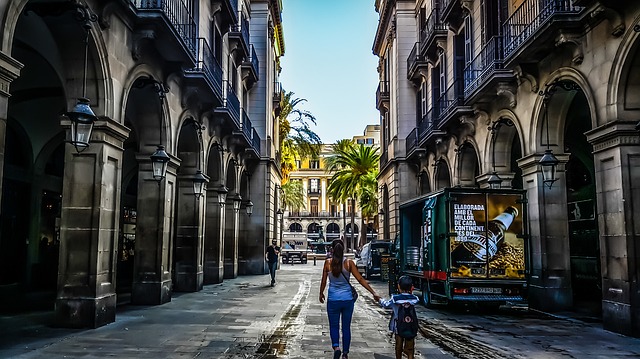 Areas close to Las Ramblas such as Barri Gotic and El Raval are big no-nos! Here, you will bump into tourists every day and many of the restaurants, bars and shops nearby have been influenced by the visitors and will not offer you true Catalan or Spanish culture. If you want to live like a true inhabitant you should live uptown, in districts such as Gracia, Eixample or maybe El Born. In these places, you will find the remaining of the original culture.
When it comes to areas to hang out in Las Ramblas, the Barceloneta beach and Barri Gotic are absolutely forbidden if you want to live as local as possible. If you still want to feel the vibrating big city pulse, try El Born instead.
Even if the Ciutadella Park is a tourist attraction, it is also a beautiful place for lazy Sunday picnics and many locals spend their days here with a good book or good friends – a suggestion for you as well if you feel like not doing anything in particular! Also, the neighborhood around the park offers some non-touristic cafés and bars, but make sure to carefully scan the area for them, so that you do not end up at a tourist place.
Do: Gracia, Eixample, El Born, Ciutadella Park
Don't:  Las Ramblas, Barri Gotic, El Raval, Barceloneta party places
Gastronomy
To find delicious tapas at affordable prices in the city nowadays can be a challenge if you do not know where to look. Quimet I Quimet, Roure and Tossa are some places worth looking up. Do not order tapas as courses to yourself! If you want to do it the Barcelona-style you, together with your company, order dishes to share.
When it comes to Barcelona's world-famous paella you can get really disappointed if you go to the wrong place. Several tourist restaurants serve microwave paella which is not good at all and if you want the real thing, then you will have to go to the real places. Can Solé in Barceloneta is absolutely recommended, there you will be in for the real paella experience.
Remember that, regardless what you usually do, you do not ask to pay separately (if you want to act like a true local) and you tip about 10 to 15 percent.
Do: Share your tapas, add 10-15 % tip
Don't:  Don't eat at overpriced touristic areas, don't pay separately
Culture
Just because now you are local does not mean you cannot enjoy the magnificence of architectural masterpieces such as Sagrada Familia, Parc Guell, Casa Mila and Casa Batllo, all designed by the Catalan architect Antoni Gaudi, but you should make sure to be there during the most non-busy visiting hours. The mornings during weekdays are usually pretty calm on the most touristic spots and of course it gets busier during high season (May-September). These restrictions also apply to museums and other artistic attraction.
The Aquarium, Barcelona Zoo and the Funicular de Montjuic should be avoided since all of these are tourist attractions, affected by the big masses of tourists coming and therefore both expensive and poor of true culture.
Do: Catalan architecture and museums in low-visiting hours or out of high season
Don't: Aquarium, Barcelona Zoo, Funicular de Montjuic
We hope you will find the most suitable way for you to live here like a local resident of Barcelona. Surely it is upon you how you decide to spend your time in the Catalan capital. Just do what you would like and how you would like. We can just wish you a beautiful time in this amazing city!