For those who appreciate a high standard of living and are seeking an apartment in Barcelona to match their lifestyle, we recommend our fabulous High Class Apartments. Boasting a central location, top quality services and a picture–perfect interior design, each of these spectacular accommodations is sure to provide the level of comfort and luxury you expect from your vacation or long-term stay in the City of Counts. Barcelona is a place known for its leisurely lifestyle, its boutique-studded shopping avenues, it´s five–star dining venues and world-class architecture. Our High Class Apartments are the perfect starting point to start exploring.
From    276€ / NIGHT
From 2550€ / MONTH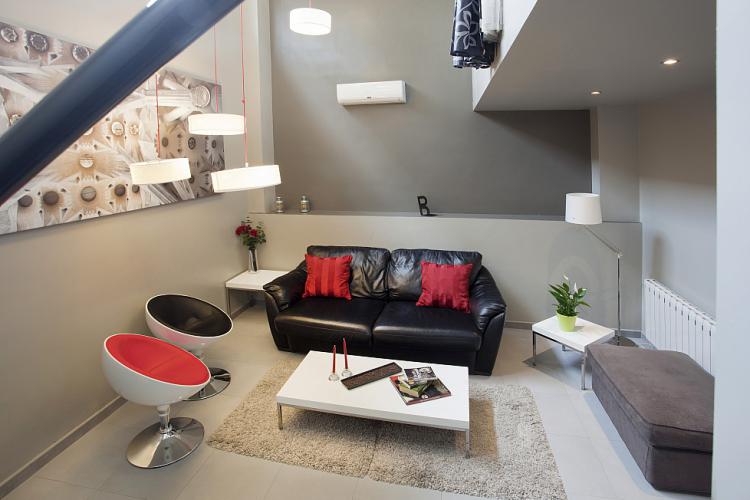 The tasteful design and high quality furnishings of this fabulous luxury triplex Barcelona make it one of our favorite High Class Apartments. The place comes with a variety of fantastic lounge areas, each equipped with modern designer furniture and an open atmosphere. We especially love the living room on the ground floor of the apartment, furnished with a black leather couch and stylish scoop-shaped sofas, with a gorgeous image of the Sagrada Familia ceiling adorning the wall. This living room leads to a luxurious dining area facing a fully equipped modern kitchen and a 35 m2 private terrace with a fabulous lounge space large enough to accommodate several guests. The four bedrooms are designed with a vibrant white and red color scheme, each characterized by soft lighting and an additional seat or sofa to rest on. The dispersed bedroom arrangement is guaranteed to provide each guest or couple with plenty of privacy and tranquility, making this apartment the perfect short-term vacation rental for a group of friends vacationing in Barcelona.
This Sants-Montjuïc apartment boasts a great location very close to the famous Plaza Espanya with quick and easy connections to the rest of the city. Within walking distance are the Fira de Barcelona exhibition center, the Parc de Joan Miró and the beautiful Magic Fountain of Montjuïc, which lights up in a rainbow of colors at night. Not far from the apartment is the Poble Sec neighborhood, with a number of fantastic restaurant options, including Ikibana, Tickets and Bodega 1900.
License : HUTB-002910

From     156€ / NIGHT
From 2800€ / MONTH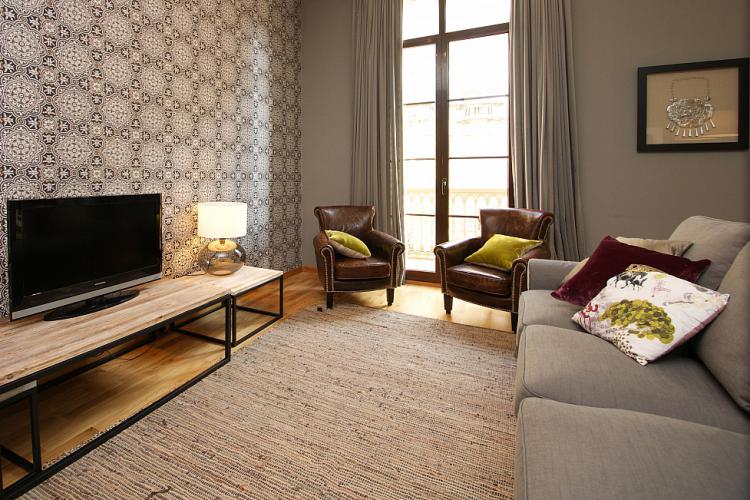 This gorgeous Eixample apartment is characterized by luxuriously high ceilings, beautiful wooden floors and antique style furniture that create an air of elegance and sophistication. The living room features two classic double-doors, through which you will be able to access a picturesque balcony, typical of this neighborhood. We adore the intricate mosaic wallpaper covering one of the large walls of the lounge area, matching beautifully with the brown leather sofas and comfortable gray couches. Behind the lounge is a long dining room table made of sturdy wood that adds a rustic touch to the space. This apartment with terrace Barcelona comes with a hotel quality bedroom with access to a 25 m2 private terrace with warm brick floors and a table perfect for breakfast outside. The other two bedrooms feature two single beds, perfect for children to share.
This home is located in a highly enviable location, in the heart of the most stylish neighborhood of Barcelona. Just a few meters away you will find the famous Passeig de Gracia shopping street, as well as the frequently visited Casa Battló and Casa Milà of Antoni Gaudí. The neighborhood is known for its elegant architecture, its central nature and its abundance of wonderful cafes and restaurants, including a fabulous tapas bar names Tapas 24 just around the corner. For a nice break during the day visit the Jardins de la Torre de les Aigues nearby.
License : HUTB-005405

From    203€ / NIGHT
From 7800€ / MONTH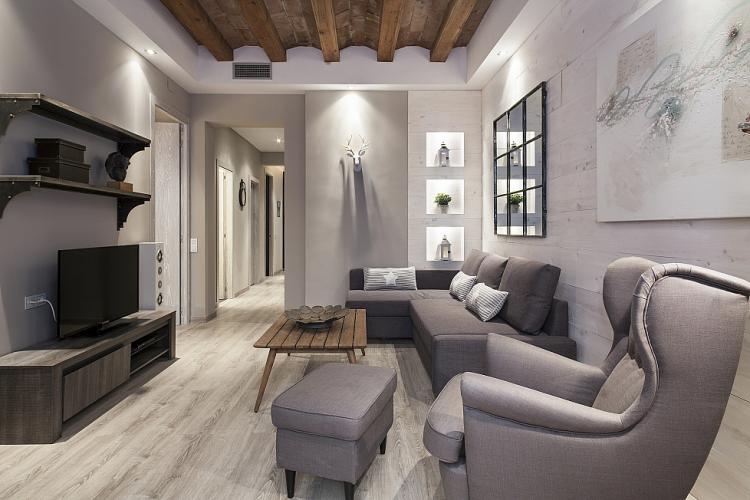 This enchanting three-bedroom home is characterized by an exquisite and romantic design, using several shades of dark and light wood combined with dramatic lighting to achieve a truly majestic atmosphere. The lounge area features a dim, gray and brown color scheme and is furnished with several cozy couches and chairs. We love the carefully chosen decorative elements, including the backlit white deer head and small windows with lanterns and abstract paintings on the wall. The bedrooms boasts a sensational blend of exposed brick walls with smooth wooden floors and include large wooden armoires to maximize storage space. You will also have access to a stunning 25 m2 private terrace, decorated with potted plants and complete with a large wooden deck table and chairs for lounging or enjoying a leisurely brunch under the sun. The apartment also has a very nice kitchen with smooth white tiles and elegant cabinets, reminiscent of the French countryside. 
This enchanting home, one of our most popular High Class Apartments, is located in the heart of the luxurious Eixample neighborhood just a short walk from several major sites, including the Arc de Triomf, La Ciutadella park and the busy Plaza Catalunya with several bus and metro connections to any other part of Barcelona´s city center. A short walk will bring you to the picturesque el Born neighborhood, known for its plazas and narrow alleys lined with boutique stores. Or cross el Born to get to Barceloneta beach, a very popular tourist destination in Barcelona.
License : HUTB-004068


Enregistrer