Barcelona is a city which has plenty of activities to offer for all ages. However, we totally understand you want to experience Barcelona in a fun and exciting way. We have selected the best teenager activities; sights and area's so you will leave Barcelona happy and satisfied, check out our teenagers guide here!
Things to do
La Rambla
La Rambla is the famous shopping street that is stretched from Placa Catalunya until the harbour and the statue of Columbus. Thousands of locals and tourists visit The Rambla every day, and you have to go there at least once while you're in Barcelona. The street and the area around it is filled with popular clothing brands like Zara and Urban Outfitters.  The Ramblas also offers La Boqueria, a market with the freshest products, such as fish; meat; fruits; vegetables and healthy snacks. Make sure you visit the Gothic area located next to the Rambla for small and unique streets and scenery. At Placa Catalunya you can find stores and the mall El Triangle which is a great place for some more shopping.
At the end of the Las Ramblas (or the beginning, depending on where you start) you will reach the harbour. Shopping is not over yet! If you walk further to the harbour, cross the wooden bridge, you will reach Maremagnum Shopping Center. This mall is located at a beautiful location next to the water that gives you an amazing view of the beach. It is one of the largest malls for shopping, dining out and entertainment. The mall has over 50 fashion shops with popular brands like H&M, Mango and Jack&Jones and besides that they offer a variety of restaurants all with different cuisines.


Camp Nou Stadium
The world famous football club FC Barcelona plays their home matches in the stadium of Camp Nou. The stadium is open for tours every day, except when a match is played. The Camp Nou Experience gives you the opportunity to visit the locker rooms, player tunnels, trophies, the football field and many more exclusive places. After the stadium tour you can buy a souvenir in the 2-floor fanshop next to the stadium. There are also plenty of opportunities to watch a game in the stadium and see Lionel Messi in action. Not a football fan? Camp Nou stadium also has different sports to offer such as basketball; handball; futsal and roller hockey.
Address: C. d'Aristides Maillol, 12, 08028 Barcelona
Prices: Stadium tour starts at 20€. Buy your tickets here!
Olympic Stadium
Besides the famous football club and its stadium, Barcelona is also the home off the Olympic Stadium where the summer Olympics were held in 1992. This stadium is located on the mountain Montjuïc and offers a breathtaking view of the city. You can visit the stadium, walk around and visit the surrounding areas. There is a park in the area and a must-see is the Fonta Magica (Magic Fountain), where in the summer the whole route is lightened and free fountain shows are held. We recommend to go there in the evening, the fountain together with the view of the city is a beautiful way to end your day with.


Address:
Olympic Stadium: Passeig Olímpic, 15-17, 08038 Barcelona
Magic Fountain: Plaça de Carles Buïgas, 1, 08038 Barcelona
al
Bike tour
Discover Barcelona by bike! It is a fun way to get to know the city and at the same time enjoy the sunny weather. Hire a bike and explore on your own, just like the locals do. And the best news is, we have a special deal for you!
In collaboration with Barcelona-Home, get a SPECIAL OFFER! 10% discount using the promo code "10%movendoo-barcelona-home" on your booking for a bike or a motorbike. Don't miss it and go explore!
Movendoo is a bike and motorbike rental company located in Barcelona. At Movendoo they also organize guided tours. Normally tours start at their office and they bring you through 4 different possible itineraries: Gaudí Tour, Gótico Tour, Beach Tour and the Montjuic Tour. They can host groups up to 15 people at a time, so it's a perfect activity to do together with your friends. If you prefer to create your own route, that's no problem! Movendoo Guides knows the city very well, so if you have another route in mind, you just need to tell them your plan and let them create your tour!
Parc Güell
If the weather is nice, we recommend to spend the afternoon at Parc Güell. This park is located on the hill and is probably one of the most enchanting creations that Gaudí left. Hundreds of people visit the park every day. Parc Güell consists of two parts, the park itself and the "monumental zone", which includes a number of extraordinary buildings. Buy your tickets online here to save time and avoid the queues!




Prices: a general ticket is 7.50€
Opening times: check the website here for a detailed description of the opening times!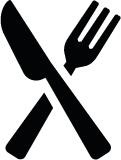 Where to eat
El Velodromo
If you want to enjoy some really good tapas, for a really affordable price, go to El Velodromo! The place looks very fancy with the big red carpet, and the food is just incredible. Our recommendations are definitely the patatas bravas (because, you have to try them while you're in Barcelona) and ''The Bomba de la Moritz'' which is a home made beef and potato croquette with the same spicy brava sauce. It's packed with people every night and the atmosphere is very pleasing. It's definitely a local and unique experience that you have to try while you're here.
Address: Carrer de Muntaner, 213, 08036 Barcelona
Opening hours: Mon-Fri 7.00am-3.00am; Sat & Sun 6.00am-3.00am
La Vietnamita
Are you looking for something Asian? La Vietnamita will definitely satisfy those cravings. This budget Asian restaurant has three locations in the city, one in Sant Antoni, El Born and Gràcia. The Vietnamese dishes are amazing, authentic, unique and full of flavor. The decor from the restaurant is also very fun and hip. If you need a little break from all the tapas and Spanish cuisine, this place is definitely worth checking out!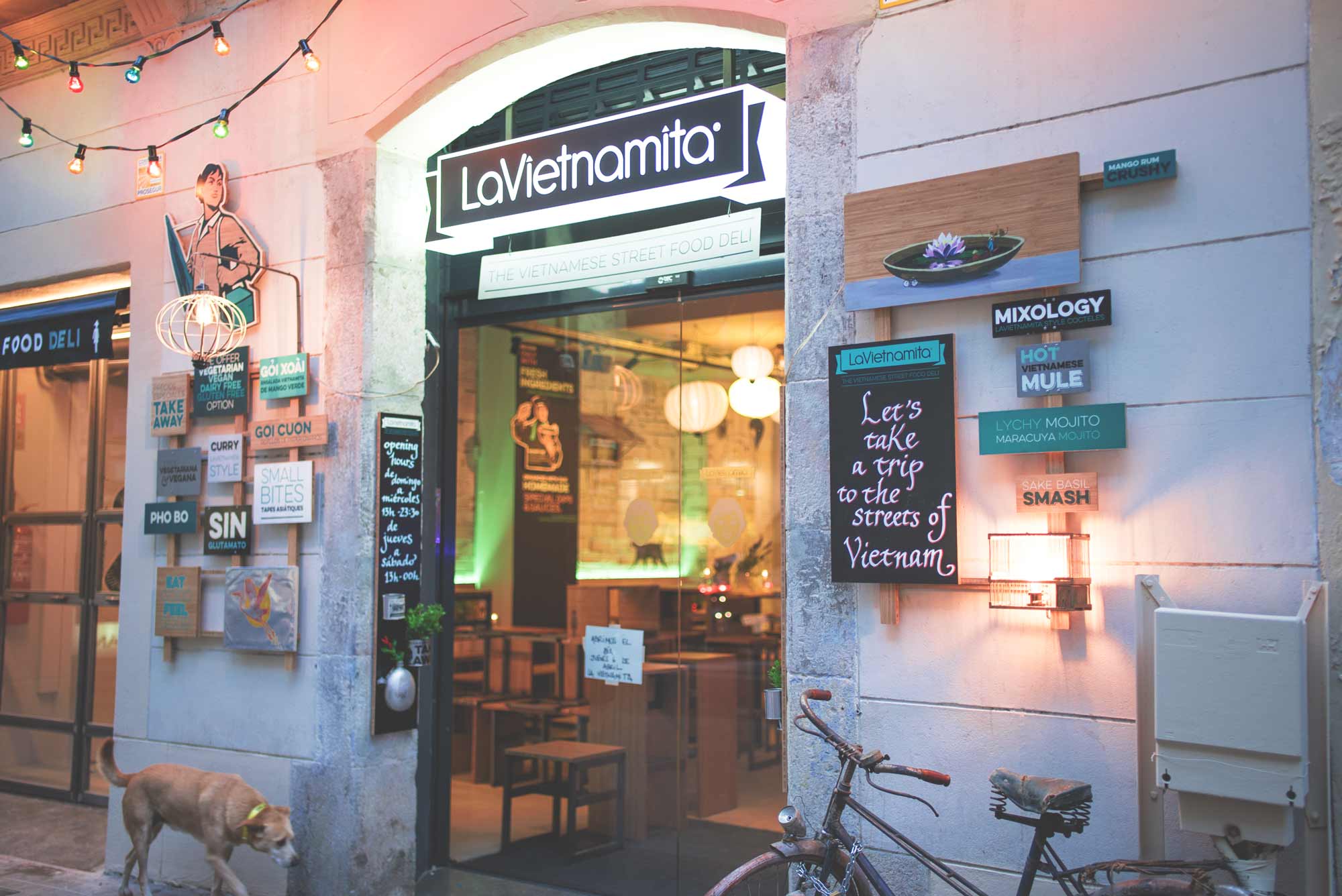 Address:
Sant Antoni: Carrer del Comte Borrell, 85, 08015 Barcelona
El Born: Carrer del Comerç, 17, 08003 Barcelona
Gràcia: Carrer del Torrent de l'Olla, 78, 08012 Barcelona
Opening hours:
Sant Antoni: Mon-Sun 1.00pm-4.30pm & 7.00pm-11.00pm
El Born: Mon-Sun 1.00-11.30pm
Gràcia: Sun-Wed 1.00-11.00pm; Thu-Sat 1.00pm-12.00am
MOKA
After a long day of shopping, you want nothing more than to end the day with a nice dinner, right? MOKA is the perfect solution for that, the restaurant is located on the Las Ramblas, so you could go there directly after you're exhausted from all the shopping and treat yourself to good food. The restaurant has everything from tapas to pizza, but we recommend to take one of the burgers!
Address: La Rambla, 126, 08002 Barcelona
Opening hours: Sun-Thu 8.00am-11.00pm; Fri & Sat 8.00am-12.00am

Where to stay
If you're coming to Barcelona, you'll need to find a place to stay for the night, check out these budget apartments that are great for when you're travelling with a group, located in the perfect spot for sightseeing!

Stylish and modern apartment that can fit up to 6 people, located in the Sants-Montjuïc neighborhood for daily and monthly rental. It's just a few minutes from beautiful parks like the Espanya Industrial Park, Parc de Joan Miró and Montjuic hill, where you can go for relaxing walks.
From 60€/ NIGHT; 1200€ / MONTH| 50m²  | License : HUTB-001179

Stylish apartment perfect for a small group of 4 friends. The apartment is located in the peaceful residential area of Sants-Montjuic, just a short walk from the bustling Plaza Espanya and the namesake metro station with direct access to Passeig de Gracia, Port Vell and the Gótico neighborhood.
From 42€/ NIGHT; 1000€ / MONTH| 45m2 | License : HUTB-000105
This stylish apartment located in the quiet neighborhood near the El Clot metro station is perfect for a group of friends. The apartment is suitable for up to 8 people. Close by there are many areas where you can walk and have a picnic with your friends.
From 78€/ NIGHT; 1550€ / MONTH| 90m2 | License : HUTB-002414