Looking for a new way to see the city? Try driving around in a little yellow car. GoCar Tours in Barcelona is a new and exciting way to explore the city, unlike anything you've done before to go sightseeing. The little yellow convertible cars take you around the city, so you can explore on your own. There is a built in GPS system which tells you how to get around, as well as telling you information about the sights of Barcelona.

GoCar tours
The little yellow convertible cars take you around the city, so you can explore on your own. There are a built-in GPS system and voice guidance for navigation, as well as telling you the information of the sights in Barcelona. They offer different types of tours and also special events. You have the option to do a beach and shopping tour that goes through the city center and the beaches of Barcelona. This tour of 2.5 hours includes main attractions such as ARC DE TRIOMF and also DIAGONAL DE MAR for your shopping!
You also have the possibility to do a 3-hour tour of Gaudi's most famous work. Moreover, the Barcelona Experience tour includes all the principal tours to visit within Barcelona for a period of 2.5 hours. And last but not least, the best seller, the All Inclusive Tour. It includes all the attractions, activities, food and shopping that GOCAR proposes. Have a look at their website to see the other tours that they offer and their special events, such as hen parties.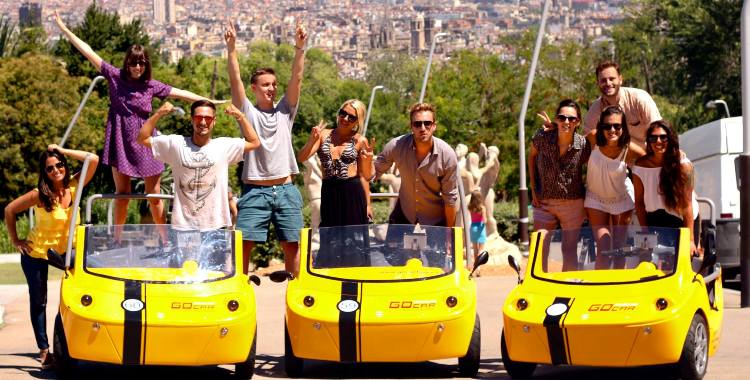 If you do not want to be guided by a GPS, you have the possibility to have a guide driving a Gocar in front of you. Furthermore, in all tours, the GPS is available in 8 languages: English, Spanish, French, Italian, German, Portuguese, Russian and Catalan. The price includes a full tank of fuel (you can return the car with an empty tank), two registered drivers, a third party insurance, and helmets if required. You also need a valid driving license to be able to drive the Go Car. If you are not European, an International Driving License can be used. For 15 euros, Go Car Barcelona can translate your driving license for use in Spanish countries for a one-year period.
GoCar discount with Barcelona-Home
By booking with Barcelona Home you can get a discount up to 15%, all you have to do is to send an email to [email protected], specifying the GoCar tour that you want to book. You also need to upload the picture below in the mail.