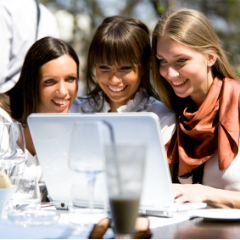 A few years ago the City Council of Barcelona decided to provide free WIFI throughout Barcelona. The idea become reality in 2009, when 170 public WIFI hotspots were introduced into the city. Today there are over 400 hotspots, making Barcelona´s free public WIFI network not only the largest one of any Spanish city, but also one of the largest of any city in Europe.
Find your accommodation now!
The hotspots are generally located in municipal amenities all over town, including civic centers, libraries, sports centers and municipal markets, as well as on beaches and in parks. The spots are marked with a blue sign, similar to the one used for the metro, but instead of an M it bears a W. A complete list of stations can be found on Barcelona's official website.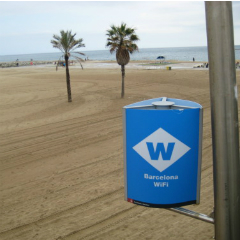 The WIFI service is FREE, though the connection speed is limited. IP telephony, video conferencing, peer-to peers and sites with violent, racist, adult and similar content are restricted. The hours of access may vary, but the most common schedule is Monday to Sunday, 8am-1am.
The goals of the WIFI hotspot project include to increase the number of citizens connected through the internet and to be able to provide information through online communication channels.
If you are looking for accommodation during your stay in Barcelona, then visit Barcelona-Home for a selection of fantastic apartments.