The reasons should visit Football Club Barcelona.
FC Barcelona – Football Club Barcelona? Years of prestigious playing, notorious names and a stadium that holds decades of history. If you have found your apartment in Barcelona, FC Barcelona's Camp Nou football stadium is an opportunity you will regret missing. Book a ticket with us today and get to see the museum, changing rooms and what is Camp Nou in all its aspects. Come for the famous Barça players at this present time but not only for them! Think about the great names in history that have made this precious stadium what it is today: Maradona, Guardiola, Ronaldinho… Visiting Barcelona and not even taking a trip to the Football Club Barcelona stadium is punishable in itself.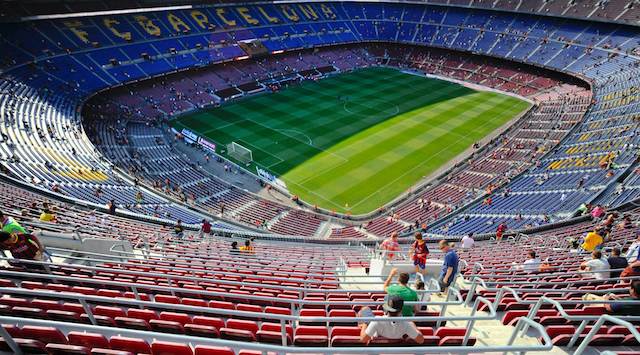 The Camp Nou Experience is a celebration of the stadium atmosphere and of the very spirit of football. The Tour gives you incredible access to FC Barcelona, and the feeling of what it might be like to work (or play) for the blaugrana.
In the tour package we start off in the changing room, the famous tunnel walk onto the pitch. Feel what it's like to play on that field and then embrace the Chapel, TV Room, Press Room Fundacio Zone and Presidential box.
Then you will follow with the impressive and immersive FC Barcelona Museum, featuring giant touch screens, sound installations (including match-day sounds), historical stats and a trophy cabinet. All this will blow your mind and change your view one of Spain's best teams ever, even if you're not a big football fan.
Buy you thicket here to enjoy an amazing experience through the home stadium of Messi, Iniesta and more, walk around the famous pitch surrounded by 100,000 imaginary screaming fans and finally learn everything about the team via touch screens, sound installations and other visuals to put you in the heart of the action!
More information about FC Barcelona Tour:
Duration of the tour is 1 hour and 30 minutes. By pre-purchasing your ticket online, you can avoid the admission lines at the stadium (which can last up to 2 hours!)
Opening Times are Monday to Saturday from 9:30am to 7:30pm. Wednesday and Sundays it's closed.
Ticket policy:
Cancellations are not possible for this ticket.
The tour is closed before match day and on match day. The museum, trophy room, Messi area and the panoramic view of the stadium are open until 15:00.
During La Liga & Copa del Rey there's no tour on these days. The museum, trophy room, Messi area and the panoramic view are open until 3 hours before kick-off.
Are you looking for a great accommodation in Barcelona? Look no further, we have what's right for you!