Due to the ever growing effects of mass tourism, we rarely get to experience a destination in its authentic form. From the second we get off the plane we are met with advertisements promoting over-hyped, stereotypical activities which are far removed from the reality of the host county. Unfortunately, Barcelona is no exception and is subject to the mainstream representation of its culture, food and people for eager tourists wanting to immerse themselves in the "Spanish" way of life. However, the saving grace of this ever so common situation is that Barcelona is still home to some amazing and authentic sights, activities and restaurants where you can blend in like a local and experience true Catalan living. For those who wish to experience Barcelona from the point of view of a local, we have compiled an itinerary of what to do, where to eat and where to stay to ensure you have an enriched and authentic local experience.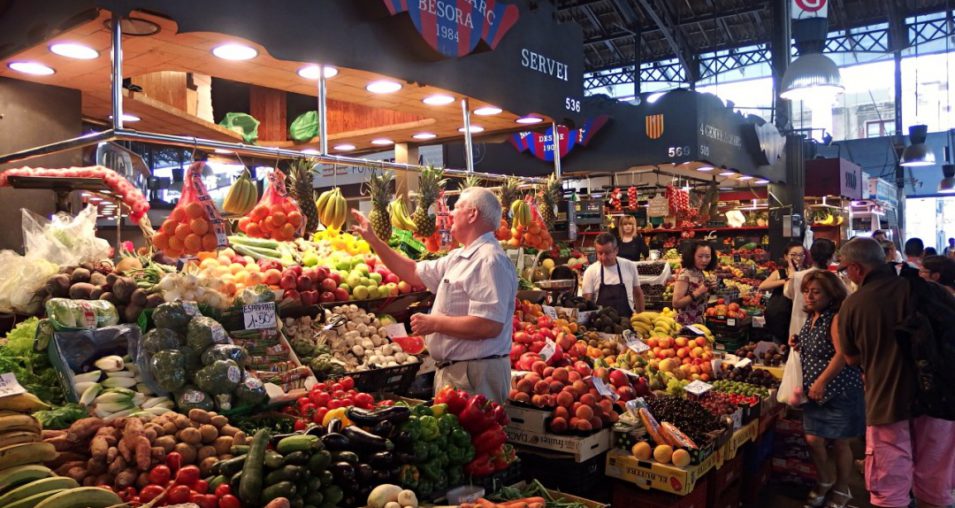 Things to do
The Bunkers
The Bunkers is the shortened name for Bunkers de Carmel which is an old bunker built in 1973 during the Spanish Civil War. It is located on the highest mountain in the city and provides breathtaking views of the city, especially at sunrise and sunset. Unlike other viewing points such as Montjuic and Tibidabo which are constantly crowed with tourists, the bunkers has more of a local feel and will provide you with enough space to relax and enjoy the tranquil setting. Typically, locals will buy some beer/wine and head up to the bunkers with friends to relax after work. If you want to have a viewpoint of the city from a local perspective, then the Bunkers is definitely the place for you.
Bike Tour
Barcelona is a very accessible city in terms of walking and you can explore the various neighborhoods at ease. However, its vastness means that too often tourists only end up seeing a quarter of what Barcelona has to offer as they limit themselves to areas such as the Gothic Quarter and so on. If you wish to escape the typical tourist trap neighborhoods of the city and cover many miles that would take hours on foot, then a cycle tour is your best bet. Book a free bike tour of Barcelona which lasts approximately three hours . It will provide you with a local guide who will tell tales of the city, inform you on its rich history and give personal insight into its current political and economical culture. The true blessing of these tours is that since the guides are locals, they recommend their favorite restaurants, activities and bars for you to try during your stay, meaning not only can you explore Barcelona with a local, you also get to try some of their favorite spots.
Visit the beach
Barcelona is the perfect weekend get away as it has the best of both world; a vibrant city and beautiful sandy beaches. Especially during the summer, tourists visit beaches such as Barcelonetta as it is an easy walk from la Rambla. However, due to its proximity the beach tends to get over crowded and you will be hassled non stop by people selling drinks, beach ware, massages and club promoters, making it quite difficult to relax. The further away you move down the coast line, you will find much less crowded beaches which locals frequent such as Playa del Coco and Playa Badalona. By avoiding the tourist trap that is Barcelonetta, you will have an opportunity to mix with locals, enjoy a refreshing dip in the sea and have a much needed Siesta.
A trip to the market
If you truly want to live like a local in Barcelona, why not shop like one! One of the best ways to come up close and personal with local customs and ways of life is to take part in the madness at a typical neighborhood market. While you may have heard or will hear of La Boqueria market and its fantastic offerings, if you seek a more authentic trading experience then look for markets which are less tourist orientated.  We recommend markets such as the beautiful Santa Caterina Market in Born. Unlike La Boqueria, there will be no long lines or masses of people to navigate your way through. You can sample some local authentic products in peace surrounded by locals and it will provide the perfect opportunity to practice your Spanish.
Where to eat
Paella
Instead of going to a restaurant and having one of your favorite dishes served up to you, why not learn how to cook  like a local by partaking in a Paella cooking class. It allows you an intimate experience with an experienced local chef where you can learn from the best and recreate your favorite holiday recipes at home for all of the family to enjoy. It is a skill which you will always have and will transport you back to the beautiful side streets of Barcelona whenever you cook.



While there are countless cooking classes in Barcelona, we cannot recommend The Paella Club enough. It is a place like no other in the heart of Barcelona. Unlike other cooking classes which are merely demonstrative with little input from participants, classes at The Paella Club have you dive straight in with 8 work stations for up to 16 people. This fully immersive kitchen experience will have you blending ingredients of the highest quality into mouth watering Paellas. So if you really want to eat like a local, why not cook like one too! Choose from three different cooking experiences and check out their WEBSITE for upcoming events
Address: Carrer del Dr. Dou, 5, 08001 Barcelona
Tapas
If you really want to experience the local way of life in Barcelona, then you should embrace eating like one! You will be spoiled for choice if you wish to have tapas in Barcelona. It seems like every street corner you turn there is a bar/restaurant/cafe selling tapas. However, in the more touristic districts of the city, you will struggle to find authentic tapas which locals would eat. More often than not, those who advertise tapas with colorful menus are not reflective of real tapas offerings. You must escape off the beaten track and search for low key, local restaurants. We here at Barcelona-Home recommend that you check out Carrer Blai: the tapas street of Barcelona. As opposed to tourist areas, tapa/pimtxo will generally cost 1 each in each establishment on this street. Popular restaurants include Blai 9, La Tasqueta de Blai and Pincho J. This street can be reached by taking the purple or green line to Para.lel.
Address: Carrer de Blai, 08004 Barcelona
Catalan dishes
El Mercader de L'Eixample is a newly opened restaurant based on the principles of slow food and traditional Catalan cuisine. They serve shareable dishes which highlight the products from the agriculturally rich region that surrounds the city. For this reason, locals are attracted to this establishment form far and wide to experience some classic home cooking with a modern twist. Traditional dishes available include Canalones, Trinxat, rice dishes, sausages and of course Iberian bellota ham and rustic bread rubbed with tomato. If you are in search of authentic Catalan food in a local atmosphere, then this is the place for you!
Address: Carrer de Mallorca, 239, 08008 Barcelona
Where to stay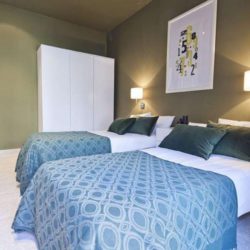 This is a bright and spacious apartment. The living room, furnished with a comfortable couch, extends from a private balcony with street views to a picturesque dining space with a pretty white table, 4 chairs and matching white server next to it. The apartment comes with 2 double bedrooms, both furnished with comfortable beds and decorated in great taste with the same green and white color scheme for a soothing effect. The apartment is located in the Sants-Montjuïc district. You will also be just a short walk from major transportation hub Plaza Espanya, with quick connections to the rest of the city.
€59 per night- €1200 per month/HUTB-001177/ 50m2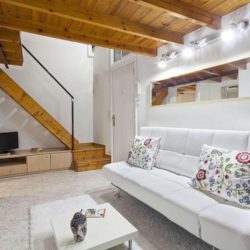 This exquisite duplex apartment is perfect for a couple seeking a stylish and very comfortable space in the cultural center of Barcelona. On the lower floor you will find a modern kitchen, pristine bathroom recently refurbished with bright white tiles and high-quality lighting, and a lovely common area. The sleeping area is on the second floor with beautiful polished wooden floors and low-set wooden beams adorning the ceiling. The bedroom comes furnished with a comfortable double bed. The apartment also comes with a gorgeous community terrace and boasts an unbeatable location in the el Born neighbourhood.
€1000 per month/BHMI-013/ 30M2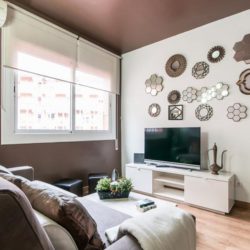 Spacious apartment with a simple and elegant design available in the theater district of Barcelona. Through sliding doors you will have access to an impeccable modern kitchen. The apartment boasts 2 lovely bedrooms – one with a large double bed and an exotic decoration, and another with 2 comfortable single beds facing a large closet and mirror. This charming home is located in the Poble Sec neighborhood, just a few steps from several great theaters and music venues.  The nearby Paraŀlel metro station will provide you with easy access to Passeig de Gracia shopping street, Plaza Catalunya and the Gothic quarter.
€88 per night- €1365 per month/ HUTB-002624/ 55m2
Are you looking for a great accommodation in Barcelona? Look no further, we have what's right for you!