Sitges forms part of Catalunya and it's renowned worldwide for its Film festival as well as its Carnival. However, Sitges offers a lot more than one can think of. Sitges' artistic reputation comes forth in every event held in the beautiful city. If you're ever wondering what you can do whilst there, all of Sitges' important events have been mentioned below. In case you're coming from out of town or you're visiting specifically for one these events, don't worry about accommodation. We've got you covered!
January 5th – Reyes Magos Parade
Melchor, Gaspar, and Baltasar go around with sweets giving them to children. A lot of people dress up as the three kings as well, some painting their faces and hands black. Kids also hand out letters to the kings or to their favourite king.
February (2019) 28th until March 6th- Carnival
The Sitges Carnival is quite spectacular, baring the reputation as one of the gay capitals of Europe. Parades take place and the largest ones traditionally take place on Sunday. There's partying all throughout the event, however, having said this, the event is for everyone not just for adults. It suits every age group and activities for kids are also held.
March – Sitges Vintage Car Rally
The Sitges Vintage Car Rally has grown in popularity and has become one of the highlights of the year for Barcelona and Sitges. Around 100 cars and motorbikes participate in this competition whilst onlookers examine the cars. The people competing dress up in similar attire as that of the 1920s delighting their thousands of onlookers. The cars are categorised into two groups: (1) Epoch, which is the category for cars produced before 1920 (2) Vintage, which is the category for cars produced between 1909 and 1924.
June – Corpus Christi in Sitges
Major streets are closed to traffic for approximately a day during Corpus Christi. Beautiful flowers are placed on the streets of Sitges creating a flower carpet. Volunteers sketch designs on the streets. Flowers are then laid over the designs. Afterward, on Sunday, a procession of the most Holy Sacrament is held.
Also in June
The Gay Pride includes an open-air stage with celebrity guests and DJs. Floats and parades are held and people can also enjoy the wide variety of gay bars. The lively atmosphere and huge crowds make for an unforgettable night.
Noche de San Juan:
This feast is memorable because it celebrates the long-awaited Summer. For Catalans, this long day is very important and it's celebrated in every city. The concept behind this feast is that the sun reaches its highest point before beginning to drop and it symbolises fertility and wealth and therefore must be given strength. This strength is projected through bonfires and fireworks lit on beaches. Most people gather around bonfires celebrating together along with music and food. This event lasts all night.
August – Fiesta Mayor de Sitges
Fiesta Mayor de Sitges is in honour of the apostle Saint Bartomeu and the virgin and protomartyr Santa Tecla. The reason for the festival lies in the patronage of the town and in the ownership of the parish of the town, which are shared by both compatriots since the 16th century. The devotion and introduction of the cult to Saint Bartholomew extended to the town, the patronage of Sitges and its temple corresponded only to Santa Tecla. A lot of different activities and events are held throughout the entire feast, along with concerts, parties, and speeches from different people.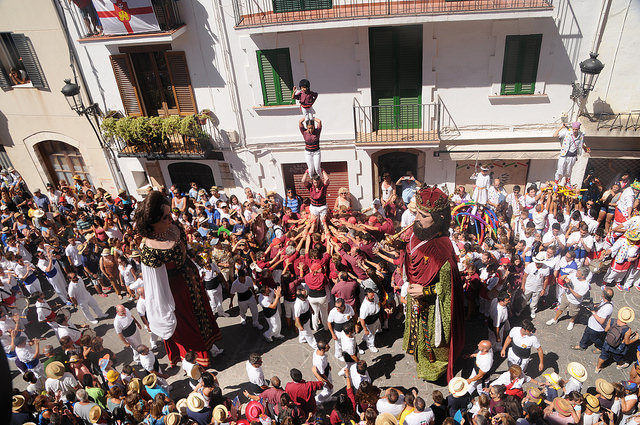 October – International Film Festival
This is the number one film festival in the world. This festival stimulates a universe of encounters, exhibitions, presentations, and screenings of fantasy films from all over the world. It started in 1968 and nowadays, celebrities from all over the world travel to Sitges. Top level movie stars such as directors and producers fly out to Sitges in order to celebrate the creation of art through films.
Also in October
Wine Festival Sitges:
The best Catalan wines are presented to locals and tourists. Anyone can go and taste these magnificent wines and it's also possible to buy them. Also known as 'Festa de la Verema' or Wine Harvest Festival. This event happens in the Penedès Region and there is a variety of wine tasting, food stalls, grape treading as well as barrel carrying contests which take place on Sunday. The winemaking ritual is a festival for both family and friends.
Are you looking for a great accommodation in Barcelona? Look no further, we have what's right for you!