When you are traveling or living in another country you never know what is going to happen. Even if you are on the optimistic side of things it is always good to know the basic emergency numbers in town or know where to find them. Vi have gathered you the most important emergency numbers and some general bits of advice. Barcelona is the beautiful capital of Catalonian, but unfortunately also bears another, more dubious honor as the pickpocket capital of the world. We also made you some advice on how to avoid the pickpockets, and what to do if they get you. Read this article about Emergency info and services for expats in Barcelona to know more!
Police in Catalonia
In Catalonia, the police services are organized into three forces:
The Guàrdia Civil – They are dressed in olive green uniforms and controls the borders and airports.
Mossos d'Escuadra – They are dressed in black and red uniforms and controls the major crimes in larger towns and national security and immigration (report tourist crime here).
The Guàrdia Urbana – They are dressed in blue and controls the traffic regulation and local communities.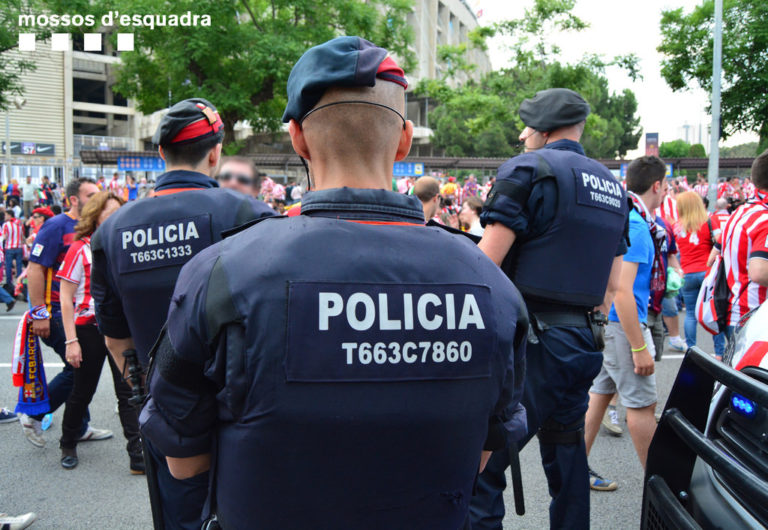 The lost property office
Did you take a taxi and leave something inside? Or got home and realized you had dropped something on the street? Contact Barcelona Lost Property Office! All lost and found items in Barcelona that have been handed into the police will end up in the Lost Property Office.
To claim lost cellphones or cameras you will need a serial number and for lost ID cards or passports you will need an identification number to prove it's yours. Around 7 out of 10 items that are delivered to Barcelona Lost Property Office are returned to their owner.



Don't hesitate to call the Lost Property Office if you have lost something. They are available over the phone from 08.00 – 00.00!
How to avoid being robbed in Barcelona
Take care of your belongings from the moment you arrive at the airport, the train station or at your hotel. It is more common to get mugged in the underground or in the train than in the bus. This is because the thieves only need to buy one ticket per day to go around the stations limitless.
While you are out, do not to leave cameras, handbags or any valuables unattended at your table in a bar or any public place.
Make sure your bags are securely closed and not easy to open. Have your bags around your neck and where you can see them. Don't hold your bag in your hand or on your shoulder, it is too easy to grab it.
Don't keep your wallet or phone in a wide or a back pocket.
Try not to look like a tourist, and don't show off your camera as much and look the map inside a café.
Do not have all your valuables in the same place. Leave your documentation and some of your credit cards at the safety deposit in the hotel, so you don't lose everything if you're robbed.
What to do if you are robbed in Barcelona?
If the worse happens and in the event of being a victim in Barcelona is good to know what to do. Call 091 or 092, or look for the Mossos d'Esquadra station for local police.
If you lose your debit or credit card call the emergency number of your card issuing company immediately and let them block the lost card so no one else can use them. The card company can quickly send out new credit cards and even address them to be delivered directly to your hotel.
In Barcelona, the Catalan autonomous police Mossos d'Esquadra can be contacted for free and they handle matters including:
Reporting a crime that has already been committed
 Reporting a suspicious activity or object, or a person who is being a nuisance
Immigration matters
Terrorism
Judicial matters
Crimes
If your passport has been stolen or you have an insurance covering the stolen objects you will need an official police report, called "denuncia" in Spanish.
If you need to visit or contact a police station, here are their addresses and phone numbers:
Carrer de l'Almirall Cervera, 29:                                   (+34) 933 002 296
Passeig de Torras i Bages, 145:                                      (+34) 933 618 800
Carrer Nou de la Rambla, 76-78:                                  (+34) 933 062 300
Plaça de Catalunya:                                                          (+34) 934 126 156
Plaça d'Espanya, 1:                                                           (+34) 935 542 705
Carrer d'Ulldecona, 35:                                                   (+34) 932 675 600
Travessera de les Corts, 319-321:                                  (+34) 934 959 700
Carrer d'Iradier, 9-11:                                                      (+34) 933 062 310
Avinguda de Vallcarca, 169-203:                                  (+34) 933 062 320
Carrer de la Marina, 347-349:                                       (+34) 933 268 200
Carrer d'Aiguablava, 55:                                                 (+34) 932 437 400
Carrer de Bolívia, 30-32:                                                (+34) 934 868 435
Placement of the police stations:

If you want to know something about international medical assistance, pharmacy and healthcare, check out our article about Medical assistance for expats in Barcelona.