Easter weekend in Barcelona, the period also known as ''Semana Santa'' (Holy Week) is one of the most celebrated traditions in Spain. Spain being a Catholic country, Easter belongs to one of the most important holidays and therefore it is celebrated throughout the whole country. The festivities contain a lot of art, vibrant colors, ceremonies and spectacular parades. These age-old traditions often attract many visitors from outside the country to attend the parades.
easter weekend However, as like the rest of the world, Easter is not just about the religion anymore. It is a lovely holiday to spend time with your family and friends and to get out in town, as the streets are filled with people who are all enjoying the extra long weekend and taking in the first sunrays of Spring. Because of this, we have put together a guide for you to check out what is happening in Barcelona during the Easter weekend, have fun!
Things to do
Friday 19th of April – Barcelona Cathedral
On Good Friday (Viernes Santo), which is the Friday before Easter weekend, al lot of shops and bars will be closed since it is a public holiday. However, there are processions going on throughout the whole day. A few of them will be held during the evening at the Barcelona Cathedral. From 15:00 to 23:00 there will be processions and activities on the square just in front of the cathedral.
Saturday 20th of April – Markets
Saturday is an usual day for Spain. It is not a public holiday, this means all shops and restaurants will be open. This is a perfect day to do some shopping and strolling around the markets. Here is a short list of some of the best markets that you should definitely visit this day:
La Boqueria
You've probably heard of this market before, it is one of Barcelona's most famous tourist landmarks. The market dates back to 1217, but it is still widely loved by locals and tourists from all over the world. This huge public market is located on the Las Ramblas so during your shopping spree you can come in here to buy some of the best farmers products. You can get everything here, from fresh smoothies to a big collection of fish and meat.
Address: La Rambla, 91, 08001 Barcelona
Opening hours: Mon-Sat 8am-8.30pm; Sun closed
Mercat Encants Vells

This is one of the biggest flea markets in the city, here you can find everything from books, clothes, bags and antiques. If you are a fan of secondhand items and good deals, this place is definitely worth a visit. You can also do some sightseeing while you're at it, since the market is located right across from the Agbar Tower.
Address: Carrer de los Castillejos, 158, 08013 Barcelona
Opening hours: Fri-Sat 9.00am-8.00pm; Mon 9.00am-8.00pm; Wed 9.00am-8.00pm
Mercat de Santa Caterina

This market is known as the first indoor market in the city. You can recognize it by it's distinctive and colored rooftop, designed by Catalan architect Enric Miralles. Here you can find an enormous amount of fresh fruits and vegetables, fish, cheese and meats. It's a little less crowded than La Boqueria, but still a popular spot for locals and tourists to visit.
Address: Av. de Francesc Cambó, 16, 08003 Barcelona
Opening hours: Mon-Wed 7.30am-3.30pm; Thu-Fri 7.30am-8.30pm; Sat 7.30am-3.30pm; Sun closed



Sunday – Museu de la Xocolata
Like every other Sunday in Barcelona, most shops and bars are closed. But you don't have to sit around the whole day, because we have a fun activity planned for you. The Chocolate Museum (Museu de la Xocolata) is always very popular to go to during the Easter period, this is because they usually have a few special courses available especially for the Easter time. Chocolate and Easter go together like honey and bees, they are inseparable.
This is a very fun activity if you are a family with small kids, kids' enthusiasm will go through the roof when they are walking through life-sized sculptures made of chocolate. And the best part is that your entrance ticket will be a REAL chocolate bar, so you can munch on that while you admire all the beautiful pieces.
Address: Carrer Comerç, 36, 08003 Barcelona
Prices: Over 7 years old: €6.00 (under 7 years old FREE)
Opening hours: Mon-Sat 10.00am – 7.00pm; Sun-Public Holiday 10.00am – 3.oopm
Monday – Tibidabo
Easter Monday (Lunes de Pascua) is a public holiday for Spain, so just as Sunday most shops and restaurants will be closed. But there are still some fun activities to do in the city. If you are a family with kids, we recommend to go to the Tibidabo amusement park. This park is located on top of a hill so while you're there you get an amazing view of the city of Barcelona. If you really want to enjoy those spectacular views, we recommend to buy a Tibidabo Panoramic ticket. This ticket will give you access to some great viewing points on which you can take nice pictures. Check the website here to know more about the park and buy tickets online.
Address: Plaça del Tibidabo, 3, 08035 Barcelona
Prices: General entrance ticket €28.50, children under 1.20 m €10.30
Opening hours: Check the website for a detailed schedule off the opening times per day

Where to eat
During Easter Weekend, one pastry that stands out is the Mona De Pascua. This is a traditional Spanish Easter cake that is loved by everybody, and you have to try it as well! You'll see them in bakeries and patisseries everywhere, but the best place to get it is at Escribà. This cafe is famous for it's Easter window display. True to tradition, a gigantic chocolate monkey is kept in the window of the pastry shop. Just for the experience this place is already a must-visit.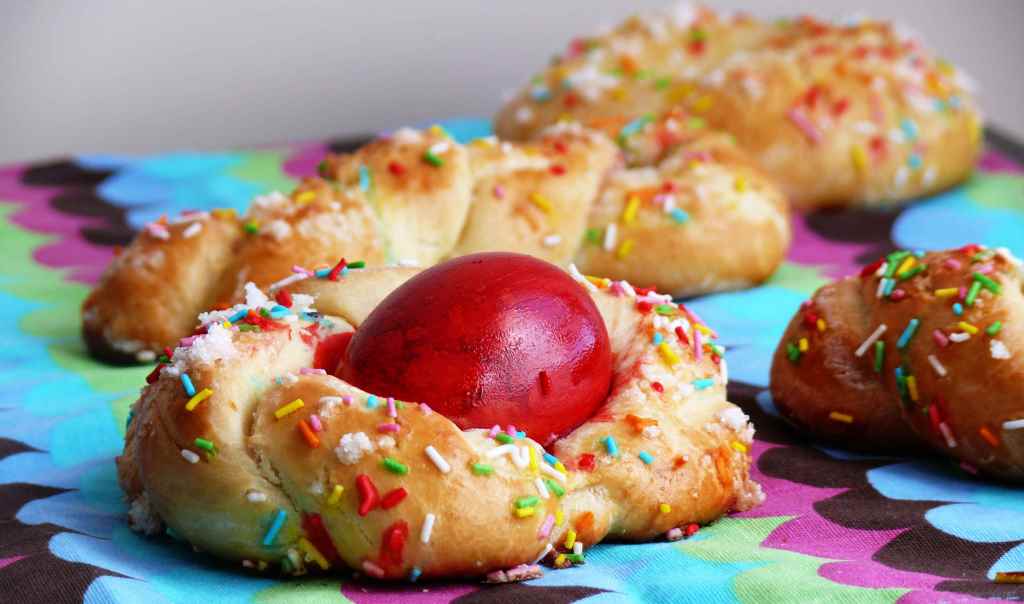 Paco Meralgo
Fish lovers, this is your lucky day. During Easter Weekend, a lot of restaurants take out their best fish and give their menu a mediterranean touch. Paco Meralgo is a great mediterranean restaurant and visitors say that they have one of the best tapas in town. They will definitely let your taste buds tingle and give you a delightful evening.
Address: Carrer de Muntaner, 171, 08036 Barcelona
Opening hours: Mon-Sun 1.00pm-4.00pm & 8.00pm-12.30am
Roig Robí
In Roig Robí you can find traditional Catalan dishes at its best and a great selection of wines to go with it. The restaurant, located in the sophisticated area of Gràcia, has a beautiful but simple garden terrace. It has a charming and romantic setting, making it the perfect place for a date with one of your loved ones.
Address: Carrer de Sèneca, 20, 08006 Barcelona
Opening hours: Mon-Fri 1.30pm-4.00pm & 8.30pm-11.30pm; Sat 8.30pm-11.30pm; Sun closed
Where to stay
Take a look at our accommodations for Easter in Barcelona:

Comfortable family apartment near Sagrada Familia
This spacious home of 90m2 is a great solution for friends or family seeking a quiet accommodation in Barcelona. The apartment fits up to 5 people. It is located in a peaceful residential neighborhood, just steps from the Sagrada Familia of Gaudí and the namesake metro station of the famous monument.
From €202,73 per night/ 90m2/ Licence: HUTB-006663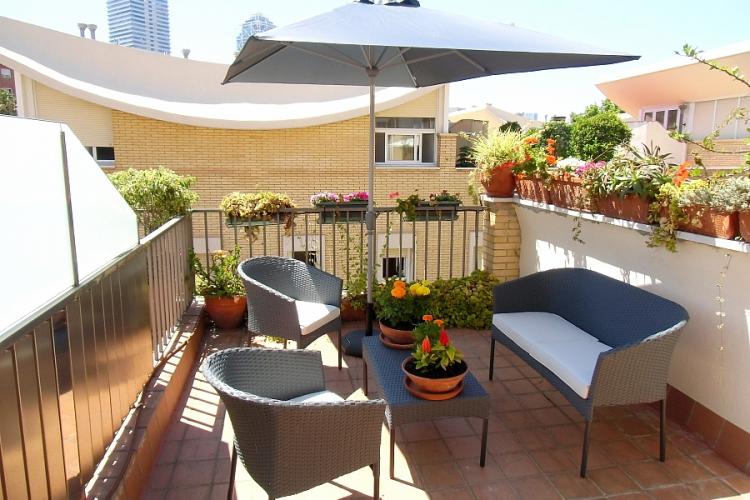 Three-storey beach house in Barcelona
This amazing home for your holiday in Barcelona is located only 5 minutes from the beach and the Olympic Port. It is an enviable location that is ideal for walking around the maritime landscape. The house is huge, 150 m2 on three floors and the most luxurious are 63 m2 of a garden and two terraces. It is a luxury accommodation that can accommodate up to 6 people, and that becomes a wonderful choice for a family or group of friends who like to enjoy the best.
From €313,04 per night/ 150m2/ Licence: HUTB-003707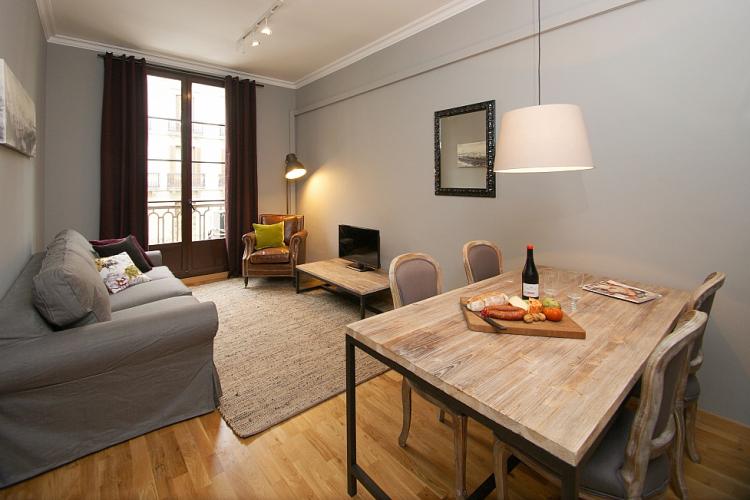 Precious vintage style apartment furnished with aged wooden and leather element and decorated with grey volumes to created a unique and original atmosphere. This apartment has space for 4 people. It is situated in an attractive area of Barcelona, just a few meters away from the Paseo de Gracia and Las Ramblas.
From €156,17 per night/ 60m2/ Licence: HUTB-005393
Looking for a place to stay during your trip? We got you covered! Check our website.