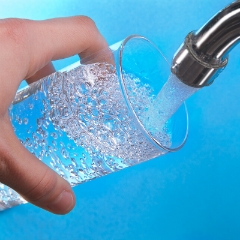 When it comes to drinking water in Barcelona, many people have different opinions. In my experience, I recommend that you do not drink the water from the sink. The water is fine to drink, but it is not the best tasting.
The Barcelona Public Health Authority has approved the safety of the water, and drinking it causes no health risk. It is fine to use the water for cooking, but as for drinking it during the day, that's a different story. The restaurants in Barcelona only serve bottled water. Bottled water is very cheap to buy. You can find a large bottle at a local store for around 1 euro, and in the grocery stores they are around 40 cents.
Find your accommodation now!
Restaurants mark up the water prices a lot, a small bottle may cost you around 1.50 euro.  They are also large 5 L bottles of water, which are good to keep inside the apartment, and cost around 1.50 euro. There are old stylish water pumps/fountains around for drinking water in Barcelona, which many people use to fill up water bottle containers.
You can see older locals using them as well as thirsty dogs, however not many tourists use them to fill up their bottles. If you are desperate for water, it is fine to drink the water, but be prepared that it may not be the best tasting water.