Friday the 11th, December 2015 will mark the 21st annual edition of the "Diada de les tradicions i costums nadalencs a Catalunya" (Day of the Christmas traditions and customs of Catalunia). This is a one-day event within Barcelona´s most cherished and traditional Christmas market, La Fira de Santa Llúcia, which runs from November 30 to December 23 from 10:30am-8:30pm (or until 9:30pm on weekends) in Plaça Nova on La Avenida de la Catedral in front of the Catedral de Barcelona.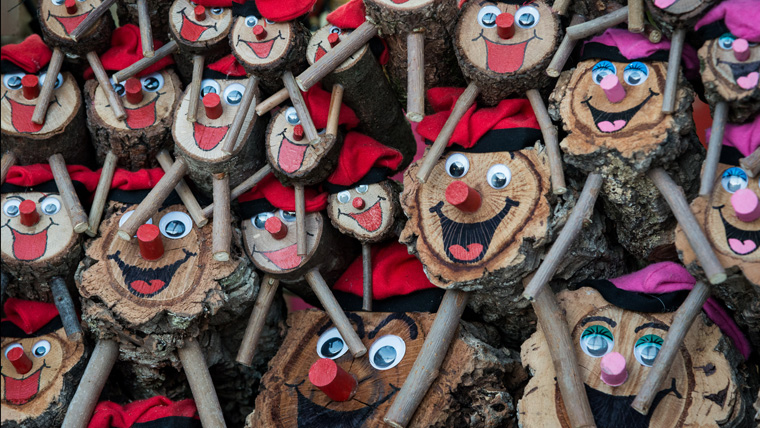 The day starts with the famous Tió de Nadal celebration. In Catalan tradition "Caga Tió" is a Christmas log that poops presents. A statue of this character, consisting of a wooden log with stick legs, a face painted on one cross-section and a red Catalan barretina hat, is sold all over town during this time of the year. From December 8th Catalan children feed and take care of their poop logs, covering them with blankets at night and making sure they are comfortable until Christmas Eve, when the logs are placed next to the fireplace, serenaded and whipped repeatedly with sticks to make them poop out presents. Morning activities on the one-day festival will kick off at 10:30 hrs when a giant Caga Tió will appear for kids to hit in hopes of more presents. At 18.00 hrs the Sebastià Vergés theatre company will entertain the crowd with Christmas stories, after which a giant figured called a ¨Carassa de Nadal de Barcelona" (or Barcelona Christmas face) will cross the market, ejecting candies for kids.
The afternoon will continue until about 21.00 hrs with several other performances in theater, music and dance with the majority of these activities aimed at children and families. So head out to Gótico this Friday for some delicious turrón and to learn about the rich Catalan traditions celebrated at this festive time of year.
Fira de Santa Llúcia
December 11
10:30am-9:30pm
Avinguda de la Catedral
Barcelona, Spain
Looking to rent an apartment in Barcelona on the weekend of December 11th? Check out our
special deals on apartments
all over the city with
Barcelona Home
!