Apartments Rent Barcelona with your kids
When we are on vacation with our kids, one of the first things we keep in mind is our children's and family's safety and convenience. Because of this, you should book daily Apartments Rent Barcelona before wasting money on expensive hotels. These daily rentals provide you much more intimacy. You can book any kind of accommodation for daily rentals in Barcelona with us, and apart from helping you save money. We also help you find a central apartment to really enjoy this stay with your beloved ones.
What to see ~ with your kids
Barcelona's Aquarium: it's one of the best things to see in Barcelona with your children since there are over 400 different species of fish to discover. Moreover, this place offers you an awesome view of its underwater tunnel from which you can also see the sharks. Another perfect spot for your little ones is the Barcelona Zoo, in which you can get to know tons of different animals and there's a big area for your leisure time as well. We also recommend watching the dolphins and the guided tours to the ranches, where your kids can really enjoy themselves.
Weekly rentals ~ for animal lovers
If you want to be accommodated close to the zoo, we truly recommend you to book week rentals Barcelona in Ciutadella. If you're visiting Barcelona between October and March, you'll be glad to find out that the climate is still warm and wonderful. Furthermore, you can still spend an incredible time at the beach with your kids. One of the closest beaches is Barceloneta, it is a quite frequented place. Therefore, you should make sure to come a bit earlier than planned to get a good place.
Activities for teens
If you're traveling with teenagers, we can also recommend the following activities. CosmoCaixa might appear like a simple museum from the outside, but it offers a great variety of entertaining educational services. You can also find the Amazon rainforest. In there, you will meet real caimans and conduct some experiments, such as creating artificial storms. If you're looking to book daily rentals in Barcelona close to the center, one of your obligatory visits would be the museum of the famous FC Barcelona in the Camp Nou. It includes precious pieces that are dated more than 100 years ago, a panoramic view of the stadium, a visit to the changing rooms of your beloved soccer players and the president's suite. Lastly, you cannot go to Barcelona without having seen the Sagrada Familia. Your kids can also learn some things about history and can see a place they will remember for their lifetime.
OLYMPIC VILLAGE RENTALS, SAFE AND QUIET LOCATION
This elegant apartment is particularly recommended for those who are looking for a sophisticated place near Ciutadella, located in the neighborhood of Poblenou. The large living room with nice furniture opens on a balcony with a stunning view. Due to it has three rooms, this apartment is perfect for small groups or families. In addition, there is a green area and a shared swimming pool which helps to relax after a tough day.
Address: Carrer del Doctor. Trueta – Vila Olimpica
License: HUTB-010945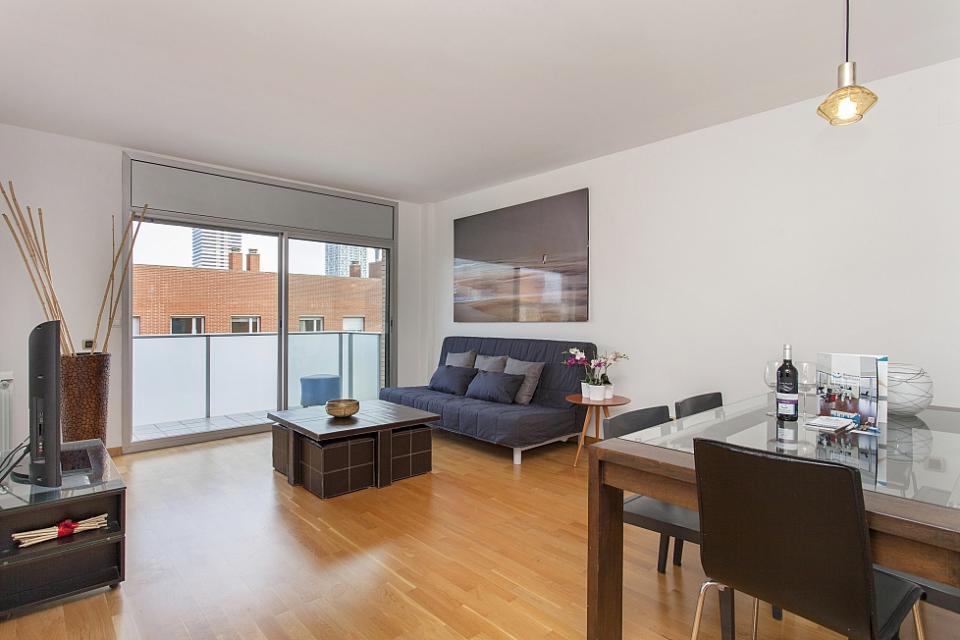 APARTAMENT IN CIUTADELLA – VILA OLÍMPICA
A luxurious apartment situated in the district of Vila Olímpica. The large windows make it brighter, just like the clean furniture and the wooden floor that give us the perfect relaxing feeling. Only a few minutes away, you are able to visit the Vila Olímpica or the famous Parc Ciutadella, also surrounded by several special restaurants and bars. It is located in the neighborhood of Poblenou.
Address: Carrer de Salvador Espriu – Vila Olimpica
License: HUTB-007640