Cruïlla is a 2-day festival that will start this year on Friday 11th July 2014. The festival is located in Parc Del Forum in Diagonal Mar area of Barcelona. El festival Cruïlla Barcelona musical festival began in Mataro in 2008. Due to its success and growth it was moved to Barcelona a few years later.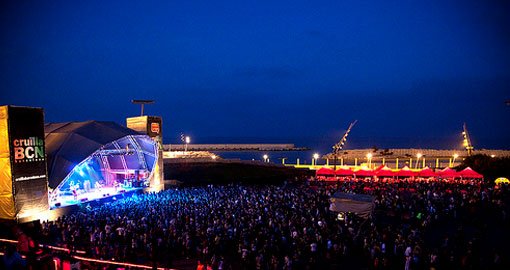 Find your accommodation now!
It is the 8th edition of Cruilla two day summer music festival which is one of the best summer festivals with around 20.000 to 30.000 music fans in attendance at two stages at the festival grounds. Last year it hosted 31.000 attendees! The name of the festival means "crossroads" due to the heterogeneity of their music (meeting of musical styles). In Cruïlla you will find more than just music. In this festival there are many activities, games, human towers, dining areas. This festival has one very special feature! It is the importance of public in the organization of the festival, it means you can suggest artists before cartel closes.
Confirmed  acts for this festival are:
Damon Albarn
Violadores del Verso
Santos
Several FUTURE feat Mikey
Berri Txarrak
Imelda May
Calle 13
Zaz
Vetusta Morla
ZAZ
Band Of Horses
Macklemore & Ryan Lewis
BLAUMUT
Vetusta Morla
Emir Kusturica & The No Smoking Orchestra
Calle 13
Jack Johnson
Angus & Julia Stone
John Butler Trio
Txarango
Imelda May
Tinariwen
The Selecter
Bongo Botrako
Berri Txarrak
Nueva Vulcano
Valerie June
La M.O.D.A
Jazzanova Live feat. Paul Randolph
Oques Grasses
Skip & Die
Sara Pi
Joan Dausà
Orchestra Fireluche
Partido
Exxasens
Maria Rodés
Betunizer
Za!
Izah
Flamingo Tours
Some useful info:
You can't bring your own drinks in the festival grounds.
There will be areas for disabled people at the sides of the sound towers on every stage except at the tent (El Periódico Stage).
The minimum age of those attending the festival has to be 16 years old, those under 16 years must be accompanied by their legal guardian or with adult holding the authorization signed by the legal guardian. Children aged 12 or under are admitted free when accompanied by a ticket holding adult.
Festival will have food for coeliac's and vegetarians also for vegans too. Coeliac's will be able to find some Daura Beer for drinks and for food the festival will offer gluten – free food, catalan Paella, Nigiris and Makis, Chicken and Mole Taco and Nachos with Guacamole. Vegeterians at the food area will get to choose from mushroom croquettes and Nachos with guacamole and cheese.Vegans will surely enjoy some vegetable wraps and Nachos with guacamoles for Frankfurt tofu.
There will be Som Energia stand where you will be able to charge your phone.
Of course in the festival will be information point with lost and found services.
On site you will not be able to use your credit card but at the food and drink stand as well as on ticket office you will be able to pay with credit card.
Opening and closing times is:
Friday 11: Doors open from 18:00h to 5:00h in the morning.
Saturday 12: Doors open from 18:00h to 5:00h in the morning.
Sunday 13: Doors open from 16:45h to 21:00h at night.
Ticket office will open 30 minutes before. 
The tickets price is:
3-day ticket

: 90 euros.

Friday 11th ticket

: 60 euros.

Saturday 12th

ticket: 60 euros.

Sunday 13th ticket

: 30 euros.

Friday 11the 'Night ticket'

(entrance to site from 01:30h onwards): 30 euros.

Saturday 12th 'Night ticket'

(entrance to site from 01:30h onwards): 30 euros.
Website : http://www.cruillabarcelona.com/en
To enjoy this festival be sure to bring as many friends as you can!