Cheap apartments in Barcelona
When it's time to book your next vacation, there are many factors to take into account: good weather, amazing food and of course, cheap accommodation. Lucky for us Barcelona has it all. The Catalan capital has warm Mediterranean weather, long beaches, an unbeatable nightlife; but, above all, budget friendly accommodation solutions. Moreover, if you are looking for independence and privacy but at the same time don't want to run out of money, the best option for staying in Barcelona is renting a cheap apartment. Barcelona has many different districts, which mirror different aspects of this amazing city. In all the districts you will be able to find cheap flats according to your different needs.
From 111€ / NIGHT | 1100€ / MONTH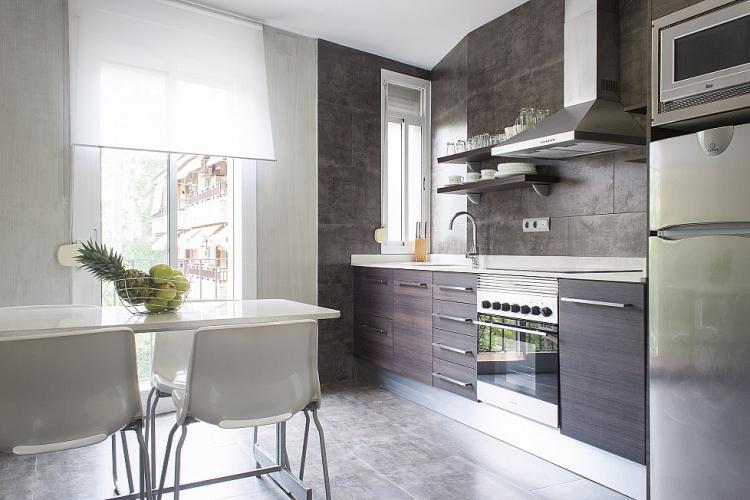 This cheap apartment is located in the district of Sants-Montjuïc. You will be delighted by the bright lights of this cozy cheap apartment, where modern and vintage match with each other for a stylish and really fresh result. As a matter of fact this affordable flat was fully renovated, but you can still admire the brick veneer walls perfectly contrasting with the stylish contemporary house fittings. The two charming bedrooms are the perfect spot to relax after a busy day of visiting the city; meanwhile the full equipped kitchen offers any amenities you need to try the Spanish cuisine. Above all if you want to enjoy Barcelona amazing weather, you can relax on the balcony.
License : HUTB-003937 | Reference : BHM1-368 | 45m2
From 104€ / NIGHT | 1500€ / MONTH

This modernly furnished flat with 2 double rooms is located next to the Rambla de Poble Nou and just a few blocks from the beach Bogatell. An ideal location to enjoy the tranquility of the neighbourhood. Yet you can still experience the best of Mediterranean life: restaurants, beach, and the most modern area of Barcelona. In the same vein this cheap apartment has been renovated; but retains a unique feel with its high ceilings, wooden beams and original mosaic floor. Both rooms have a balcony overlooking the street which makes the apartment extremely light.
License : HUTB-007110 | Reference : BH-1150
From 138€ / NIGHT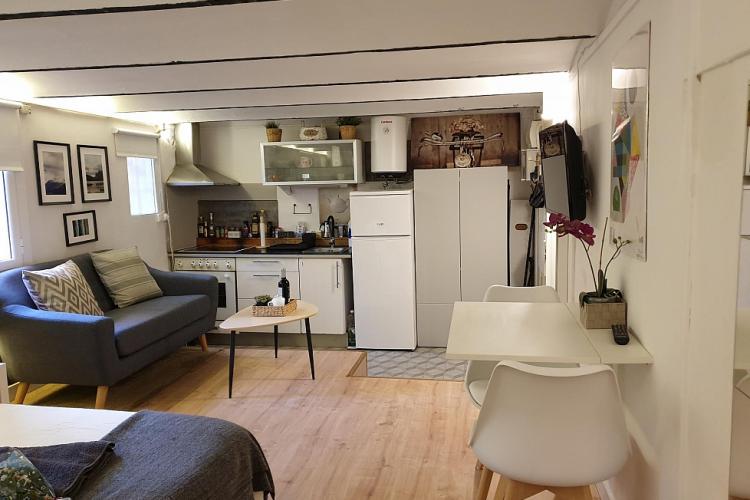 This remarkable studio is located in the peaceful and wealthy area of the city, Sarria Sant Gervasi. When stepping inside, you'll find one open space all decorated in a Scandinavian style where white and brown colours domain. Further, many think that living in a studio doesn't mean giving up everything you need. Similarly the two windows situated on the walls allow the natural light to come in. Cozy and functional, this loft is perfectly situated and you can easily reach many clubs and restaurants.
License : HUTB-011523 | Reference : BH-1453 | 25m2
From 144€ / NIGHT | 1650€ / MONTH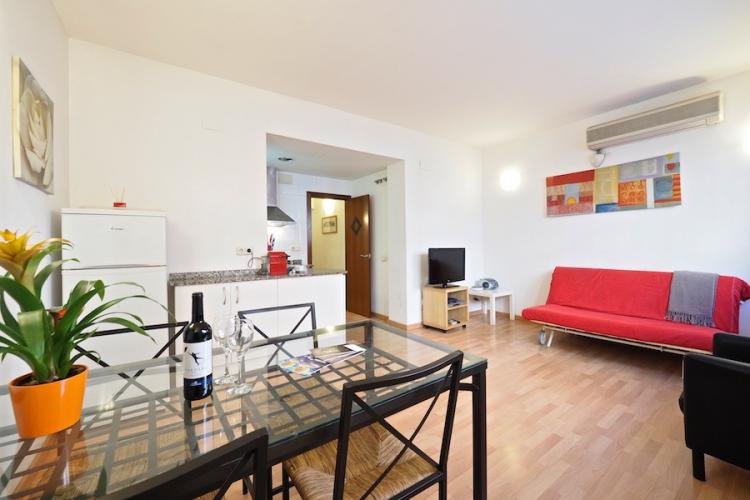 If you are a bargain seeker, this is a unique opportunity. This cheap apartment is next to the Hospital de Sant Pau, close to the Gràcia neighbourhood and Sagrada familia. Massive rooms all decorated with modern and minimalist furniture because; as everybody knows, "less is more" and these essential and functional house fittings, will make the guests enjoy the space even more. This cheap apartment is an open concept, for instance perfect for a group of friends or a big family who want to get the most from this functional house.
License : HUTB-002560 | Reference : BH-2023 
| 
60m2
From 115€ / NIGHT | 2160€ / MONTH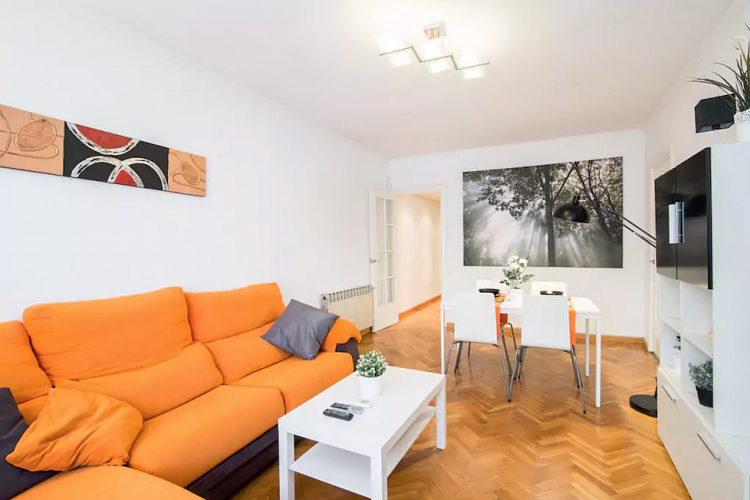 Colourful and friendly cheap apartment available in a modern building; located in the peaceful residential neighbourhood of Santa Eulalia, and moreover close to the city center. The sunny common area, with its vibrant orange corner couch, and pretty white dining room table offers a great place to relax and for example watch a movie with your friends and family.
There are also several parks, green areas and plazas where you can enjoy the sunshine while reading your favourite book or grab a leisurely lunch on a terrace. We also recommend visiting the Centre d´Art Santa Tecla art museum and seeing some of the fabulous modern architecture nearby. The nearby Santa Eulalia metro station (L1) will connect you to Plaza Españya and the city center in a matter of minutes, and there are also several bus stations nearby
License : HUTB-011969 | Reference : BH-1029 | 85m2
Tips to rent an accommodation
Daily rentals; apartments, houses, studios, luxury properties – from €12/night
Monthly rentals; fully furnished apartments and rooms – from €260/month
Yearly rentals; furnished and unfurnished properties
You can always contact us to receive some advice to choose the perfect accommodation for you or assistance during the booking process!
Telephone: (+34) 934 231 270
Mail: info@barcelona-home.com
Website: WWW.BARCELONA-HOME.COM
Enregistrer