Looking to celebrate the spookiest day of the year, surrounded by food, friends, family and fun? Why not rock out at Brunch Électronik Halloween? The  afternoon craft and music festival, which has become equally popular amongst Barcelona´s hip, young crowd as among families seeking to spend time with their children, has recently announced that October 31st will be one of the dates for their first ever fall edition in history. The family-friendly, all-ages portion of Brunch Électronik Halloween, the aptly named "Petit Brunch" will kick off at 4pm and will continue until 8pm, with activities such as trampolines, racket games, theatrical performances, a spooky cookie decorating class, a mask and tattoo design session, and a face painting corner. Talented face artists will offer their services to transform your little ones into the scariest and sweetest characters of their imagination.
The afternoon will continue with a Halloween theme, with events including a Trick or Treat experience, a Terror Tunnel and a Flashmob dance with terrifying choreography (from the equally terrifying ´80s) to the beat of a true Halloween classic, Michael Jackson´s Thriller. Definitely not recommended for the feint of heart. True to its name, the Brunch Électronik Halloween festival will also feature its very own brunch menu, crafted by the talented El Filete Ruso. Culinary offerings will focus on local, organic, fresh products and will include ecological burgers, sandwiches and some terrifyingly delicious surprises. Refuel before the DJ´s arrive on stage with food that will keep you as light on your feet as a ghost!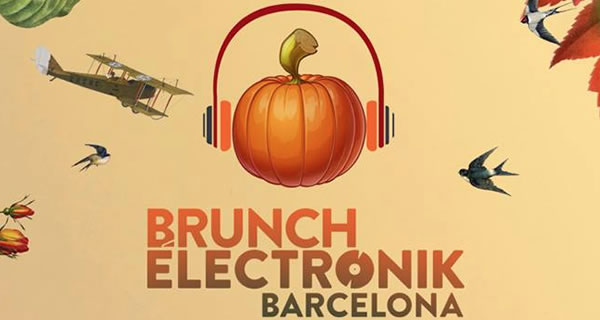 The music will begin at 8 p.m. and rage on until 4 a.m. with a spine-chilling line up led by the owner of the famous Rekid label, Radio Slave from the UK, as well as one of the most influential names in the international house scene, DJ and producer Omar-S from the USA. Omar-S is known to be one of the cornerstones of Detroit´s disco and house scenes, most well known for his celebrated album ¨Thank You For Letting Me Be Myself.¨ The beat will go on with the king of tropical house music Rebolledo from Mexico and Barcelona-based Venezuelan Maurice Aymard, known for his work with deep-house and techno, and for combining European rhythms with the unique sounds of South America.
Trailer
Watch the following video to get a taste of Brunch Électronik 2015 so far.
Brunch Électronik Halloween will take place in the iconic Poble Espanyol, an architectural museum close to the Font Màgica de Montjuïc. Constructed in 1929 for the 1929 Barcelona International Exposition, the space space consists of 117 buildings that recreate an Iberian village complete with artisan workshops, restaurants, a school, residences, parks and theaters. By choosing to stay at an apartment in Poble Sec, a bustling neighborhood of Barcelona, or by booking a lodging near Plaza Espanya, you will have quick access to this unmissable event as well as to the wide variety of other parties and dining opportunities offered by the area. Extend your stay extra day, since the day after the festival (November 1st) happens to be All Saint´s Day, a public holiday in Barcelona, and the city will be alive with activities such as chestnut roasting and tastings of Catalan pastries called panellets.
Get ready for a spectacular evening full of spooky surprises at Brunch Électronik Halloween!
Practical information
Brunch Électronik Halloween
Date: October 31st
Time: Petit Brunch 4-8pm, Live Music 8pm-4am
Website: brunchelectronik.com
Tickets for Brunch Électronik Halloween may be purchased in advance at the following link for 13 euros or at the door for 15 euros. Petit brunch will cost 5 euros. Children under 12 will get in free.
Poble Espanyol
Av Francesc Ferrer i Guardia, 13
08038 Barcelona
España
View Apartments Near Brunch Électronik Halloween