Ladies and gentlemen, December has begun! This means that a lot of cozy markets are organized as every year. Whether these are Christmas markets, second-hand markets, flea markets or something else, it's all here in Barcelona. To save you the work of finding out what market to go to, we made a list of the best markets in Barcelona for the winter.
Fira de Santa Llúcia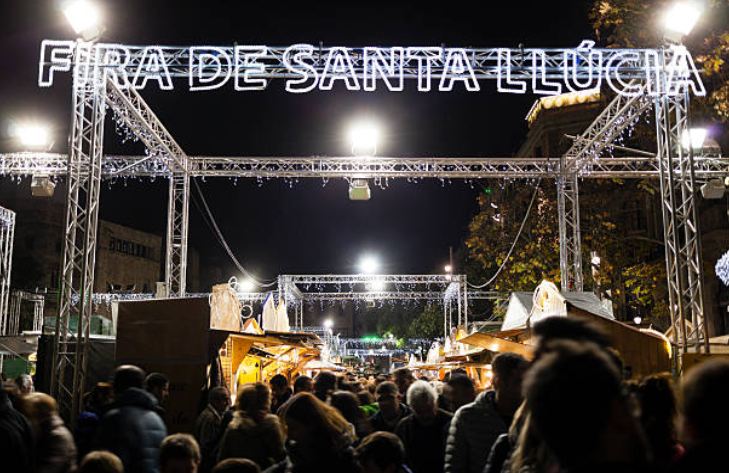 La Fira de Santa Llúcia is the main Christmas market that Barcelona has to offer. The market is host to almost three hundred stalls offering varying products related to Christmas. You can find Christmas trees, mistletoes and many other decorations here. This makes la Fira de Santa Llúcia the best place to do some Christmas shopping.
The market is opened from November 24th until December 23rd from 10:30 am until 8:30 pm during weekdays and until 9:30 on the weekends.
November 24 – December 23
Opening Hours: 10:30am-8:30 pm (until 9:30 pm on the weekends)
Address: Avinguda de la Catedral
Fira de Nadal of Sagrada Familia 
For children as for adults, the "Fira de Nadal de la Sagrada Família " the Christmas Market of the Sagrada Familia.
Every year since 1960, the Christmas Market of the Sagrada Familia is traditionally held from November 29 to December 23. An open-air market, with hundreds of stalls, to buy Christmas trees, figurines for the traditional crib, toys, gifts, food, and crafts.
The top of this fair is, of course, the visit of Santa Claus, on the 21 and 22 of December, which allowed exceptionally picture taken with the kids.
November 29 to December 23
Opening hour: 10:00 am-10:00pm
Address:

Plaça Sagrada Família

, 

008013, Barcelona – 

Spain
Festivalet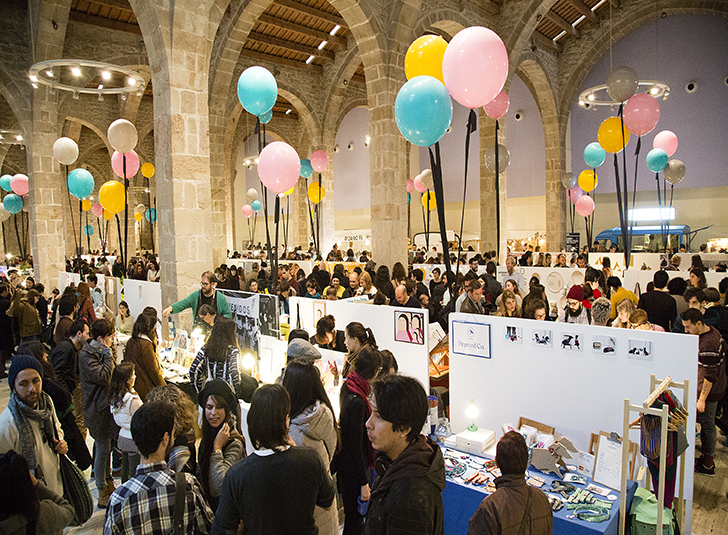 Festivalet will host its 10th edition coming December. Festivalet is a craft fair that is divided into four different sections; Products, Gastronomy, Materials, and Publications. This fair gives you the opportunity to buy your products or services straight from the distributor. This is because Festivalet wants to help creators get publicity and offer it to the public. Therefore only the most original and creative products are offered. Also good to know, all products at Festival are hand-made.
Festival will take place on the 16th and 17th of December 2017 in the building of Museu Maritim Barcelona. The fair is opened from 11:00 am until 8:00 pm.
December 16-17
Opening Hours: 11:00am-8:00pm
Address: Museu Maritim, Av. de les Drassanes, s/n
Christmas at Poble Espanyol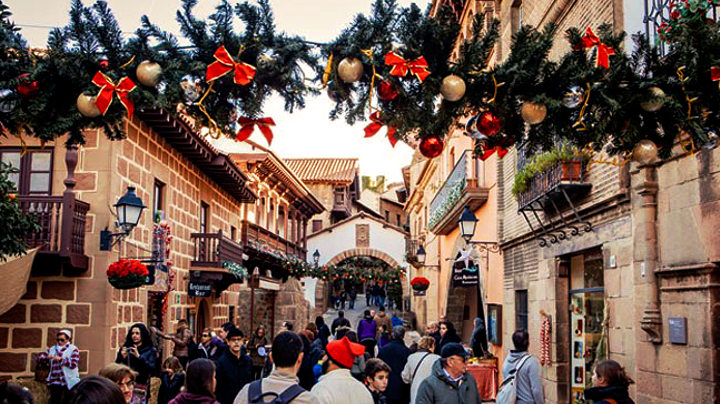 The best Christmas atmosphere you will find it every Christmas at Poble Espanyol! Since 2013 the site has been converted into an authentic Christmas scene with representations of live Nativity Scenes from all over Catalonia, live music, a craft demonstration, a traditional Christmas market, shows and children's workshops. And as if this wasn't enough, all the girls and boys can go into Santa's house, a magical place where they can talk to this lovable character and give him their letter in person!
Date: December 23 to January 05
Opening Hour: 11:00 am-6:00 pm
Address: Av. de Francesc Ferrer I Guàrdia, 13 – Barcelona
Fleadonia
The Fleadonia is a flea market which offers a wide variety of vintage products, as well as recycled product and products of designers in the heart of El Raval. This market is held every first of the month, but in December there is an extra edition of the Fleadonia on Sunday the twentieth. The motto of the market is "One man's trash is another man's treasure". This explains the idea of the market very well, as they try to be more sustainable and extend the life of products.
December 3rd  and 17th 
Opening Hours: 11:00am-7:00pm
Address: Plaça Salvador Seguí, 13, 08001 Barcelona
Looking to rent an apartment close to these markets in Barcelona? Check out our SPECIAL DEALS ON APARTMENTS all over the city with BARCELONA HOME!