Barcelona is often known for its more traditional places but if you're really looking for an out of the box experience there is so much more for you to see! There are unique, and extravagant themed spots throughout the city ready to transport you into another world. You are able to find many thematic restaurants, bars, and clubs in Barcelona, from Harry Potter themed lunch at Pudding to a glam night out at The Gatsby. Checking out our recommended themed spots will leave you wanting to see more.
#Bar Dow Jones
Bar Dow Jones is a bar with a totally new concept! This big bar, located at Carrer del Bruc 97 in the neighborhood of Eixample, uses a special software as selling systems which is completely interactive. As soon as you order a drink, prices on the screen change. The drink that you order goes up and others go down. It is just like the NYSE (New York Stock Exchange).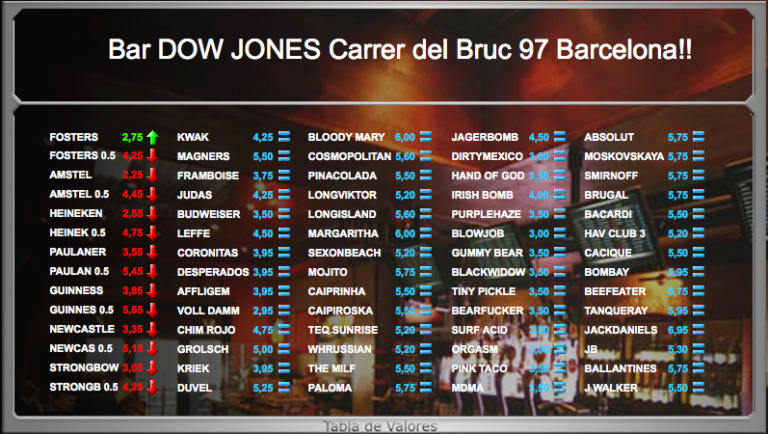 Photocredit: SecretBarcelona
But instead of the NYSE, they have 'fortunately' after some turnovers a crash which means that almost every 30 minutes the stock market suffers a "crack" and the drink prices go down by 30-50%. And this will be indicated by sirens and flashlights that you can have your drink at a real bargain. But you have to be quick because it only lasts a few minutes.
Open hours: Sunday: 12pm – 2:30am, Monday – Thursday: 4pm – 2:30am,  Friday 4pm – 3am, Saturday: 12pm – 3am
#Pudding Barcelona
Pudding is The New Generation of Coffee Shops, it works in a completely different manner than traditional coffee places. They've designed a concept for various target groups; kids, students, young professional. The concept is formed by 3 main objectives they provide, formulated as Eat+Play+Think, this all within a singular space conveying passion for who they are and what they do.
With a witty and delicious menu based on many themes, you are for sure to enjoy your visit.
For Kids, for example, they offer the possibility of having your own personalized themed party with themes such as Harry Potter, Pirates, Sherlock Holmes and more. Pudding offers the whole package the theme, invitations, decorations, and food. Other than that you are able to organize any type of event with the company's services.
The very popular Harry Potter setting of Pudding is in Barcelona and located in the heart of the city on Avenida Diagonal 515 in Eixample waiting for you to come and discover its magic.
Pudding hopes to inspire and create magnificent ideas, events, and experiences.
OpenHours: From Monday to Friday 9am to 9pm, Saturday 9am to 10pm, Sundays 9am to 9pm
#Ice Bar Barcelona
Since November of 2007 Ice Barcelona has become an absolute must see of Barcelona. Frequented by tourists as often as is it by locals, the Ice Bar is a perfect place to enjoy a unique and charming experience.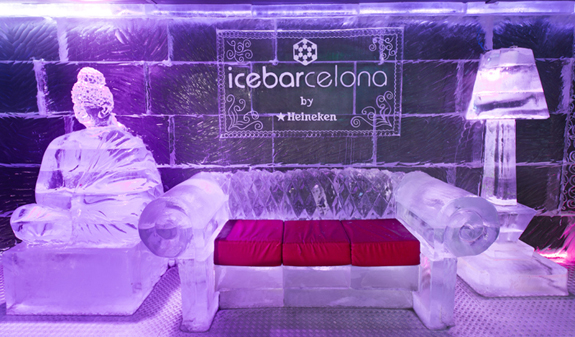 The Barcelona ice bar is the first ice bar in the world to be located right on the beach! The exceptional attraction features exceptional ice sculptures and a terrace, ideal for sipping a cool cocktail in front of the mediterranean sea. The ice lounge maintains a consistent temperature of -5ºC (20ºF), and was designed by renowned artists. Twice a year the theme of the bar transforms to ensure that your visit is always unique.
Your visit includes jackets, gloves and cocktails served in a glass sculpted by ice, most visits last around 45 minutes to an hour. It really is a special experience worth checking out!
#The Beatles Bar – La Garrafa Dels Beatles
In the neighborhood of Les Corts, you are able to find a curious place where the music and the spirit of the Beatles are still alive, a space perfect for lovers of the Beatles and the music of the 60's in general. The Garrafa dels Beatles is a Pub Museum founded in 1976, and since its owners (Joan and Ricky) have been collecting photographs and objects of this famous band.
The walls are full of photographs of the Beatles , album covers, key rings, miniatures, 1965 tickets when they played in Barcelona (the only concert done in Spain), a small bag that houses real dust from the Cavern Club (the London venue where they began to play), a miniature version of the "Yellow Submarine", and many more objects. But one of the most notable is the marriage certificate of John Lennon and Yoko Ono.
Every night from Monday to Saturday, the two owners perform the classics of the famous band and other songs from the 60s. Other artists also perform, recalling and honoring the music of those years.
#El Bosc de les Fades – The Fairies' Forest
Right off Las Ramblas, next to Museo de la Cera, there is a very small alley with a Shakespearian, tavern-like wooden sign on which is carved: El Bosc de les Fades. From the outside,  you are able to see windows with paper butterflies and grasshoppers.  Once inside those heavy wooden doors, it's like being transported into an enchanted forest with the view and sound of a small waterfall and an open room which looks like rich families tent. Dark, chunky trees are everywhere, the ceiling is filled with fairy lights giving it a majestic look.
Different rooms are set in a  different Themes, it is full of places where you can have a quiet drink, as a couple or as a group. Known for its special decor with  Dwarfs, waterfalls, a bedroom with a woman levitating in a corner and so many more details that will take you to this fantasy world. Let's not forget to mention the soundtrack, which imitates the sounds of the forest with sounds of crickets and other nocturnal animals.
For visitors who want the full-immersion effect of this place, there's the private grotto where they can get lost in the very depths of the mysterious forest. And if you're looking for a creepier fantasy setting, El Bosc de les Fades also features a "haunted house" room complete with eerie mannequins and a magic mirror in which apparitions suddenly appear and then vanish.
The place serves tapas, sandwiches, coffees, soft drinks and, if you are more interested in the nightlife, you can choose from a varied selection of cocktails.
#Gatsby Bar & Restaurant
This Themed venue celebrates the roaring 2o's inspired by F. Scott Fitzgerald novel that created one of the most emblematic figures of the 20th century in American literature, Jay Gatsby. The Great Gatsby, a millionaire who amassed his fortune by buying and selling illegal alcohol, hosted memorable parties at his estate on Long Island, in the state of New York until his luck finally ran out. This fictional character provides inspiration for Gatsby, the latest addition to Barcelona's restaurant-club scene.