Known as one of Europe's most popular holiday destinations, Spain is home to some of the most picturesque areas which offer exceptional backdrops to enhance your holiday experience. In conjunction with its beautiful beaches, rich, authentic cultural and Mediterranean climate, Spain really does have something to offer everyone in search of a get away. Spain is such a vast country, with some of the most popular areas including Barcelona, Valencia, Benidorm, Alicante, Seville and Madrid, to name but a few. Regardless if you want hit each of these unique locations or just a few during your trip to Spain, taking public transport would unnecessarily waste many precious holiday hours travelling on a crowded bus or train.
We believe renting a car is the best option when visiting Spain as it allows you the freedom to travel to beautiful locations on the coast or across the country at your own pace and convenience. Not only can you decide your route to take in all the best pit stops but you can also enjoy a stress-free commute, creating memories with your friends and family. With this in mind, we have compiled our top recommendations for car rental companies which operate in Barcelona and beyond, to provide you with all the information and links necessary to plan your perfect Spanish road trip.
BCO Car Rental
BCO is a car rental in Barcelona, offering car rental services all around the world, especially in the Spanish market since 2001. Most of BCO's clients get back to us by recommendation of veteran users of our firm. In this way, the trustful company proudly owns a great number of clients. BCO is one of the companies, where you will definitely receive a personalized and friendly assistance from the team and since it is a LOW-COST company for sure you will get the best price as well. One of the main attributes choosing this car rental is that the vehicles are continuously revised in every 6-12 months, that would also provide the feeling of safety and driving a brand new car at the same time.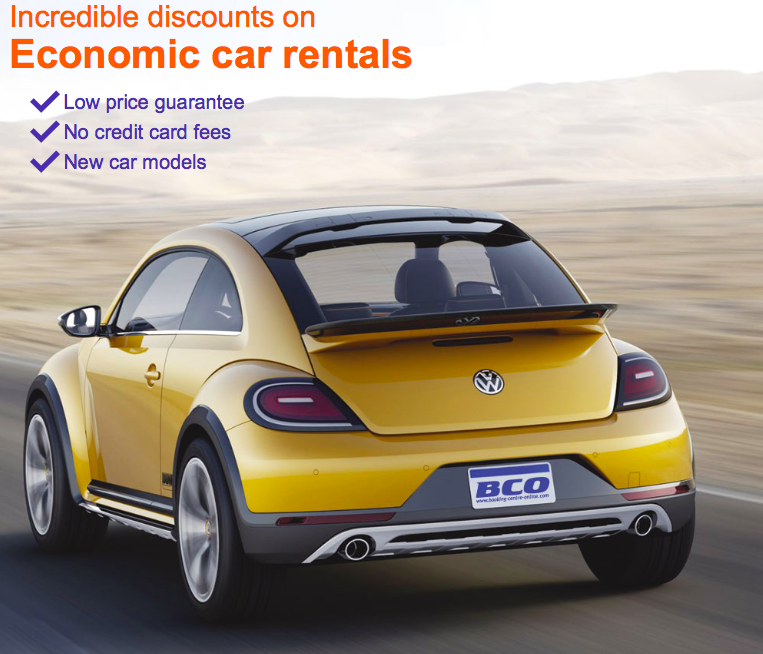 Holiday Autos
Holiday Autos are the leaders in car rental. Acting as the middle man, they take the bother out of searching for the perfect car to suit your needs by comparing car hire prices to help customers book the best price. They compare the prices of some of the worlds most recognized car rental companies such as Hertz, Enterprise, Budget, Avis and Trifty to give you a comprehensive outline of factors to ease your decision-making process. These include the make and model of the car, capacity, fuel policy, mileage allowance and additional free extras. You can select the pickup location, filter by suppliers, customer rating, cap specifics and transmission, for example, to narrow down your search of possibly hundreds of cars.
The key feature of Holiday Autos service is that the provide a fully customizable service offering to each of their customers, allowing the customer to select the perfect vehicle to meet their individual needs. Overall, they pride themselves on three core aspects: free cancellation up to 24 hours before your pick up time with most of their suppliers, no credit card fees and 24/7 customer care.  It is these three core elements that have given Holiday Auto a 9.3/10 on Trustpilot and has satisfied 8,000,000 holiday makers globally.
Europcar
Driving around a city can often be the best option to avoid waiting for public transport, especially if you are unsure where the metro or bus stops are. But this can be avoided by renting a car from Europcar and having complete control over the trip. Furthermore, you can decide to visit amazing cities, towns, and village right outside Barcelona and discover all the beauty that the Catalonia region has to offer.
Europcar has a wide range of vehicles for all kinds of needs and groups, you just have to choose the most suitable one. With 8 bases throughout the city of Barcelona, they make car rental accessible for all. The online booking is very simple just select the dates of arrival and departure and pick a car. You can also choose the location to pick up and return the car. Europcar, in collaboration with Barcelona-home, gives you the option to rent the car straight from our site.
Economy Car Rentals
Thanks to Economy Car, you will be able to satisfy your needs in terms of car rental without exceeding your budget. Economy Car rental can provide you with almost all types of cars from family cars to sports vehicles and even small vans if you need to move house, they have it all! While they understand the beauty of Catalunya's capital, their service encourages you to rent a car and explore the surrounding areas which are just as breath taking as Barcelona. They operate under the same rental system as Europcar and can provide vehicles to suit all needs. Let us direct you to your next unforgettable road trip.

Looking for Parking in the City? Parclick let you enjoy the city without thinking where to park your car or dealing with the rules of Barcelona parking spaces (Blue Zone and Green Zone). If you take a look at their interactive map you can search 189 car parks and which is the cheapest parking space that best suits you. Click
here
to book your space and avoid disappointment.
Are you looking for a great accommodation in Barcelona? Look no further, we have what's right for you!