Are you craving a good burger ? Are you missing real american burgers from home or just trying to find a place to have one? We have rounded up the Best American Restaurants in Barcelona, 3 of the most fantastic restaurants and diners who offer top notch american food! Whether you're in it for the chili dogs or in need of a frothy milkshake after a long day at work, you have come to the right place. So grab some extra napkins and find your next favorite restaurant in Barcelona!
Big Al's American Kitchen
Craving a burger bigger than what you can hold in your hands? Then check out Big Al's American Kitchen, located near the Hospital Clinic metro station in Dreta de l´Eixample. Their signature Big Al Burger is a monumental stack of 4 juicy patties, cheese, crispy onions and bacon, with their house-made pulled pork and local greens, such as tomato and jalapeños on a brioche bun. The meat is hydrated with garlic aioli, but this time we definitely don't regret the garlic breath!



Along with 17 burgers to choose from, the restaurant also offers a wide variety of food to share with your friends or family, such as pulled pork nachos, quesadillas, onion rings and chicken wings. To wash it down, they have a wide selection of Spanish, German and English beers – an international twist to a fully American meal! Also available in Sitges, Big Al's Burger is one of the best places to go in Barcelona!
With a signature burger every month, you're sure to taste th best burger from the US. This month's burger is the MR. PG Burger with double beef, cheese, lettuce, tomato, onion and a big pile of house-cured and smoked pastrami on a freshly-baked brioche bun! Check it out: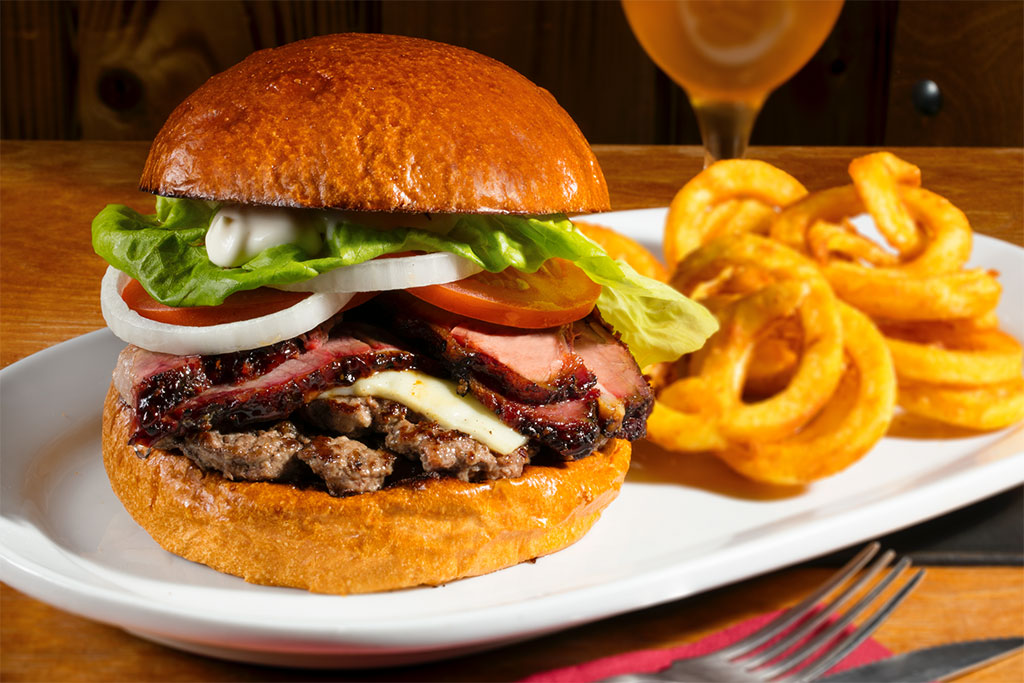 Where:
• Carrer de Córsega 178, Barcelona
• Carrer de Francesc Gumà 21, Sitges
Opening hours:
• Barcelona:  Open on monday to thursday from 1pm to 4pm and 8pm to midnight, friday to sunday from 1pm to 5pm and 8pm to midnight.
• Sitges: Open daily from 1pm to 4pm and 8pm to midnight.
Bernie's Diner
Located in the heart the Born neighborhood, just a few meters from some of the most popular bars and other nightlife spots in the city, Bernie's is a colorful diner-themed restaurant soaked in 40s and 50s era americana, as depicted in American movies. They are known to play hip, fun music at all hours of the day and evening, to offer Barcelona a taste of the American Diner.



If the cherry-red booths and pin-up posters on the walls don't get you nostalgic already, the menu for sure will. Here it's not just about burgers and french fries. The restaurant offers a wide range of classic American food, including hot dogs, chili dogs, steaks, baby back ribs, onion rings and the creamiest milkshakes in the Ciudad Condal.
They also offer some homemade favorites including fried green tomatoes, battered beef steak, and ravioli. And in case you are looking for a great place for brunch, Bernie's also offers a variety of delicious bagel sandwiches, pancakes, a full English breakfast, Eggs Benedict, Eggs Florentine and Huevos Rancheros. Or combine it all and order an American Breakfast: two grilled or scrambled eggs with bacon, pancakes and maple syrup.
Where:
• VIA LAIETANA 20, Loc. 1, 2 Y 3, 08003, El Born, Barcelona
Opening hours:
• From sunday to thursday: 9am to 1pm. Friday and Saturday: 9am to 2pm
Peggy Sue's
Choose your favorite classic tunes on the jukebox, kick back and relax at Peggy Sue's, a 60s themed American restaurant named after Francis Ford Coppola's famous "Peggy Sue Got Married." The kitchen uses fresh, conservative-free and additive-free ingredients to produce some of the best American food in town, everything from steaks, hamburgers and fries to fresh salads, healthy wraps and BBQ chicken wings.
Create a personal burger by stacking classic beef, grilled chicken or breaded chicken with bacon, tomato, onions, and cheese. Add a variety of cheeses and extra ingredients to make it your own! And for dessert, try their famous pink carrot cake (it matches the decor!), classic New York cheese cake or brownies drizzled in hot fudge.
With 2 different locations in the city, pick the one that works best for you, grab some good friends, and join the feast of a delightful meal full of 60s charm!
Where:
• Travessera de Gracia (in Sarria – Sant Gervasi)
• Carrer de Benet Mateu (in Sarria)
Opening hours:
From Sunday to Thursday: 12am to 11:30pm. Friday & Saturday: 12am to 12:30pm.